New Model 2016 Suzuki Mehran Euro II VX VXR CNG Price in Pakistan with Pictures
Pak Suzuki has launched its Latest Model SUZUKI MEHRAN VX CNG and VXR EURO II 2016 with a modified shape and attractive colors. It has a low price which makes it easy to buy for the people of middle class. It is a family car that can be used for multiple purposes.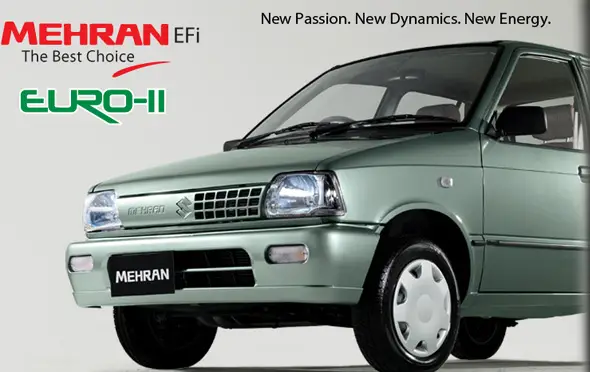 Ease of Use
Latest MEHRAN VXR CNG and VX EURO II 2016 is stylish and it is very easy to drive. It can be driven by anyone on all kinds of roads in Pakistan. It is easy to keep its maintenance due to its Simplicity and low price. It has a full synchromesh manual system. It is a car that possesses 5 gears, 4 forward and 1 reverse gears.
Reliability
Suzuki has always been a company that has provided the best quality and MEHRAN 2016 has the features and engine no different to the old models of Suzuki MEHRAN. It generates good power which enables it to move smoothly on long drives also.
Speed and Mileage
SUZUKI MEHRAN VX with CNG 2016 can be driven up to 130 km/h speed. It provides you with a mileage of 18 KM on highways and 16 KM in cities. Time taken in its transmission is very good; it takes only 13 seconds from 0 to 60 KM/hour.
Interior
There are not major modifications in the interior of SUZUKI MEHRAN VXR EURO 2 Model 2016 from the previous model, but minor modifications are there. The interior of 2016 SUZUKI MEHRAN has a steering type of Rack & Pinion.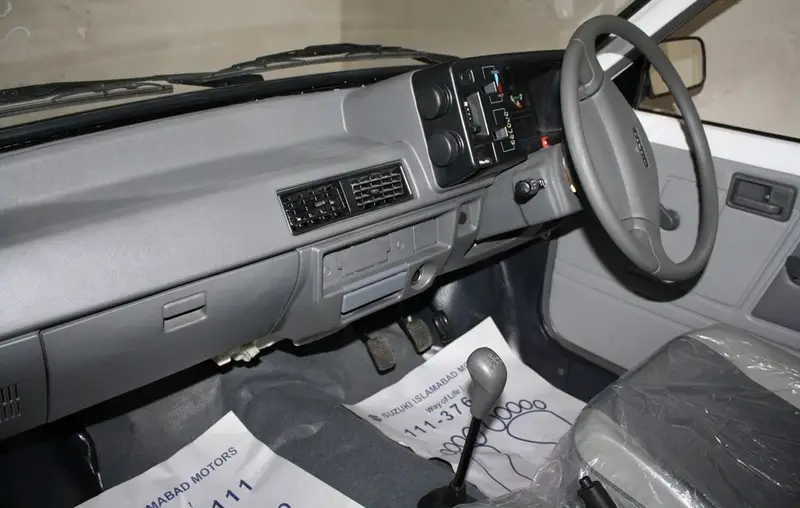 It has a CD player and central locking. It also contains AM/FM radio. It can be locked with the power door locking technology. It has the seating capacity of 5 persons.

It has safety belts to wear on the time of caution also. Cheap Price Mehran Car has a simple interior; this is the reason why it is used mostly by middle class families in Pakistan.
Exterior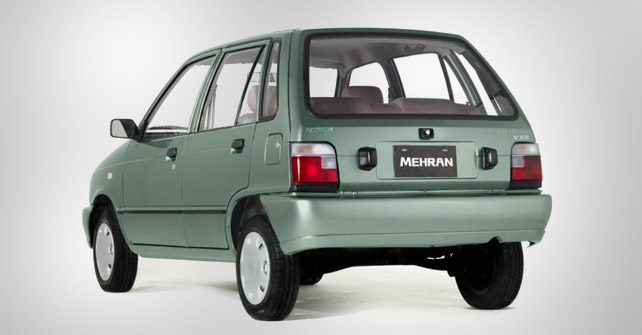 2016 Model Mehran is designed in a modified way with a stylish exterior. It has a sun-roof or a moon-roof. Its exterior contains 4 doors and a simple but good looking body that is shaped like a box.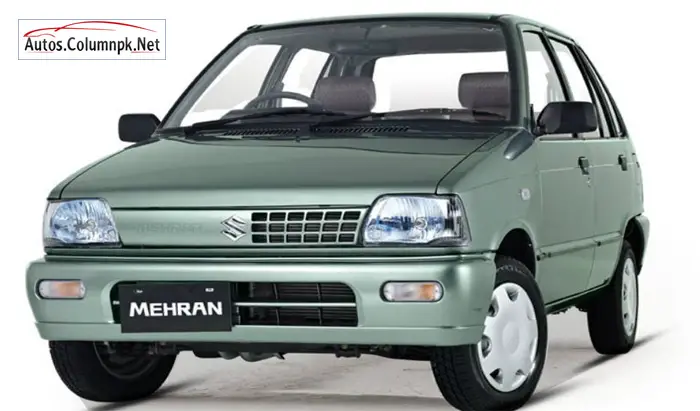 It has trapezium shaped headlights that adds to its beauty. Its back is rectangular shaped with a black bumper. There is a variety of colors available in it that contains red color, graphite gray color, blue color, sliver color and a solid white color.

Salient Features
There are many good features embedded in New Mehran 2016 Model that are explained below,
It has 796cc OHC 13 engine.
Can run on petrol and CNG with factory fitted CNG Kit in 2016 Model
Its engine produces 40BHP@ 5500 RPM.
Its length is 129.9 inches and its width is 55.3 inches, the height it possesses is 55.5 inches.
new Mehran contains a wheelbase of 85.6 inches and its turning radius is 4.4 meters.
The fuel system it contains is EF1 and it has a fuel type of Petrol.
It has 3 cylinders with a torque of 78 Nm @ 3000 RPM and valve mechanism of OHC 6 Valves.
The kerb weight it contains is 650 KG and a gear box of 4-speed.
Suzuki Mehran 2016 Price in Pakistan
Mehran VX: Rs. 625,000
Mehran VX CNG: Rs. 695,000
Mehran VXR: Rs. 678,000
Mehran VXR CNG: Rs. 748,000
Conclusion
Latest Model New Suzuki Mehran 2016 VX, VX CNG and VXR CNG Euro II is a very good car, especially for the people from middle class due to its affordable low price. It looks good and it is safe and easy to drive. Although it is not a luxurious car, but within low budget this is the perfect car to buy.