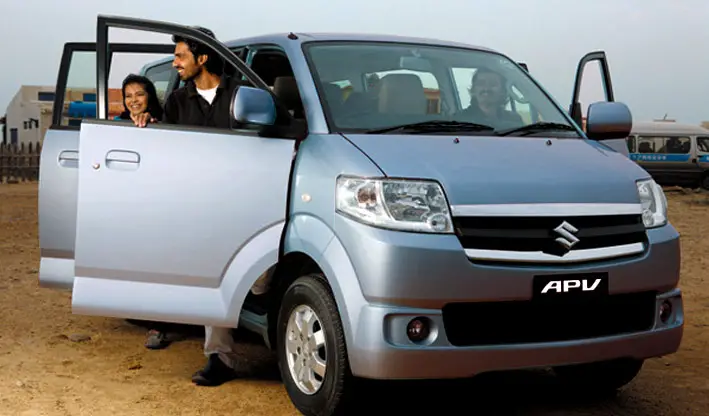 Suzuki APV (All Purpose Vehicle) is a mini MPV designed by Suzuki in Japan and assembled in Indonesia. Suzuki APV is a compact Multi Purpose Vehicle (APV) which means that its fuel efficiency is very high. However in order for it to be a true All Purpose Vehicle, it has to be spacious and powerful.
The Suzuki APV vehicles are available in a semi-bonneted design. In this design the driver's cabin is not directly above the engine which is placed at the front of the vehicle inside the bonnet. The driver is also not sitting directly above the front axle. This design is usually employed in vehicles with a cylinder volume of more than one liter in order to properly house the engine assembly and related electronics and piping.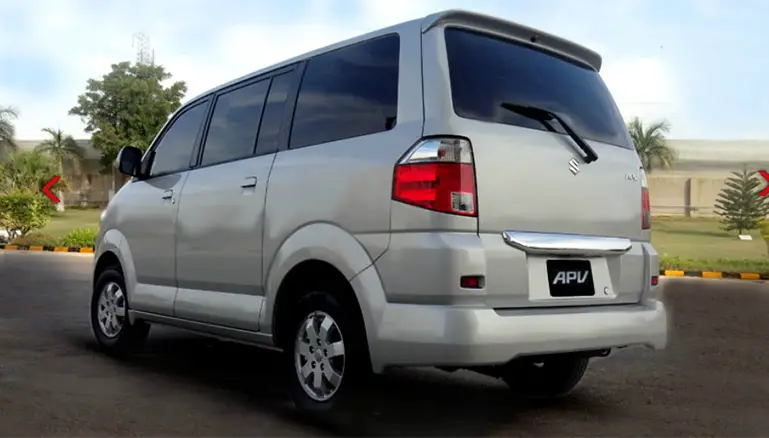 The Suzuki APV has sliding doors on the passenger side and a rear hatch as well. The passenger side sliding doors provide a roomy entry inside the vehicle while the rear hatch allows easy entry and retrieval of luggage and spare parts.  Other exterior features include matching side mirrors, colored turn lights, crystal headlights, fog lamps and chromed front grills.
The New 2014 APV is dynamic proof that power is not the only essential ingredient in balanced performance. Harmony occurs when all performance elements integrate smoothly together to ensure stress-free driving comfort for driver and passengers alike.
See Also: New Model Suzuki APV 2016 Price in Pakistan, Pics, Specs
The New APV is totally selfless in sharing its user-friendly amenities. In this people-focused passenger vehicle, convenience is expanded to the point of indulgence. Its all for a good cause, however, its a drive you will always love to take.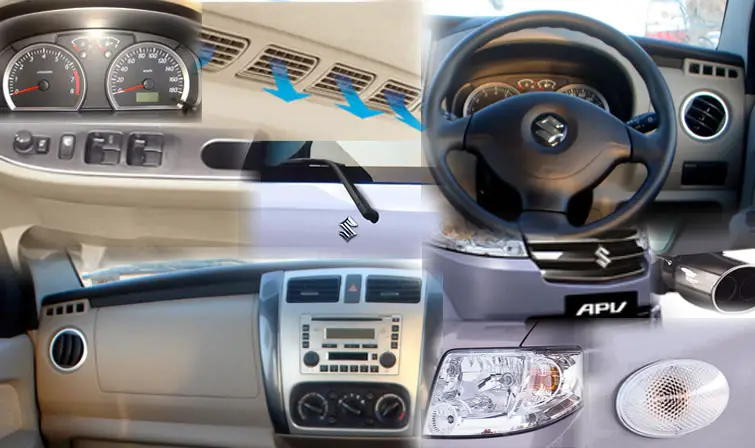 Features
Never before an exciting chic exterior, a plush spacious interior and exhilarating performance have been blended so exquisitely. Unveiling the all-big all new APV. The Euro-2 Complaint Engine with revised transmission throbs into action on queue while the roomy interior gives you more comfort and space than you can get in any other car. Take it for a drive and experience the ultimate luxury.
Suzuki APV 1.5L MT Price in Pakistan
Price Rs: 2,418,000
Suzuki APV 1.5L CNG Price in Pakistan
Price Rs: 2,538,000
The new model Suzuki APV with reasonable price is the perfect vehicle for those who are willing to invest in a medium size vehicle with luxury to serve their given domestic and commercial interests.