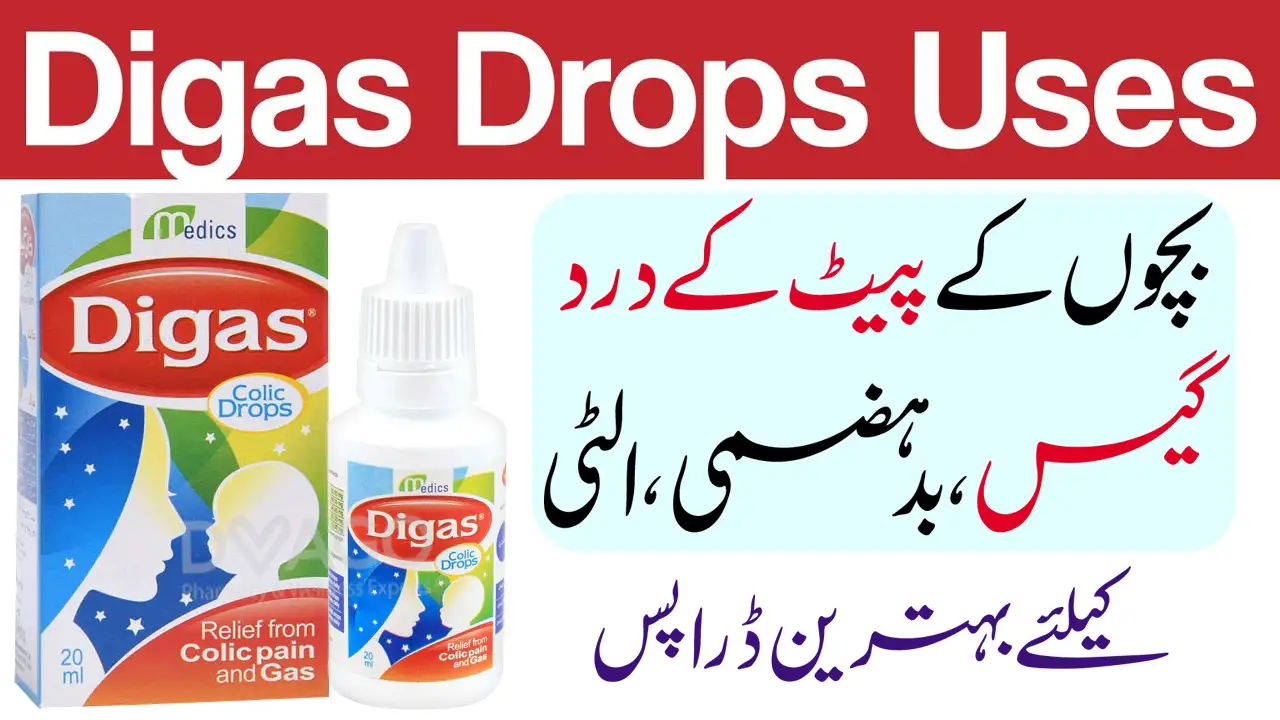 If you're a parent, you know how challenging it can be to soothe a crying baby with colic (bachy ka rona pait ki gas ki waja aur ilaj). In infants, colic is a common condition that causes severe abdominal pain (bachon ke pait ka dard) and discomfort. But don't worry there is a natural and herbal option available for relieving baby gas called Digas Colic Drops. These drops can provide relief for both you and your baby.
Digas Colic Drops (Bachon k pait dard Ka ilaj)
It is a herbal medicinal product for infants. Digas drops are used for abdominal pain, stomach gas (bachon k pait ki gas), and indigestion (bad hazmi, pait ki kharabi) in newborn babies. Manufactured by MEDICS, each 2.5 ml of Digas Drops (Bachon k pait dard ka syrup) contains unique ingredients of natural herbs, including Fennel, Mint, Cumin and Ginger.
Digas Colic Drops Uses in Urdu
Digas Colic Drops Uses
The combination of herbal ingredients in Digas Colic Drops (Bachon ke pait main maror ka ilaj) works together to improve digestion in babies and provide fast relief from colic pain. Natural herbal ingredients in these drops are specially used for colic pain (gas pain in babies) and indigestion.
Digas Colic Drops Benefits
Digas Colic Drops provide a natural and safe solution for parents looking to relieve their baby's colic and indigestion. The herbal ingredients in Digas Colic Drop help to clear trapped gas in the bloated tummy which can provide fast relief from discomfort and reduce crying time (bachon ka rona ka ilaj).
Digas Colic Drops for Constipation:
Colic drops are generally not recommended for the treatment of constipation in infants. However, Digas Colic drops contain natural ingredients like fennel and ginger that have mild laxative properties. While these ingredients may help to promote digestion and bowel movements in babies but remember that they are not used as a primary treatment for constipation.
Digas Ingredients (Formula)
Here are the herbal ingredients that are used in Digas Drops.
Fennel 50.0 mg.
Mint 40.0 mg.
Cumin 20.0 mg.
Ginger 15.0 mg.
Fennel is known for its ability to relax the muscles in the digestive tract, while Mint helps to soothe the stomach and alleviate nausea. Cumin is also known for its digestive benefits and Ginger has been used for centuries to relieve digestive issues and reduce inflammation.
Digas Drops Uses and Dose for Newborn:
Here is the table of Digas drops dose for 1 day to 6 months and to 3 years of age.
| Age Group | Dosage | Frequency |
| --- | --- | --- |
| 1 day to 6 months | 3 to 6 drops | 2 times daily |
| Infants between 6 months to 1 year | 8 to 10 drops | 2 times daily |
| Children between 1 to 3 years | 15 to 30 drops | 2 times daily |
Digas Colic Drop Price in Pakistan:
20ml Digas colic drops price in Pakistan is PKR 160.
---
FAQs
What are the side effects of Digas Colic Drops?
So far, there have been no reported side effects of these drops because they are made from all-natural ingredients.
Is Digas drops safe for babies?
Yes, these drops are safe for your newborn baby.
What is the Age Limit of Digas Drops?
Digas Colic drops are usually safe for use in infants from the age of 1 month to 3 years old.
Can I give colic drops to my newborn daily?
Yes, Digas drops can be given on a daily basis for newborn babies, up to a maximum of 3 to 4 times per day, according to the recommended dosage instructions on the packaging or as directed by a pediatrician.