MG 3 800cc Car Price In Pakistan 2023
The MG 3 800cc Car Price is expected to be PKR 3,500,000 to PKR 4,000,000
The MG 3 is a fascinating car to the automotive industry because of its price and specifications. However, a few years ago, we heard that MG would launch the MG 3 hatchback in Pakistan. According to recent research, the MG 3 launch date in Pakistan is expected at the end of 2023 or maybe at the start of 2024, and most individuals are confused about MG 3 price in Pakistan in 2023. The company has announced that they will deliver those cars to Pakistan as soon as possible, and Javed Afridi, the owner of the Peshawar Zalmi team, will manage these vehicles. The expected MG 3 price in Pakistan in 2023 is around PKR 3.5M to PKR 4.0 Million.
MG 3 Price In Pakistan 2023 & Launch Date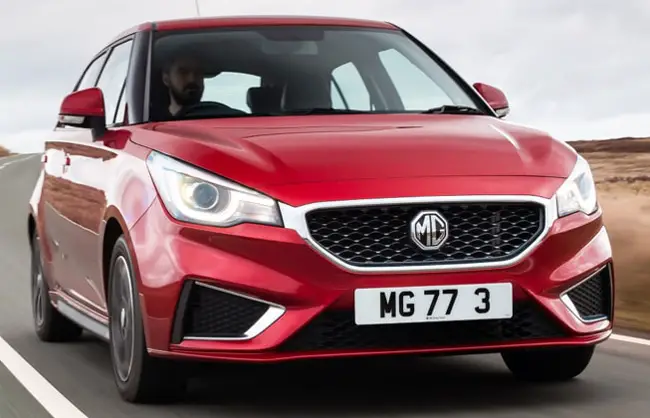 MG 3 Overview and Features
If you are looking for a luxurious car at a low price, the MG 3 car is the best option. However, it has a Spacious interior, smooth driving experience, Comfortable seats, and good visibility of the front and sides. The MG 3 has an 800cc engine, 6 Airbags, Four speakers heavy sound system with USB/AUx and BlueTooth connectivity, an electronic stability program system, and a dynamic reverse camera. This car is impressive because it offers luxurious features in a low price range.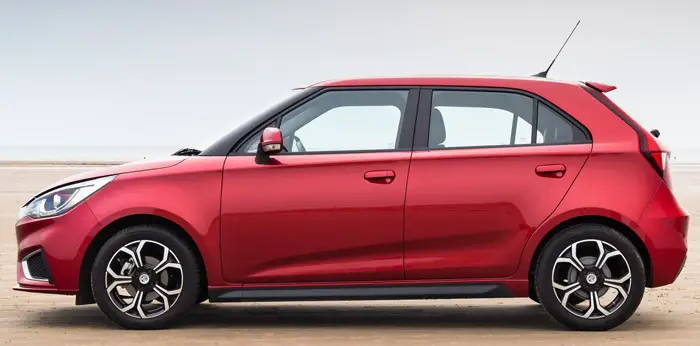 MG 3 Specification
The MG3 overall exterior dimension is 4055 mm in length X 1729 mm in width X 1504 mm in height, and the Wheelbase is 2520 mm X with 1505mm X 1493mm of Front and Rear track. It has an 800 cc four-cylinder engine and a manual transmission type. This is a front-drive car with five doors and five seats.
However, in this luxurious car, you may get enough head and legroom for a long journey; otherwise, you can fold the rear seats of this vehicle in a 60/40 configuration. In the interior, you will get AC, electric front or back power windows, a remote locking system, 12v socket power, and a remote fuel flap.
This car has spacious specifications for safety like ABS(Anti-Lock Braking System), EBA(Emergency Brake Assist) and EBD(Brakeforce Distribution ), 6 Airbags, Front and Rear seatbelts, and Electronic Stability Programme. Its torque and Maximum power are 106 X 101.
| Specification/Feature | Description |
| --- | --- |
| Engine | 1.5-liter four-cylinder engine |
| Power Output | 106 hp @ 6,000 rpm |
| Torque | 135 Nm @ 4,500 rpm |
| Transmission | 5-speed manual or 4-speed automatic |
| Drivetrain | Front-wheel drive |
| Suspension | MacPherson strut front, torsion beam rear |
| Brakes | Ventilated front discs, rear drums |
| Steering | Electric power-assisted steering |
| Wheel Size | 15-inch steel or 16-inch alloy |
| Tire Size | 185/60 R15 or 195/55 R16 |
| Fuel Consumption | 6.8 L/100 km (manual), 6.5 L/100 km (automatic) |
| Dimensions (L x W x H) | 4,054 x 1,725 x 1,517 mm |
| Wheelbase | 2,520 mm |
| Ground Clearance | 149 mm |
| Fuel Tank Capacity | 45 liters |
| Seating Capacity | 5 |
| Airbags | Dual front airbags and side airbags are available on higher trims |
| Audio System | 6-speaker audio system with USB and Bluetooth connectivity |
| Infotainment System | 8-inch touchscreen display with Apple CarPlay and Android Auto |
| Safety Features | ABS with EBD, hill-start assist, electronic stability control, rearview camera, parking sensors (higher trims) |
MG 3 Variants and Upcoming MG Cars 2023
In the Pakistani market, this car will come with two different variants with the same engine. The significant difference between them is that one variant comes with manual gear transmission and the other one with automatic gear transmission. On the other hand, MG is also launching 3 to 5 new car models in Pakistan at the end of this year(2023).
MG 3 Reviews
MG 3 Colors
This car comes with different color variants globally. Worldwide it has several colors like white, black, yellow, blue, gray, etc. According to recent research, this car may come in two colors (white and black) in the Pakistani market.
MG 3 Fuel Average
It is an 800 cc car with a hybrid engine. The Fuel average of this car is 14/km to 16/km per liter, and the fuel tank's capacity is about 45 liters. This car has an adorable look and design, providing more fun and joy for a long journey. The petrol average of a vehicle depends on the road, such as whether you are driving it on the highway or off-roading.
FAQs
MG 3 800cc Price in Pakistan 2023?
In Pakistan, the MG 3 800cc Price is expected to be PKR 2,500,000 to PKR 3,000,000
Mg 3 Launch Date In Pakistan
The launch date of mg 3 in Pakistan is expected at the end of 2023 or maybe at the start of 2024.
What Is The MG 3 Fuel Average?
The fuel average of MG 3 is about 14/km to 16/km per liter, but it depends on the road situation.
Is MG3 Coming to Pakistan?
According to our information, MG Motors Pakistan is expected to launch MG3 in Pakistan by the end of 2023.
Who is the owner of MG3 in Pakistan?
The owner of MG JW Automobile Pakistan is JW Auto Park, which is owned by Javed Afridi.

Share This Article with Your Friends