Sazgar Auto Rickshaw 2023 Price in Pakistan

Price, PKR: 360,000
Sazgar Auto Rickshaw 2023 Price in Pakistan revealed by Sazgar Auto Engineering company situated in Lahore. Sazgar CNG 4 Stroke Auto Rickshaw 2023 is the preferred vehicle in Pakistan by all those people who are looking to earn from transportation but can't afford expensive cars or other automobiles. This minicab has been providing people with a comfortable and smooth public ride for a long time. It is a cheap and effective means of transportation with good features.
Sazgar Auto Rickshaw Price in Pakistan 2023:
Here is the estimated Price of the Sazgar Auto Rickshaw. PKR: 360,000/=

Sazgar is regarded as the pioneer in manufacturing the 7-seater auto-rickshaw in Pakistan.  It is the topmost minicab industrialist in Karachi and exports its goods globally. The focus of the company is to better the quality and performance of its products by trying new ways and technologies. They want to lead their competitors by engineering the facilitated rickshaws.
Sazgar Auto Rickshaw 3 Seater Price:
Technical Features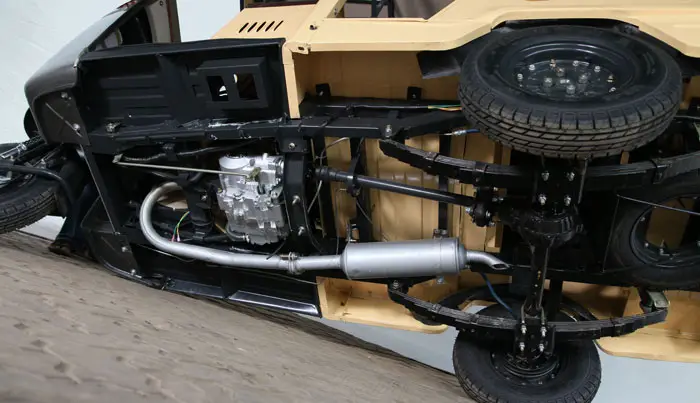 This rickshaw can be regarded as a good combination of economy and power with some standard features and will be within your budget. It is manufactured with such techniques to provide adjustment and comfort to the passenger and the driver himself. This deluxe minicab has the following technical features:
A 4-stroke engine is installed in it
It is water-cooled
Rickshaw has the hydraulic and lean spring shock absorbers
The fuel type is CNG
The total fuel tank capacity is 5.5 liters
It is a very economical ride as it runs on CNG, which is the cheapest fuel type.
Body Shape
The new Model Sazgar CNG Rickshaw has a quadrangular shape with a box-like framework. It is manufactured with a pipe frame structure to provide maximum space. The latest seven-seater provides a good amount of space for the maximum number of passengers to easily adjust in it.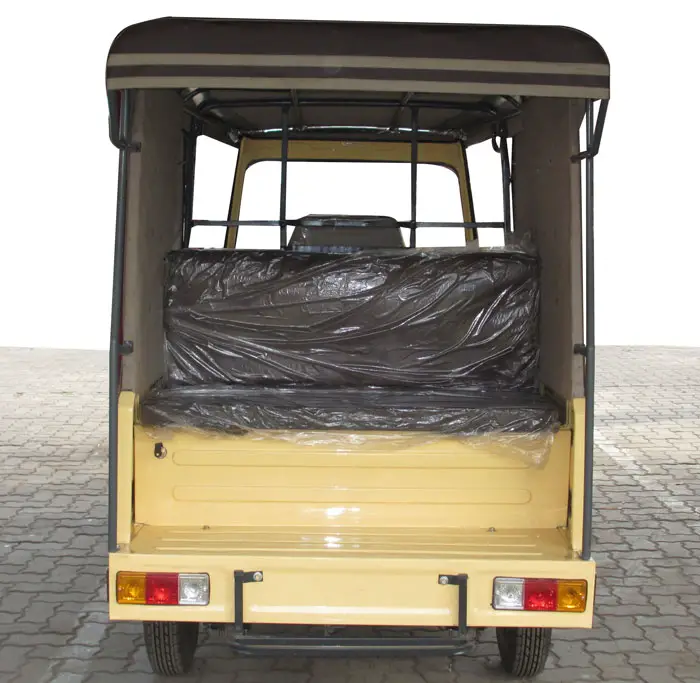 It has three wheels, one at the front and two at the back to give it balance on bumpy and uneven roads. There is a big front light for clear vision in the dark. It is available in yellow color. For a secure and private ride, the passenger area is covered with doors attached with springs to avoid their opening.
You might also like: Siwa loader rickshaw price in Pakistan
Specifications
Sazgar Rickshaw comes with the following specification that makes it a good vehicle for those who cannot afford cars or motorbikes.
It has the water-cooled four-stroke engine
The displacement is 200cc
This minicab can produce a maximum power of 11 KW
The ignition is of COI type
This CNG rickshaw has a transmission of rear-engine axle 5+1
The clutch is multi-plate wet
It can carry a maximum load of 400 kg
Drum mechanical and hydraulic brakes are installed
It has a 145 mm ground clearance
The total dry weight is 380 KG
Available in yellow color
Its 7 seater vehicle
Sazgar CNG Rickshaw Dealers in Karachi and Lahore
Karachi:
Sales and Warranty Center
Rehmat / Shakil
0321-2438808 / 06
25/3 Sadia Manzil, Jigr Muradabadi Road, Near Islamia College, Karachi, Pakistan.
Alflah Autos
Nadeem Shahzad
0321-2746094
Akber Road, Saddar, Karachi, Pakistan.
Lahore:
Hamza Enterprises
Nazeer Ahmad
042-37221982 / 0300-4202030
26-B, Lower Mall, Lahore, Pakistan.
New Usman Autos
Razaq Ahmad
(042) 37604970
Lytton Road, Lahore, Pakistan.  Map Address
Bottom Line
Sazgar Auto Rickshaw is a good choice for unprivileged and middle-class people as it provides them with a good means of earning. Minicab helps people reach their destination at economical rates. With the seven seating capacity and spacious place to adjust the maximum number of people, you should not miss enjoying the ride of this vehicle. The spare parts of Sazgar CNG Rickshaw are also available easily from Lahore, Karachi, Faisalabad, Rawalpindi, and all other major cities of Pakistan.

Share This Article with Your Friends