Chingchi Rickshaws, also known as 100cc three-wheelers, 6 Seaters are one of the most popular way of transportation in Pakistan. These vehicles are used for short-distance travel within cities and towns and are especially popular among low-income individuals who cannot afford to own a car or a motorcycle.
In this article, we will provide you with all the information you need to know about Chingchi Rickshaws Price in Pakistan 2023, its specification, Features, and Chingchi Rickshaw Fuel Average.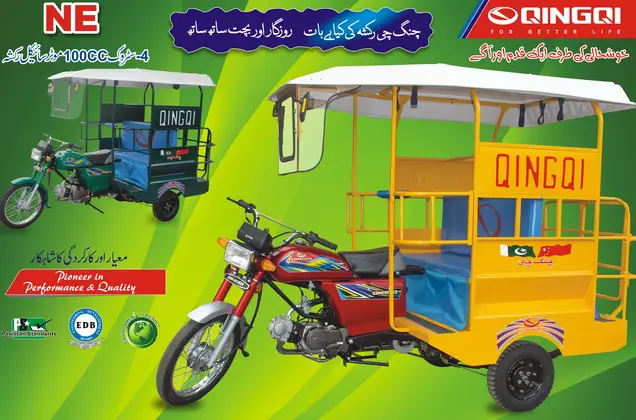 Chingchi Rickshaw Price in Pakistan 2023
The Qingqi rickshaw is known for its affordability, and in 2023 the average price for a new 7-seater chingchi rickshaw in Pakistan starts from PKR 225,000 to 245,000 rupees. The cost may vary depending on the specifications and features you want in your rickshaw.
Chingchi Rickshaw Fuel Average
The chingchi rickshaw is designed to be fuel-efficient, with average fuel consumption of around 30-35 kilometers per liter. This means that you can travel a significant distance on a single tank of gas, making it a cost-effective mode of transportation for short trips around town.
Qingqi Rickshaw with Back Gear: Youtube Review
Chingchi Rickshaw Specification and Features
The Chingchi Rickshaw is a three-wheeled vehicle that is powered by a small engine. It has a seating capacity of two to three passengers, and some models even come with a roof for protection from the elements. The Qingqi rickshaw is also equipped with basic features like a horn, headlights, and taillights.
Engine capacity: Chingchi rickshaws typically come with a 100cc, 150cc, and 200cc 4 Stock engine, although some models may have a higher or lower capacity.

Fuel efficiency: Chingchi rickshaws are known for their excellent fuel efficiency, with some models capable of covering up to 30 to 35 km per liter of petrol.

Seating capacity: Most Chingchi rickshaws can accommodate up to three passengers, although some models have 6 seats.

Load capacity: Chingchi rickshaws are also known for their impressive load capacity, with some models capable of carrying up to 500 kg of weight.
| Specification | Feature |
| --- | --- |
| Seating Capacity | 2-3 passengers |
| Engine | Small engine |
| Roof | Available in some models |
| Horn | Available |
| Headlights | Available |
| Taillights | Available |
| Fuel Efficiency | 30-35 km/liter |

Maintenance of Chingchi Rickshaws
Proper maintenance is essential to ensure the longevity and optimal performance of your Chingchi rickshaw. Some of the maintenance tasks that you should perform regularly include:
Check the oil and coolant levels
Inspect the tires and brakes
Cleaning the air filter
Replacing the spark plug
Check the battery
For people in Pakistan, the chingchi rickshaw is a reliable and affordable mode of transportation that offers convenience and cost-efficiency. With its basic features, fuel efficiency, and affordable price, the chingchi rickshaw is a popular choice for those in need of a low-cost transportation option.
FAQs:
What is the price of Qingqi rickshaw in 2023?
New Chingchi Rickshaw 100cc Price in Pakistan 2023 is expected to be around PKR 225,000 to PKR 245,000/.
What is the price of Chingchi 150 in Pakistan?
Qingqi MT 150cc rickshaw is priced at around PKR 230,000 in Pakistan
What are the fuel efficiency and fuel consumption of a chingchi rickshaw?
Chingchi rickshaw is designed to be fuel-efficient, with average fuel consumption of around 30-35 km/liter.

Share This Article with Your Friends