Today's post will give you a complete idea about the Green New Asia Auto Rickshaw Price in Pakistan 2023, factory address, Karachi model, and price in Rawalpindi and Lahore. You will also find information about the New Asia CNG Auto Rickshaw and Loader, including photos, specifications, and features.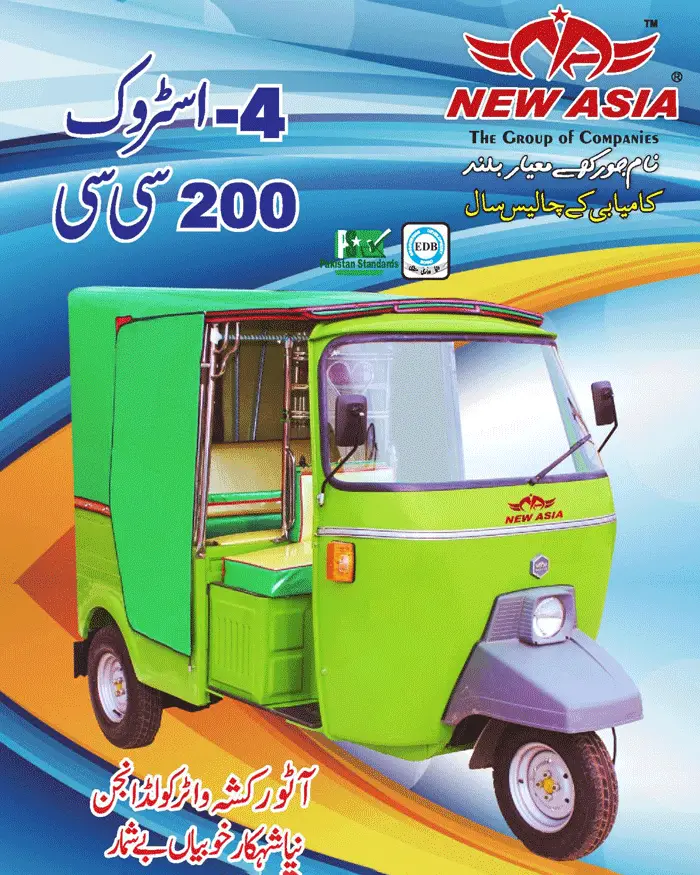 New Asia 6 Seater Rickshaw Price in Pakistan 2023
The cost of the New Asia Loader Rickshaw in Pakistan is estimated to be between 350,000 and 415,000 rupees. The New Asia Auto CNG Rickshaw carries a price tag of around 270,000 rupees. For your convenience, a detailed New Asia Rickshaw Price List is provided below.
Updated Prices 11 February 2023:
| Model | Engine | Price (PKR) |
| --- | --- | --- |
| 3 Seater Auto Rickshaw | 200cc CNG | 270,000 |
| 6 Seater Auto Rickshaw | 200cc CNG/Petrol | 325,000 |
New Asia Loader Rickshaw Price in Pakistan 2023
| Model | Engine | Price (PKR) |
| --- | --- | --- |
| Loader Rickshaw | 150cc CNG/Petrol | 350,000 |
| Auto Rickshaw Loader | 200cc CNG/Petrol | 415,000 |
As of 11th February 2023, the New Asia Auto Rickshaw price in Rawalpindi is 300,000.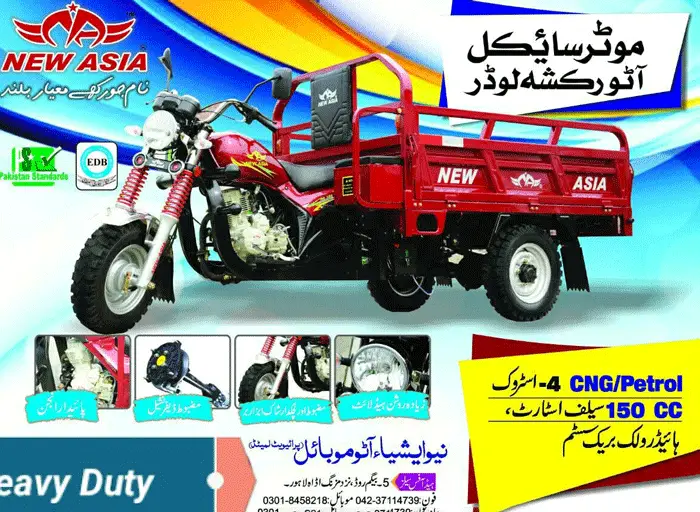 New Asia Karachi Model Rickshaw:
The 4-stroke rickshaw model, designed specifically for the city of Karachi, is available in both 3-seater and 6-seater options. The key features of this model are outlined below.
Features
New 4 Stroke
Front Engine
200cc Engine
Self-start
More bright headlight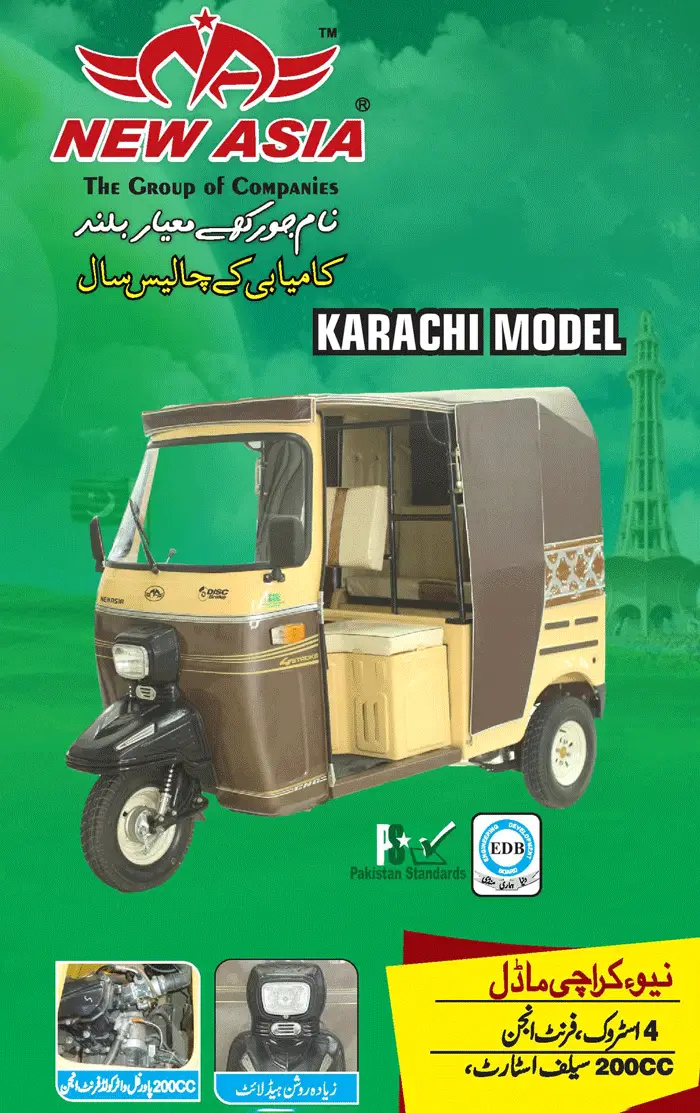 New Asia Rickshaw Petrol Average:
The New Asia factory provides the following information about the mileage of their loaders and CNG auto-rickshaws:
✅ The average mileage for the loader rickshaw is between 22 to 23 km per liter.
✅ A 6-seater CNG auto rickshaw can cover a distance of around 15 km with one kilogram of CNG gas, while a 3-seater auto rickshaw can travel approximately 20 km with the same amount of fuel.
Read Also: Crown Loader Rickshaw 200cc, 250cc, 300cc, Price in Pakistan
Loader Rickshaw Special Features:
These loaders have a fuel tank capacity of 10 liters and a weight-bearing capacity of approximately 2 tons or 2000kg. The New Asia loader trolley measures 6 feet in length and 4 feet in width. Additionally, it is equipped with durable power gear.
New Asia Rickshaw on Easy Installment:
In Lahore and Rawalpindi, various firms and departments provide the option of purchasing loaders and auto rickshaws through easy installments. But, it should be noted that choosing to pay in installments can significantly increase the final cost of the vehicle. Therefore, it is recommended to pay in cash if possible, instead of opting for the installment option.
Specifications and Features:
The loaders and rickshaws from this factory share some common features and specifications. The following details provide more information.
| Features | Specifications |
| --- | --- |
| Engine | 200cc/150cc |
| Fuel Type | CNG/Petrol |
| Starter | Self Start |
| 4 Stroke | Front Engine |
| Brake | Powerful hand brake |
| Wheels | Disk brake system |
| Loader | Hydraulic brake system |
Competitors:
New Asia competed against Crown Loader, Sazgar Loader, Lal Din, Tez Raftar, and Siwa.
Youtube Review of New Asia Tanga Body Rickshaw
New Asia Factory Address and Intro:
The New Asia Group of Companies has operated in Pakistan for the past 40 years. The company specializes in producing CNG Auto Rickshaws, Loader Rickshaws, and Bikes.

The New Asia 3 Seater and 6 Seater Auto Rickshaws have been gaining in popularity in Pakistan, while their Loaders are widely used at construction sites and for transporting goods.

Over the past decade, CNG Auto Rickshaws have become a popular mode of transportation in major cities in Pakistan such as Lahore, Peshawar, Karachi, Faisalabad, Multan, and Gujranwala. This is due to their affordability compared to rental cars, as well as their maneuverability.

Cargo Loader rickshaws have replaced the previously popular donkey carts for goods transportation in Pakistan. The New Asia factory has capitalized on this change by introducing various models of rickshaws and loaders.

However, the New Asia Rickshaw Price in Pakistan has been affected by inflation and the use of imported parts, leading to multiple price increases.

New Asia Factory Address: J5X8+VCC, Mandiali, Sheikhupura, Punjab

Phone no. +92-42-37168890 (PTCL landline number)

Share This Article with Your Friends