Summary: Today we'll discuss Crown Loader Rickshaw Price in Pakistan 2023 cities such as Gujranwala, Lahore, Karachi, Faisalabad, Sargodha, Sialkot, Peshawar, and Multan. This page provides updated information on the weight loading capacity of the 200cc, 250cc, and 300cc Crown Cargo Loader, its features, trolley sizes (6ft, 7ft, 8ft, and 10ft), the official website, and installment plans.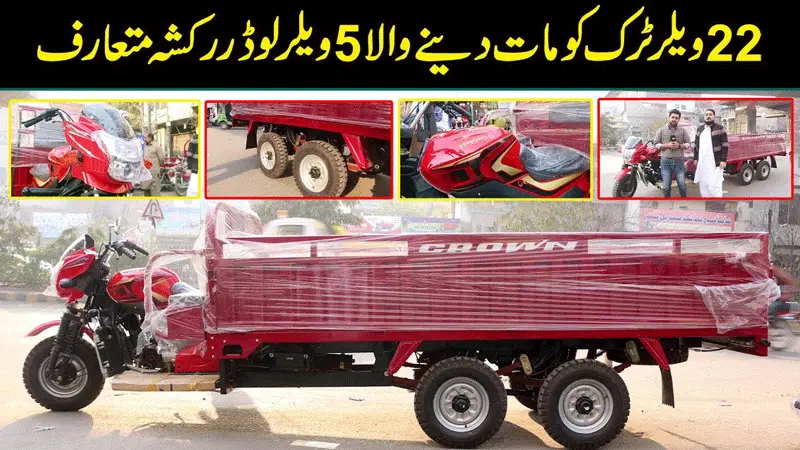 Crown Loader Rickshaw Price in Pakistan 2023

The updated prices of a crown loader rickshaw in Pakistan vary between 2.5 lac and 5 lac rupees. The price depends on the size of the engine and the loader trolley. Choosing a 200cc loader with an 8-foot trolley size will cost you 3 lac rupees, and choosing a 300cc Crown loader with an 8-foot trolley will cost you 48,0000 rupees. The exact prices and engine sizes are listed below. Let's have a look
| Engine | Trolley | Price |
| --- | --- | --- |
| 150cc | 7 foot | Rs. 300,000 |
| 200cc | 7 foot | Rs. 350,000 |
| 250cc | 8 foot | Rs. 410,000 |
| 300cc | 10 foot | Rs. 600,000 |
5 Wheeler Crown Loader 300cc Rickshaw is a popular choice among large construction material suppliers and delivery businesses in Pakistan. The price of a 5 wheeler loader in Pakistan is 6 lac and 30 thousand.
Engine and Trolley Size:
Crown loaders are available in 6ft, 7ft, 8ft, and 10ft trolley sizes, with engine options of 150cc, 200cc, 250cc, and 300cc. So, you can choose the one that best fits your requirements.
Weight Loading Capacity:
The 200cc engine-driven loaders can lift up to 1500kg. The 250cc engines can carry 2000kg. The 300cc engine-powered loaders can carry a maximum load of 2500kg. It is imperative to note that exceeding the recommended load limit as suggested by Crown Motor Company may result in damage to your cargo loader.
Crown Loader Fuel Average:
Compared to other Loader Rickshaws in this class, Crown Loader Rickshaws consume less fuel, offering a mileage of 28 kilometers per liter. Because of their weight-carrying capacity, this fuel efficiency is considered reasonable.
Warranty: Crown offers a 6-month product warranty on every loader, as well as free home delivery, due to their confidence in their superior build quality that sets them apart from competitors.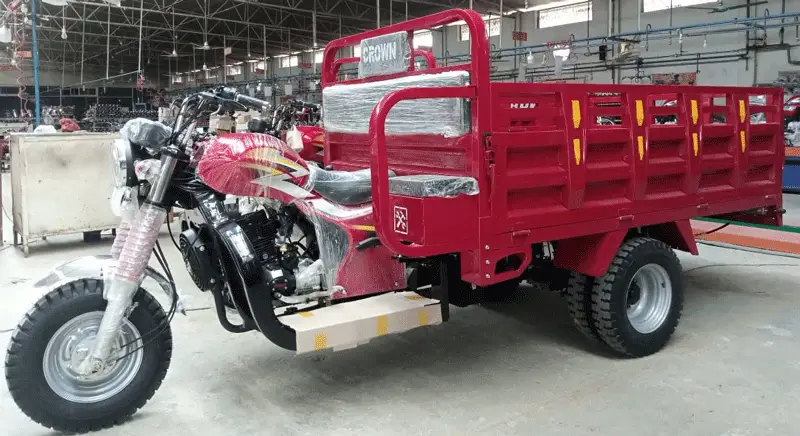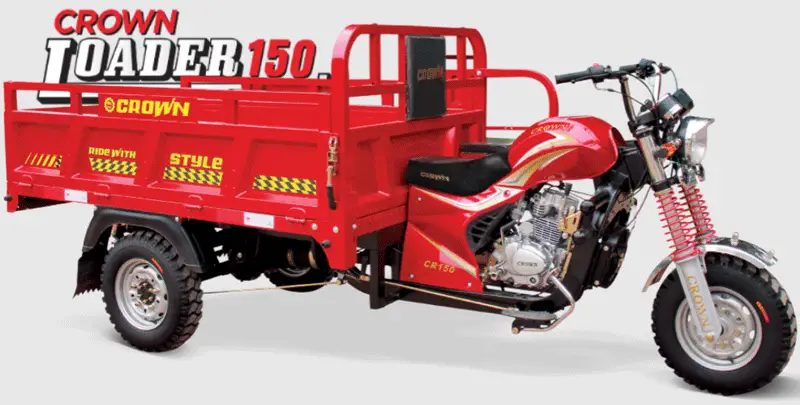 Competitors:
Crown is one of the many companies that have introduced the best loader rickshaws in Pakistan. Crown faces competition from Siwa Loaders, Tez Raftar Loader Rickshaws, Road Prince, New Asia, Sazgar Loaders, and Lal Din.
Loader Rickshaw on Installment:
Like the LAL Din Loader Rickshaw company, Crown Group has also announced that it will soon introduce an easy installment option. Please keep checking this page for future updates.
Specifications and Features:
The most common features of Crown cargo loaders are power gears, back gears, side openings, and hydraulic jacks. The fuel tank capacity of Crown loaders is 14 liters.
| Specification | More Features |
| --- | --- |
| Displacement | 149 cm (9.09 cubic inches) |
| Engine type | 4-Stroke Single Cylinder |
| Power | 11.00 HP (8.0 kW) |
| Fuel System | Carburetor |
| Ignition | CDI |
| Cooling System | Cooling System Air |
| Gearbox | Continuous 5-Speed Mesh |
| Transmission Type | Manual |
| Front Suspension | Telescopic Fork |
| Rear Suspension | Dual pump Shocks |
| Tyre at Front | 2.75-18 (6 PR) |
| Tyre at Rear | 3.00-18 (6 PR) |
| Front Brakes | Single Disc |
| Rear Brakes | Expanding Brake (Drum Brake) |
| Wheels | Alloy Rims |
| Seat Height | 760 mm (29.9 inches) lowest setting |
| Overall Length | 1,850 mm (72.8 inches) |
| Overall Width | 715 mm (28.1 inches) |
| Petrol Capacity | 14.00 Ltr. |
| Starter | Electric/Kick |
| Odometer | Digital |
| Carrying Capacity | Rear rack |
| Dry Weight | 102.30 (225.53 pounds) |
Crown Motors Company Website and Adress:
Crown Group has an official website for its respected customers. Their customer support program is also appreciated by loyal buyers.
Crown Official website address: https://www.crownmotor.com.pk/
Phone Number:  021 111 000 348
Call this number to place an order online. (This is the PTCL Karachi Head Office number of the crown company)
Youtube Review of Crown 5 Wheeler Loader 300cc
Crown Group Overview:
The Crown Group, with operations throughout Pakistan, is a collection of companies known for their dynamic performance and stability. The group comprises different companies that offer cutting-edge engineering solutions to the motorcycle and automotive industry.
In 2002, Lifan Group China joined forces with Crown-Lifan Group Karachi to form Crown Motor Company. Within two years, the brand gained market dominance, thanks to its exceptional product quality. In response to the growing demand for Crown (CRLF) parts, the Crown Group launched Crown motorcycles in 2005. It was a daring move that turned out to be highly successful.
Now the company has a vast dealership network in every major city in Pakistan. Pakistani youngsters love their loader rickshaws and motorcycles. We hope the information provided on Crown Loader Price in Pakistan, including features, weight capacity, warranty, and other details, has been helpful to you. If so, please share this with your friends. Thank you for reading and visiting our website Cargeek. Have a good day.