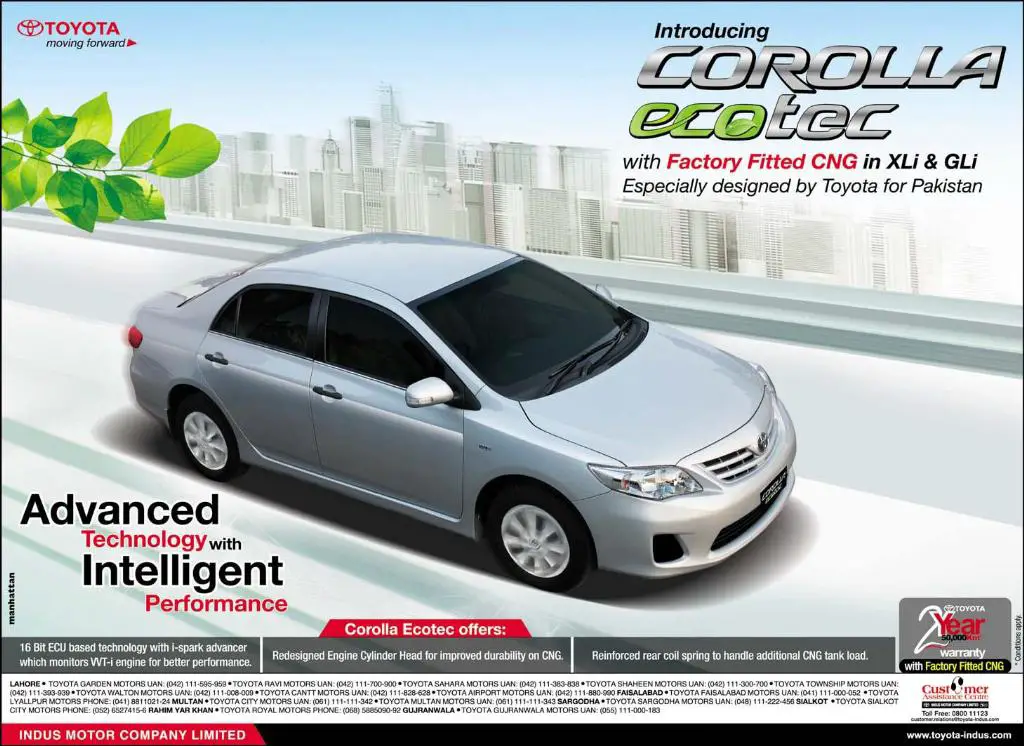 Indus Motor Company is pleased to introduce first time in Pakistan "Corolla Ecotec".
"Corolla Ecotec" is the first Toyota Corolla that has factory fitted CNG system with Safety and Performance as per Toyota standards in 1.3 L grades. The vehicle has been specifically designed and approved by Toyota Motor Corporation for Pakistan. The development of this variant was in response to high consumer demand for factory-fitted CNG in Toyota Corolla.
"Corolla Ecotec" features a 2 Year or 50,000km warranty with Toyota standards. It also features driving comfort as rear coil springs are reinforced to handle the additional CNG load.
ADVANCED TECHNOLOGY
"Corolla Ecotec" is 16 Bit ECU-based technology with an i-spark advancer that monitors the VVT-I engine for better performance. This variant contains a Bi-fuel system which gives the driver the option of driving on either petrol or gas.
SAFETY FIRST
Gas Inlet located near fuel inlet with specially designed rubber shield to protect fuel or other liquid from entering luggage compartment.
Gas Tank protector for effective use of space, good appearance, and safety.
Gas Tank with built-in support to avoid gas tank shaking and leakage.
Automatic Solenoidal Valve to prevent gas leakage in high-pressure tubes.
Refill Valve to avoid flow back of gas for safety.
INTELLIGENT PERFORMANCE
Sequential Injection System to Control CNG injection by ECU to provide optimum vehicle performance.
Engine Cylinder Head designed by Toyota especially for CNG to improve durability.
The gas Tank 60 Liters is made from Chromium Molybdenum Steel and is capable of receiving high pressure.
High-Pressure Tube
COROLLA

Model

Price

XLi ECOTEC

1,599,000

GLi ECOTEC

1,729,000
New Corolla Ecotec XLi & GLi 2013 Specifications:

Gas Inlet
Gas Tank Protector
Gas Tank
Automatic Solenoidal Valve
Refill Valve
Sequential Injection System
Engine Cylinder Head
Gas Tank 60 Liters
High-Pressure Tube
Share This Article with Your Friends