Latest Model Toyota Belta 1000cc and 1300cc Price in Pakistan, Pics and Features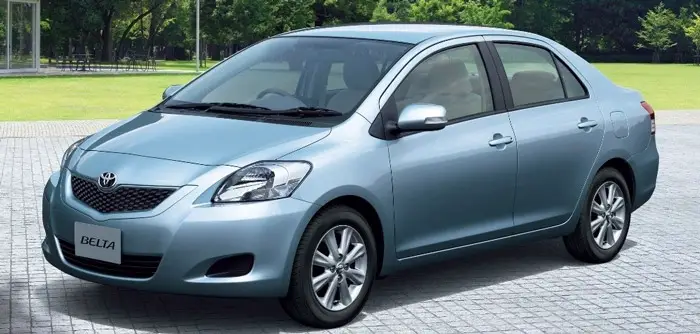 Toyota Belta 1000cc Car for Sale Price in Pakistan – This day and age we find different people having different liking and disliking, same is the case in the selection of the cars. Many people look for the vehicles that are off good quality and they don't consider the look factor in the cars but a lot of people put emphasize on the beauty of the car.
If you are looking for a quality car that is also beautiful then Toyota BELTA should be your ultimate choice. Its name BELTA itself means Beautiful in the Italian language. So, Toyota BELTA is a vehicle from Toyota which has a high quality and excellent interior and exterior. It's a stylish car with great performance worldwide.
Performance and Quality
Toyota BELTA Car produces great performance in all kinds of situations. It contains a 53-kilowatt (71 hp) 1.0-liter 1KR-FE inline-three engine which has great power which results in the long term good performance. It has a front suspension of MacPherson Strut and a rear suspension of Torsion Beam. Its engine has a bore or stroke of 72 x 79.6mm. So, all these features combine to give a great performance with ultimate quality. Toyota Belta car is available in 1000cc and 1300 engine power.
Safety Features
New Model Toyota BELTA 2016 is a luxurious car with unique safety features; it contains air bags for all the seats in it. All the seats also have seat belts and head restraints. It contains an ABS braking system along with unique anti braking system. Its front brakes contain ventilated discs and rear brakes contains drums. Its driven train type is FF.
So, all these features make it a very safe car to drive on all kinds of roads in Pakistan.
Toyota Belta Interior
Imported Car Toyota BELTA contains a unique and excellent interior.  There is ample space in front and rear seats of the car which will give you chance to stretch your legs easily. Total number of 5 people can sit in this car easily. It has a cockpit that is fully automatic and it contains many control options on the steering wheel. It has an excellent dashboard which contains a speedometer in middle of it.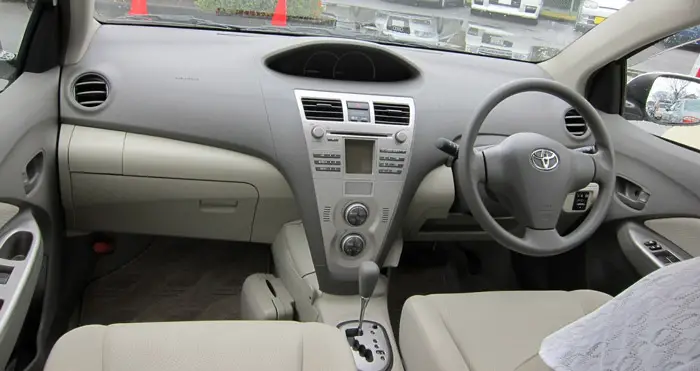 For the entertainment purposes it contains a modern dashboard with CD/DVD system which can also be used to connect your own personal gadget. It also contains an excellent air conditioned system along with a powerful steering.  There are also lights to show the amount of fuel in the car.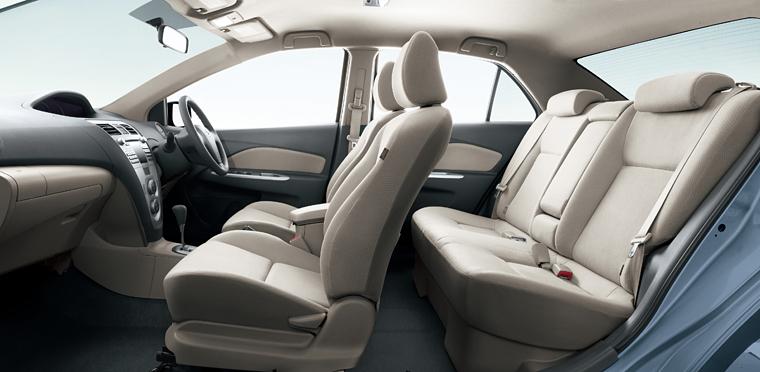 So, these all modern interior features are present in Toyota BELTA Japanese Imported Car.
Belta Exterior
Latest Model Toyota BELTA has an exterior which is liked by most of the people in Pakistan. It is mostly loved by all the young generation because of its unique style.  It has a big back and a sloppy bonnet. It has crystal headlights that are of high quality.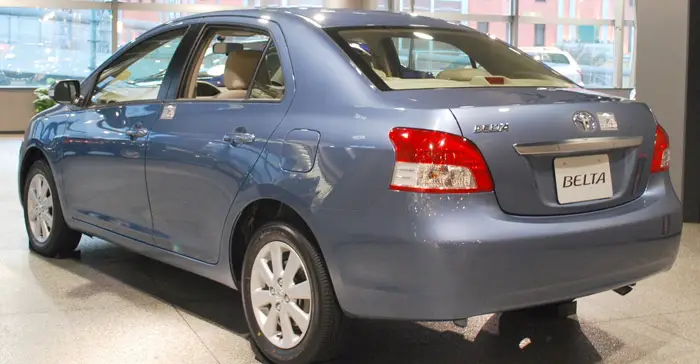 It contains front and rear fog lights also that are stylish and increases its beauty. It contains nice grill with a logo of Toyota in the centre of it. There is also presence of front wipers and side mirrors. This car is embedded with the alloy wheels and a roof rail.
BELTA also contains a grill with air intakes and side swept taillights. It also contains a chrome piece in it. So, overall its exterior personifies the quality and excellence it has.

Salient Features
These are some of the following features Toyota BELTA has,
It has an engine layout of straight type
It has 4 cylinders and 16 valves
Its compression ratio is 11.0:1
Its maximum power is 87 BHP / 6000rpm
Toyota BELTA 2015 has a maximum torque of 116Nm / 4400rpm
Its top speed is 180KM/H
Its gross weight is 1305 kg
It has a KERB weight of 1030 kg
Its length and height is 4300 mm and 1460 mm respectively
Its width and wheel base is 1690 mm and 2550 mm respectively
Its track-rear and track-front is 1470 mm and 1480 mm respectively
Its ground clearance is 150 mm and a turning circle of 4.6 m
So, these are some of the additional features Toyota BELTA contains which is the reason of its high demand.
Toyota Belta Price List in Pakistan
Toyota Belta 2012 Average Price: 14.4 Lacs
Toyota Belta 2011 Average Price: 14.1 Lacs
Toyota Belta 2010 Average Price: 13.8 Lacs
Toyota Belta 2009 Average Price: 12.9 Lacs
Toyota Belta 2008 Average Price: 10.6 Lacs
Bottom Line
New Model Toyota BELTA Car is a class apart from all the other cars, so if you are looking to get your life moving on a right path with the right vehicle then Latest Toyota BELTA Imported Car is waiting for you. Best of Luck!

Share This Article with Your Friends