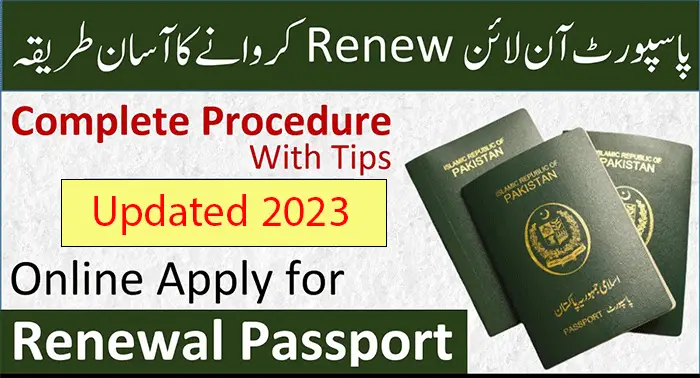 The Pakistani government has introduced a new and easy way to renew passports. It's called the Online Passport Renewal 2023 Service. With this service, people can renew their passports from home. This saves a lot of time and effort. It costs Rs. 1,000, which is affordable for everyone. This makes the whole process quick and convenient.
Step by Step Guide with Video Tutorial
Online Passport Renewal 2023
To facilitate a seamless passport renewal process, the Directorate General of Immigration and Passport's online portal offers a step-by-step guide for citizens. Below, we outline the easy-to-follow process:
Step 1: Visit the DG Immigration and Passport's official online portal.
Step 2: Begin by providing your personal information including your full name, country, and email address. Don't forget to create a strong and secure password for your account.
Step 3: Verify your email by providing your mobile number and selecting your mobile operator. A one-time password (OTP) will be sent to your phone for verification.
Step 4 Use the provided verification PIN code and link to access your email passport account.
Related: Passport Fee in Pakistan 2023, Apply For Online Renewal
Initiating the Renewal Process
Step 5: Now, you can start a new application by entering your ID number and passport expiry date.
Step 6:
Provide your Computerized National Identity Card (CNIC) number and passport number.
Select the passport type.
Choose the application process priority.
Specify the number of pages required for your passport.
Indicate your desired passport validity.
Step 7: The next step is to upload a passport-sized photograph, choose your country of residence, and select the preferred passport office location.
Documents Needed for Online Passport Renewal
Step 8: Provide your permanent address, including city, province, and postal code.
Step 9: In the application supporting documents section.
Upload scanned copies or images of your CNIC (Computerized National Identity Card).
Your fingerprints.
A copy of your previous passport.
Scanned copies or images of your parents' CNIC (Computerized National Identity Card).
Your thumb impressions.
Finalizing the Process
Step 10: Proceed with the payment process, making sure to carefully review and agree to the terms and conditions.
Step 11: Fill out the billing information by entering your card details for payment processing.
Last Step 12: Now Finally, submit your application, and you're done!
By following this straightforward step-by-step guide, you can complete your passport renewal online quickly and effortlessly, without any hassle or inconvenience.
Embracing Convenience and Efficiency
The Online Passport Renewal 2023 Service is a big step forward for Pakistan. It shows how the country is using technology to make things easier for its people. The government has made a platform that's easy to use. This means you can renew your passport without any hassle.

For the latest updates and further details, visit the DG Immigration and Passport official website.

Share This Article with Your Friends