Latest Model Hilux Vigo Champ 2016 Price in Pakistan, Pictures, Specifications and Features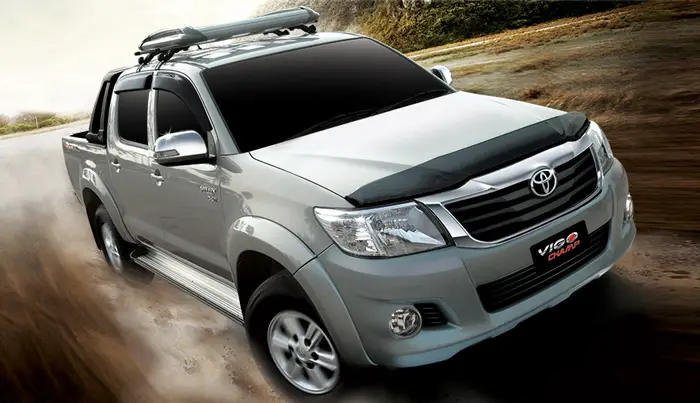 Toyota has always served people with quality automobile vehicles around the world. Its efficiency and quality differentiates it from all automobile vehicle manufacturers. It has launched its new model of Toyota Vigo series that is Toyota HILUX VIGO CHAMP 2016 in Pakistan.
This model has some modifications from the recent models in its interior and exterior which is the reason for its luxurious look. It is a perfect choice for the people who are looking to have adventure through high class vehicle.
Excellent Performance
Latest Model Toyota HILUX VIGO CHAMP 2016 provides you with a great performance. It is fuel efficient and it has a 4-wheel drive system which allows it to take less time for long drives. It has a powerful engine with the power of 101 hp @ 4800 RPM which helps it to run smoothly on all kind of roads anywhere in Pakistan. So, this vehicle is continuously giving good performance which is one of the main reasons for its success.
Vigo Champ Safety
Toyota HILUX VIGO Standard has all the safety features a luxurious vehicle should have. It contains dual SRS bags for safety for front seats. It also has high power brakes along with fantastic anti braking system.
The other safety features it has are the following
It contains hill assist control
It also has downhill assist control along with vehicle stability control
Toyota HILUX VIGO CHAMP contains ABS and EBD systems.
It has Traction and Trailer sway control.
These all features combine to make it a very safe vehicle to drive.
Vigo Champ GX Interior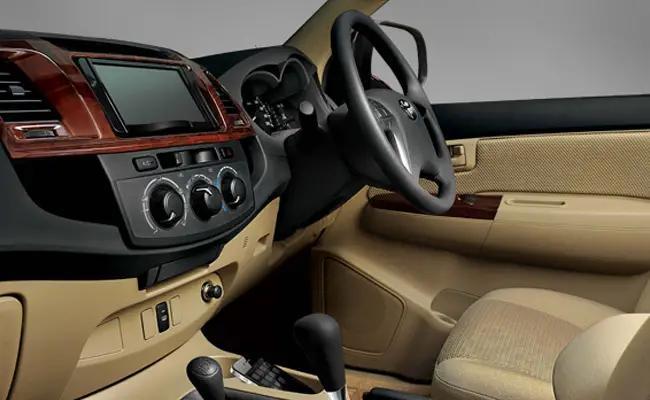 Toyota HILUX VIGO CHAMP has unique interior which is splendidly designed to meet the luxurious requirements of the people. It has a seating capacity of 5 persons. Its steering is embedded with audio switches. It also has GPS navigation for 250 cities which help users to operate and seek knowledge about the routes. It contains a very good air conditioned system.
New Model 2016 HILUX VIGO CHAMP has power windows and fingertip control steering which has made it easy to drive.  It has 4-wheel drive powered with automatic transmission. For the entertainment purposes it has a touch screen DVD with Bluetooth which can be linked with your mobile or any other device to enjoy a nice drive. The other interior features it has are the following
It has 60:40 Rear split seat
It contains the feature of push button start
It also has automatic climate control
It has AC 22V power outlet along with ISOFIX point
Toyota Hilux Vigo Exterior
Vigo has a unique exterior which give splendid looks that appeal many people. Its exterior contains head lamps and lights. It has a front bumper along with a fancy grill. It has a rear bumper on its backside. It also contains 17" heavy tires of alloy rim that adds to its beauty.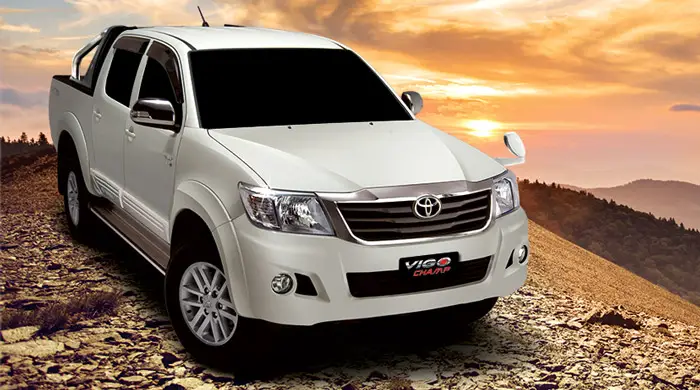 The other exterior features of this vehicle are,
Trapezoid radiator grille with horizontal bar
Standard circular fog lights
Rear side swept tail lights
Powerful side mirrors.
4 power doors.
Front side wipers

This vehicle is available in different colors which provide it with a range of colors for the people to buy from.
Graceful black
White
Metallic Grey
Gun Metallic
Bluish silver
Bronze mica
Strong blue metallic
Wine red metallic
So, its exterior is of both quality and style.

Salient Features
These are the following features this vehicle contains.
It contains Turbo Charged Common Rail Type Fuel System
It also has Hydraulic Power Steering
There is Fabric and advanced control switches in this vehicle
Alluring cockpit Exudes are there also available in it
Power Windows and Dual SRS Air Bags adds to its safety features
It has a fuel capacity of 76 liters
It contains Dynamic control suspension
It has a frame with integrated rigidity mechanism
It also has body control with torque demand
It has the feature of shift on the fly 4WD switch and 6-speed manual and auto gearbox
There is Roller Rocker Arm with valve lash adjuster in it
Toyota Hilux Vigo Champ GX Price in Pakistan
| Variant | EX-FACTORY PRICE |
| --- | --- |
| 4×4 Standard | PKR. 3,174,000/- |
| VIGO CHAMP G A/T | PKR. 3,644,000/- |
| VIGO CHAMP V M/T | PKR. 3,444,000/- |
| VIGO CHAMP GX PLUS | PKR. 3,769,000/- |
Bottom Line
This is a best vehicle for you if you are a adventure lover and you are looking to get a luxurious ride. Toyota will provide you with after sales services which will make it easy for you to keep the maintenance of this excellent Latest Model Toyota Hilux Vigo Chamo GX 2016. So, don't waste your time come and get this vehicle to enjoy the real life.

Share This Article with Your Friends