7th Generation VW 2013 Golf GTI Price and Review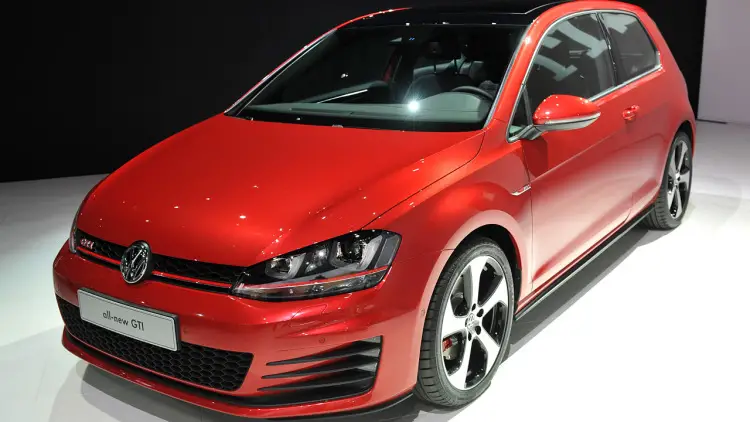 The seventh-generation Volkswagen Golf in US-specification officially debuts at the 2013 New York Auto Show. The new model is the first VW in the States to ride on the company's MQB architecture, and as such, it makes use of plenty of high-strength and ultra-high-strength steel to keep weight down. All told, the new shell is 51 pounds lighter than the outgoing generation, despite the fact that the finished car is a full 2.2 inches longer and .5 inches wider than the 2013 model.
Buyers can expect to find a base model powered by a 1.8-liter turbocharged four-cylinder engine (blue car above) with 170 horsepower and 184 pound-feet of torque. That means the powerplant delivers the same horsepower as the old naturally aspirated 2.5-liter four-cylinder while weighing less and producing seven extra pound-feet of torque.
TDI (silver car above) buyers, meanwhile, will enjoy a new 2.0-liter turbo diesel four-cylinder mill. VW says the engine yields 10 more horsepower than the old lump, which means the Golf TDI now boasts 150 hp and 236 lb-ft of torque.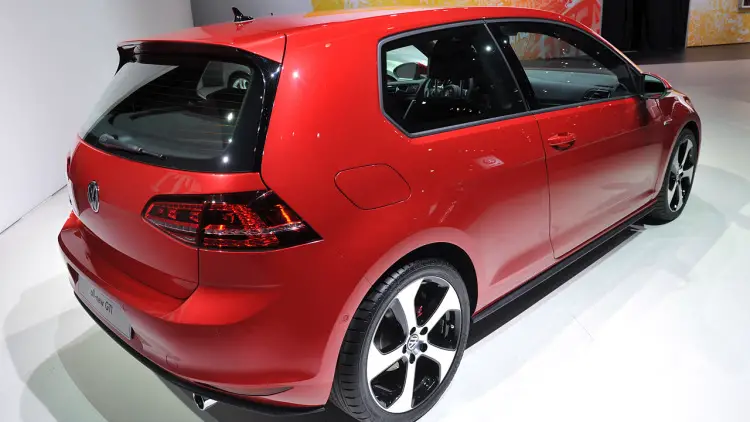 GTI buyers will now get their hands on a revised 2.0-liter turbocharged four-cylinder with approximately 210 hp and 258 lb-ft of torque – Volkswagen hasn't finalized power numbers for that machine.
Interior Design
The new Golf interior package is larger, despite the car having a lower roofline. The interior is now 0.6 inches longer, which is reflected in 0.6 inches more rear-seat legroom. In the front, the shoulder- and elbow room are increased by 1.2 and 0.9 inches, with commensurate improvements in the back by 1.2 and 0.8 inches. The cargo capacity is eight percent greater, too, and the floor of the trunk area can be removed to further increase stowage space.
Safety and Security
As well as offering no fewer than six standard airbags, the new Golf features as standard a new safety system called Automatic Post-Collision Braking System. The new system automatically brakes the vehicle when it is involved in a collision in order to help reduce residual kinetic energy.

We're happy to see that the GTI still features its trademark plaid seats. Volkswagen says the new Golf and GTI will go on sale as a 2015 model, but doesn't say when the car will actually hit dealerships.

Share This Article with Your Friends