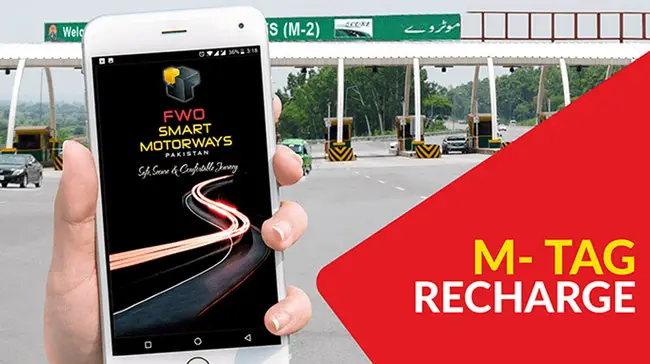 Frontier Works Organization (FWO) has announced that it is compulsory for any commercial vehicle to have M-Tag for traveling on motorways.
FWO imposed a new rule for all public and commercial vehicles traveling on the Lahore-Islamabad motorway (M2) to install M-Tag sticker before 31st March 2018 and no vehicle will be allowed to enter M2 without M-Tag from 1st April.
How to Register for M-Tag Account
M-Tag stickers can be issued by FWO booths at almost every entry or exit point of M2. To get M-Tag drivers to need to have a valid license, Photo ID, and vehicle registration documents.
M-Tag is a pre-paid RFID chip system that is read by the scanners installed at the toll booths. The scanner reads the balance and the location of the entry, and upon exit, the scanner on that booth deducts the appropriate amount.
How to Recharge Your Motorway M-Tag Account?
All Vehicle Owners can recharge the M-tag account through FWO's app and website online and JazzCash account as well. Apart from that, the account can be recharged through Rs 200, Rs 500, Rs 1000, Rs 2000, and Rs 3000 scratch cards as well.
Toll Tax From Lahore Motorway M2 to Islamabad
Cars/Jeeps/Taxis: Rs 620.
Wagons: Rs 1,040.
Coasters: Rs 1,460.
Buses: Rs 2,080.
Trucks 2&3 Axle: Rs 2,700.
Articulated Trucks: Rs 3,480.
Gradually, the M-tag will be used on motorways across the country. This step has been taken in accordance with the China-Pakistan Economic Corridor (CPEC) project. The cars will be allowed to enter the Motorway after clearance only. Moreover, M-tag will also help capture vehicles that are stolen or used for terrorism.