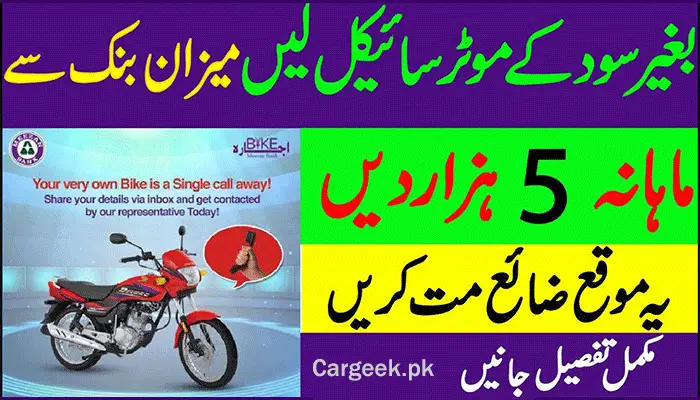 Lahore: Because the cost of petrol is getting higher, many people in Pakistan now want to buy their own motorcycles. To make it easier, Meezan Bank has a special offer in the name of Apni Bike installment plan. Through this bike installment plan, you can get a motorcycle in your own name and pay for it in 36 small installments (Qist in Urdu).
Through this scheme, you can buy Honda 125, Honda 100 Pridor, Honda CD 70, Suzuki 110s and all other popular brands. This installment plan is available for Karachi, Lahore, Multan, Faisalabad, Sargodha, Peshawar, Sialkot and Gujranwala residents. Following is the Meezan Bank Bike Installment Scheme detail in Urdu.
Meezan Bank Apni Bike Installment Plan in Urdu
Last Updated 12 September 2023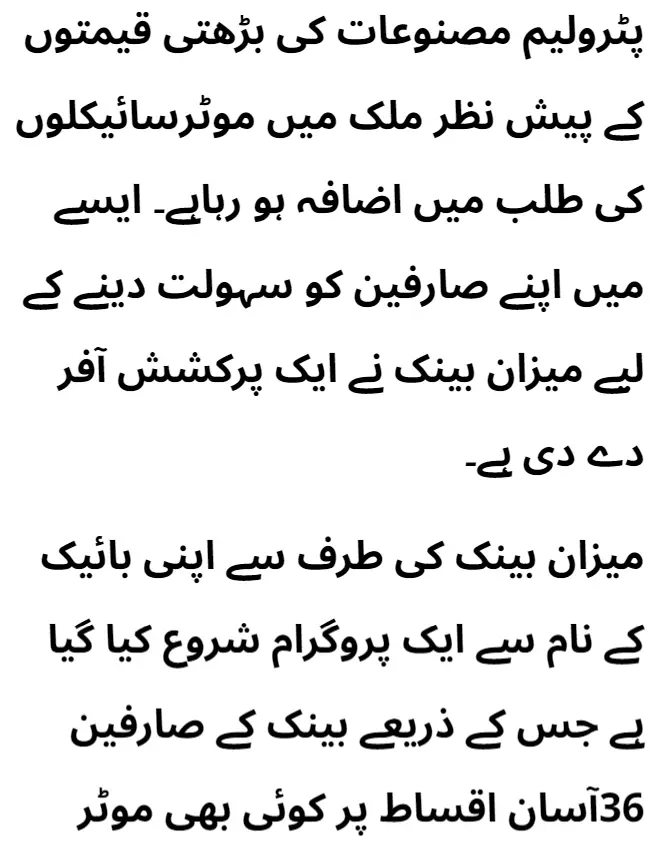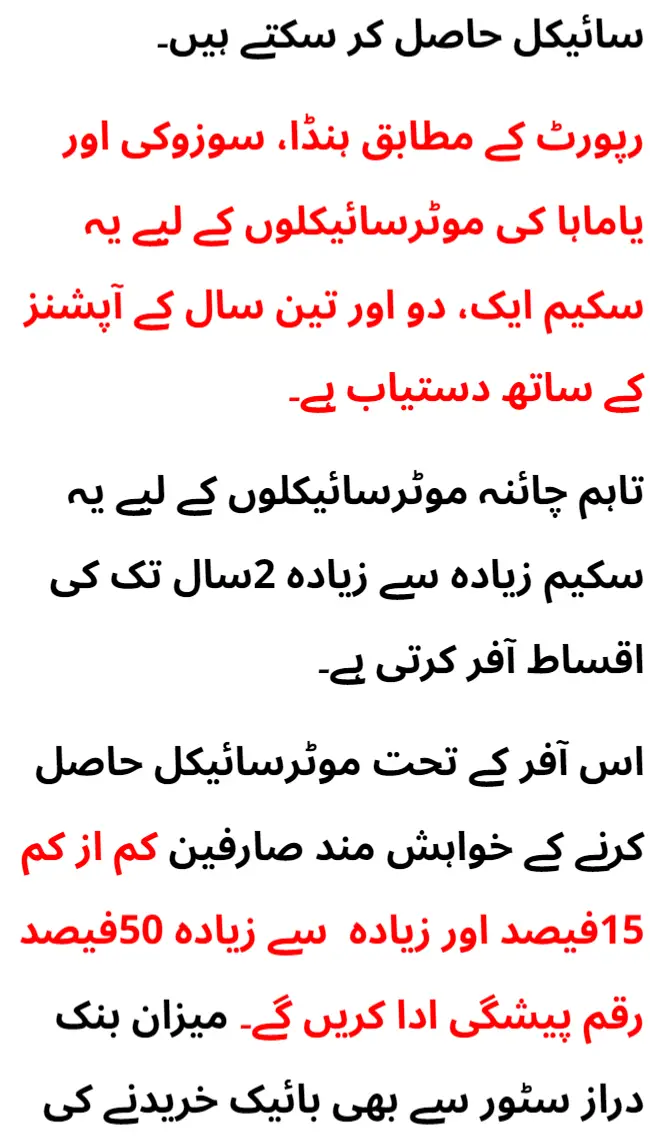 YouTube Video for Meezan Bank Apni Bike Installment Scheme in Urdu
Program Detail in English
Meezan Bank apni bike installment plan allows customers to purchase a motorcycle in their own name and pay for it through 36 manageable installments. This offer covers popular brands like Honda, Suzuki, and Yamaha, offering flexible financing options ranging from one to three years. Additionally, the scheme extends to Chinese motorcycles with a maximum financing period of two years.
Bike Leasing Terms
You must have to pay an advance of at least 15% and up to a maximum of 50% of the total motorcycle price.
Daraz Store also provides an option for purchasing bikes through Meezan Bank.
A non-refundable processing fee of Rs. 1,800 will be charged.
Eligibility Criteria
To take advantage of this offer you must meet the following criteria:
Age between 20 and 65 years.
Salaried person should have a minimum monthly income of Rs. 45,000.
A self-employed person's minimum monthly income should be Rs. 75,000.
Loan installments should not exceed 40% of the applicant's income.
A valid Meezan Bank debit card is mandatory.
Motorcycle Specifications
For those eyeing a 250cc motorcycle, the following income criteria apply:
| Criteria | Minimum Requirement |
| --- | --- |
| Annual Income | Rs. 1.5 million |
| Personal Income | Rs. 2 million |
| Initial Payment | 30% to 50% of total cost |
Remember: Must Use Meezan Bike Calculator before purchasing any bike. Most other banks in Pakistan offer the same installment plan for cars and bikes but with interest. In other words, the total price of the bike will include the interest amount (Sood and Haram). Only Meezan Bank offers bikes on installment without interest. So you can say that Meezan bank bike on installment is Halal.
FAQs
Which bank provides bikes in installments in Pakistan?
Meezan Bank provides bikes on installment plans in Pakistan.
What is Meezan Bank helpline number?
The Meezan Bank helpline No is: 111-331-331 or 111-331-332

Share This Article with Your Friends