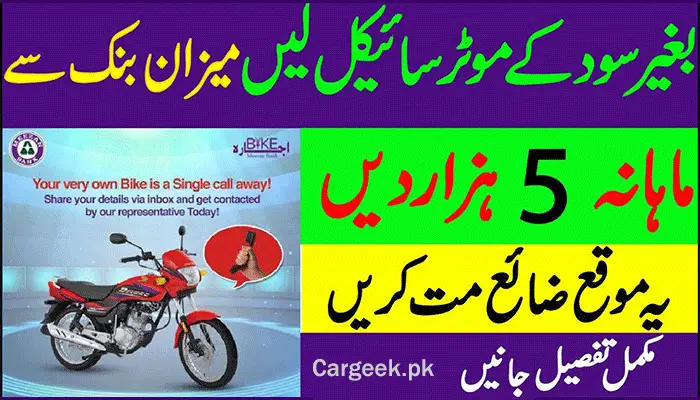 Meezan Bank Bike Installment Plan in Urdu
کراچی: پٹرولیم مصنوعات کی بڑھتی قیمتوں کے پیش نظر ملک میں موٹرسائیکلوں کی طلب میں اضافہ ہو رہاہے۔ ایسے میں اپنے صارفین کو سہولت دینے کے لیے میزان بینک نے ایک پرکشش آفر دے دی ہے۔ نیوز ویب سائٹ'پروپاکستانی'کے مطابق میزان بینک کی طرف سے اپنی بائیک کے نام سے ایک پروگرام شروع کیا گیا ہے جس کے ذریعے بینک کے صارفین 36آسان اقساط پر کوئی بھی موٹرسائیکل حاصل کر سکتے ہیں۔
رپورٹ کے مطابق ہنڈا، سوزوکی اور یاماہا کی موٹرسائیکلوں کے لیے یہ سکیم ایک، دو اور تین سال کے آپشنز کے ساتھ دستیاب ہے۔ تاہم چائنہ موٹرسائیکلوں کے لیے یہ سکیم زیادہ سے زیادہ 2سال تک کی اقساط آفر کرتی ہے۔ اس آفر کے تحت موٹرسائیکل حاصل کرنے کے خواہش مند صارفین کم از کم 15فیصد اور زیادہ  سے زیادہ 50فیصد رقم پیشگی ادا کریں گے۔ میزان بنک دراز سٹور سے بھی بائیک خریدنے کی پیشکش کرتا ہے۔
بینک کی طرف سے 1ہزار 800روپے پراسیسنگ فیس بھی وصول کی جائے گی جو ناقابل واپسی ہو گی۔ اس سکیم سے فائدہ اٹھانے کے لیے درخواست دہندہ کی عمر 20سے 65سال کے درمیان ہونی لازمی ہے۔ ملازمت پیشہ لوگوں کی تنخواہ کم از کم 45ہزار ہو۔ ذاتی کاروبار کرنے والے افراد کی کم از کم ماہانہ آمدنی 75ہزار روپے ہونی چاہیے۔
درخواست دہندہ پر قرض کی شرح اس کی آمدنی کے 40 فیصد سے زیادہ نہیں ہونی چاہیے۔ درخواست دہندہ کا میزان بینک ڈیبٹ کارڈ ہولڈر ہونا لازمی ہے۔ 250سی سی موٹرسائیکلز حاصل کرنے کے لیے کم از کم تنخواہ ڈیڑھ لاکھ روپے یا کم از کم ذاتی آمدنی 2لاکھ روپے ہونی چاہیے۔ ان صارفین کو کم از کم 30فیصد اور زیادہ سے زیادہ 50فیصد رقم پیشگی ادا کرنی ہو گی۔
Youtube Video for Meezan Bank Apni Bike Installment Scheme in Urdu
Remember: Must Use Meezan Bike Calculator before purchasing any bike. Most other banks in Pakistan offer the same installment plan for cars and bikes but with interest. In other words, the total price of the bike will include the interest amount (Sood and Haram). Only Meezan bank offers bikes on installment without interest. So you can say that Meezan bank bike on installment is Halal.
FAQs
Which bank provides bikes on installments in Pakistan?
Meezan Bank provides bikes on installment plans in Pakistan.
What is Meezan Bank helpline number?
The Meezan Bank helpline No is: 111-331-331 or 111-331-332