Honda Bike Installment Plan 2023.
Finally good news for bikers! The Atlas Honda bike installment plan 2023 was announced without interest and advance payment. With this Honda bike installment plan, you can purchase a Honda CD 70, Honda CG 125, Honda 150, and 100cc Pridor bike with zero percent markup (interest).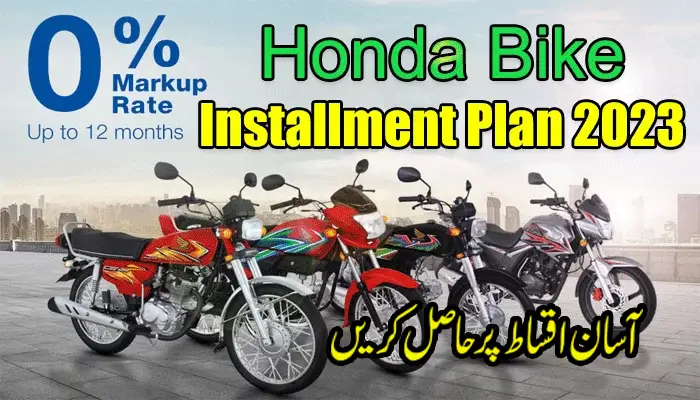 Due to inflation, the purchasing power of Pakistanis is declining day by day. To overcome this situation, Honda stepped forward, and earlier this month, in February 2023, Honda company partnered with Pakistan's most famous online store, Daraz, to sell their bikes in 12-month installments without any interest (Sood). More details are listed below.
Honda Bikes on Installment at Daraz Store:
Atlas Honda has partnered with the online store Daraz to offer Honda bikes on a 12-month installment plan with zero percent markup or interest. This plan lets you purchase Honda 125, CD 70, or Pridor bikes in easy 12-month installments. Please note that this plan is not available for everyone. Only selected customers can avail of this offer.
Here is the Complete Procedure, How to get Honda Bikes on Installments without Advance.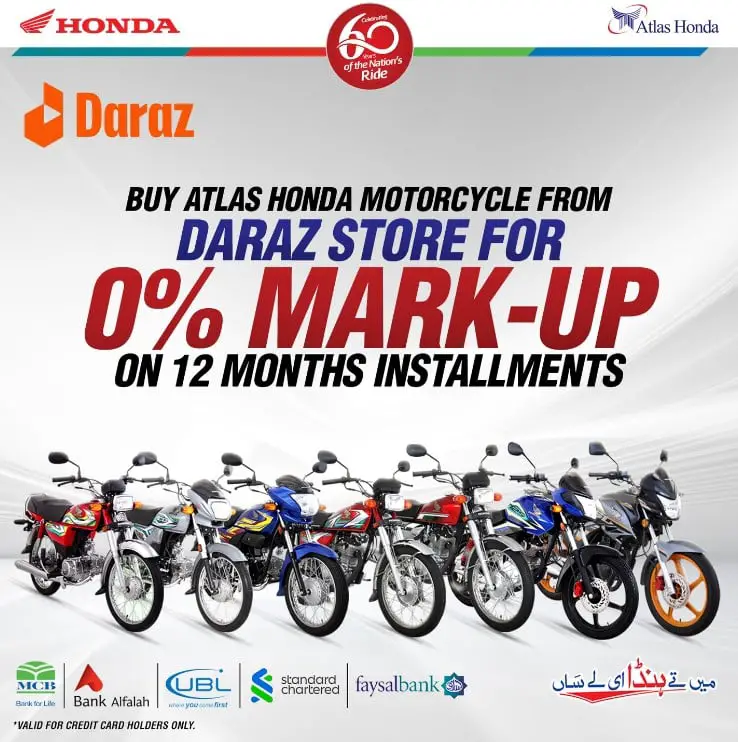 This advertisement banner clearly mentions that only credit card holders of UBL Bank, MCB, Standard Chartered, Faysal Bank, and Bank Al Falah are eligible to purchase a new bike through installments from Atlas Honda and Daraz. Click here for more detail.
Honda Bike on Installment Meezan Bank:
Through the Meezan Bank Ijarah Financing scheme, you can apply for Honda CD 70, CG 125, and 100cc Pridor. The Meezan Bank installment plan for Honda bikes 2023 is available for 1 year to 3 years from now. Your bike will be insured under the Islamic Insurance Scheme. There will be a 15 percent advance or down payment required through Meezan Apni Bike Financing. Meezan bank also launches the bike Ijarah calculator for their installment scheme.
Note: Meezan Bank Musawamah financing scheme is available for Karachi, Lahore, Faisalabad, Peshawar, Rawalpindi, Islamabad, and other cities.
How to Apply and Required Document:
| Criteria | Requirements |
| --- | --- |
| Citizenship | Must be Pakistan and Permanent Resident |
| Age | 20-65 Years Old |
| Minimum Income Requirements | Salaries Class – 25,000/- (Gross Salary) – SEP – 40,000/- – Businessmen – 40,000/- |
| Debt Burden Ratio | 35% of Net Monthly Income/- (For Salaried, SEP, and Businessmen) |
| Down Payment | Minimum 15% of the cost of the vehicle and maximum 50% of the cost of the vehicle |
| Tenor | 1 to 3 Years |
| Payment Mode | Through postdated cheque. Direct Debit instruction of Meezan Bank Account. Direct Deduction from salary by the employee (Only in Corporate cases). |
| Cheque Return Charges | Cheque return charges would be levied as per the bank's schedule of charges. |
| Takaful Coverage | As per the takaful company's policy |
Click here to apply or for more details.
Honda 125 on Installment Meezan Bank
The Honda CG 125 bike has a lot of fans in Pakistan, and if you are one, there's good news for you. The Atlas Honda company announced a new scheme for Honda 125 on installment through Meezan Bank. Click here for more information on the bank's website. Here is also a calculator that can help you calculate the bike installment and the total price of the bike after clearing all dues.
Honda Bike Installment Plan HBL Bank:
HBL Bank recently announced a plan to allow you to purchase a Honda bike on installments without interest. If you are an HBL customer, you can easily get your favorite bike in 2023. The following are the required documents and procedures to apply for this plan.
You are a permanent citizen of Pakistan.
You can purchase the bike on a 3-month to a 36-month installment plan.
Required Documents:
Active bank account, ID Card, and Salary slip or business income proof
UBL Honda Bike Installment Plan 2023
UBL also announced an installment plan for Honda bikes. Rules and procedures are followed.
You can purchase the Honda 125 on installments without interest for a period of 12 months to 36 months.
If you want to purchase the Honda CD 70 or Pridor motorcycle, the installment period will be 3 months to 36 months.
You must have an active bank account.
Your ID card and salary or business proof will be required.
---
FAQs about Honda Bike Installment Plan 2023
What is the honda 70 price in the Pakistan 2023 installment?
According to the new plan, Honda 70 bike price on installment in 2023 will be Rs.147,500
What is the honda 125 installment price in Pakistan 2023?
Please remember Honda 125 bike price on installment without interest will be Rs.205,900 in Pakistan.
What is the honda pridor price in Pakistan on installment?
Honda pridor price in Pakistan on installment without interest will be Rs.181,500/-
What Is the Price of Honda 150 in Pakistan on Installment?
Honda 150 price in Pakistan on installment without interest rate will be Rs.422,900
Can I purchase a bike on installments without advance?
Unfortunately, you cannot get bikes on installments without advance in Pakistan. You have to pay a minimum of 15% in advance to get your favorite bike.

Share This Article with Your Friends