Today's post provides the latest information on the Unique 70 Price in Pakistan 2023 Model, including details on the Unique UD 70 bike petrol average, its key specifications and features, and the Unique motorcycle price list in cities like Lahore, Gujranwala, Karachi, Multan, Peshawar, Gilgit Baltistan, and Faisalabad.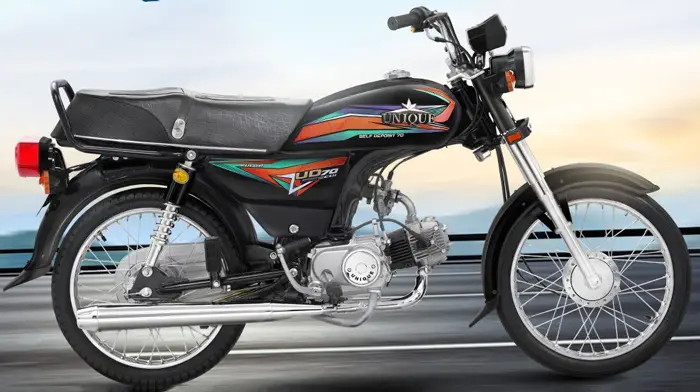 Unique UD 70 Bike Price in Pakistan 2023

As of September 19th, 2023, the cost of the Unique 70 bike has been revised to PKR 116,500/- rupees. If this price is not within your budget, you can opt for a used one at a price of 30,000 rupees. This represents a savings of 45% compared to the cost of a new bike. Let's take a look at the Unique Motorcycle 70 price list for some of the major cities in Pakistan.
Updated Unique motorcycle price list 2023:
| Model Unique UD | City | Price |
| --- | --- | --- |
| 70cc | Lahore | Rs. 116,500 |
| 70cc | Karachi | Rs. 116,500 |
| 70cc | Gujranwala | Rs. 116,500 |
| 70cc | Faisalabad | Rs. 116,500 |
| 70cc | Multan | Rs. 116,500 |
| 70cc | Peshawar | Rs. 117,500 |
| 70cc | Gilgit Baltistan | Rs. 117,500 |
Unique 70 Petrol Average
The fuel consumption of the Unique UD 70 bike ranges between 50km/l to 55km/l. This is made possible by its 4-stroke 70cc engine, which contributes to achieving this average consumption rate. The fuel tank capacity of this bike allows for the storage of up to 9 liters of petrol.
Top Speed and Meter:
With this bike, you can reach a top speed of 80 kilometers per hour. For a 70cc engine, this speed is considered reasonable. The speedo meter on the Unique bike has a similar design to that of the Honda 70, with basic readings. Unfortunately, the Unique motorcycle company does not offer a digital meter option for this bike.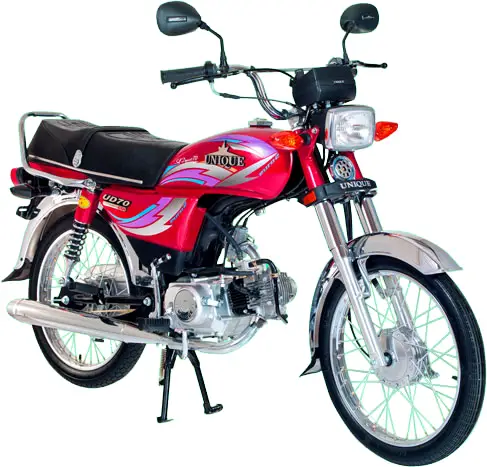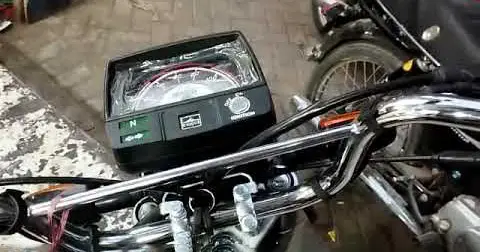 Competitor:
This bike faces tough competition from well-known brands such as Honda CD 70, Road Prince, and the popular Super Power SP 70 bike from China. These brands are considered to be major competitors in the market and offer a similar range of products as this bike.
Specifications and Features List:
Similar to other 70cc bike brands in Pakistan, this bike also boasts similar features and specifications. Let's take a closer look at some of them.
| Feature | Specification |
| --- | --- |
| Meter | Analog |
| Dimension (LxWxH) | 1880 x 750 x 990 mm |
| Engine | 4-Stroke Single Cylinder Air Cooled |
| Displacement | 70 cc |
| Clutch | Wet Type Multi-Plate |
| Transmission | 4-speed |
| Bore & Stroke | 47.0 x 41.4 mm |
| Compression Ratio | 9.2:1 |
| Petrol Capacity | 9L |
| Fuel Average | 50km/L to 55km/L |
| Starting | Kick Start |
| Top Speed | 80km/h |
| Dry Weight | 90KG |
| Frame | Backbone Type |
| Ground Clearance | 135mm |
| Tyre at Back | 2.50 – 17 |
| Tyre at Front | 2.25 – 2.25 |
Installment:
Installment options are available for this motorcycle, but choosing this route will increase the overall on-road price significantly.
Unique Motorcycle Company:
Are you in the market for a new bike in Pakistan and considering the brand Unique? Look no further! Whether you want to find the on-road price for your city or compare different models, this page has got you covered.
Unique Motorcycle Company has operated in Pakistan for many years, with its headquarters situated in Karachi. The company is a subsidiary of a Chinese parent company. With a strong dealership network in the provinces of Punjab, Karachi, KPK, Balochistan, Gilgit-Baltistan, and Pakistani Kashmir, Unique Bikes has gained a lot of popularity in the country. The main reason for the popularity of Unique bikes is the affordable and budget-friendly prices as compared to other bike brands. Over the years, Unique has offered durable and reliable bikes to its customers.
With the growing demand for bikes in Pakistan due to inflation, Unique is actively working to drive growth and innovation in the motorcycle industry. The all-new Unique Xtreme UD 70 bike has captured a lot of attention and interest recently. There are plans to introduce even more exciting models in the near future. What sets Unique apart is its commitment to producing high-quality bikes at an affordable price point. A Unique bike is suitable for every budget, with prices starting at Rs. 116,500 to Rs 230,000.
Unique Bike Official Website:
The official website of Unique Company can be found online, but the company has not been putting much focus on website maintenance, resulting in frequent downtime.
We hope that all of your queries regarding this bike have been answered. If there are any additional questions, feel free to ask us in the comments section below. Thank you for visiting our website.
FAQ
What is the price of Unique 70 in Pakistan 2023 model today?
The Unique UD 70cc bike price in Pakistan is 116,500 Rupees, as of today 12th April 2023.
What is the average of unique 70 bike?
The fuel average of the Unique 70 bike ranges between 50 km/l to 55km/L.

Share This Article with Your Friends