Honda CD 70 2023 Price in Pakistan

Updated Price is:  PKR 128,900/=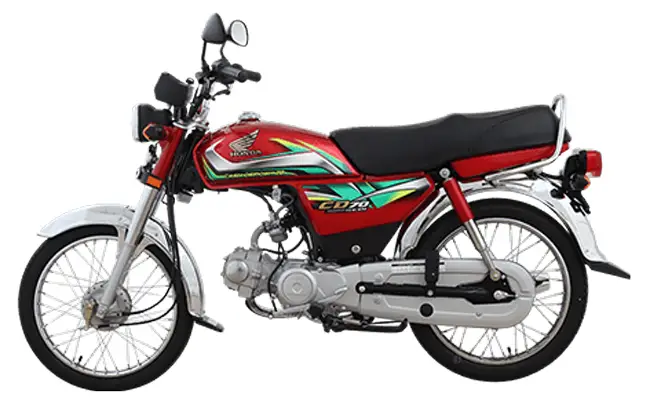 Honda is the largest and leading automotive-selling brand in Pakistan, especially regarding bikes. If we talk about New Model Honda CD 70, then it is the first choice of every Pakistani and thus, it is the most demanded bike of Honda. It is manufactured with remarkable Japanese technology and has an eye-catching design the best feature is that it is reliable and a fuel saver.
Honda CD 70 Petrol Average Per Liter
These properties of the engine make it fuel-efficient and thus it gives you an amazing mileage of 80 KM in only one liter, which is not expected from any other bike.
Performance

Honda CD 70 has a remarkable combination of the smoke-free and super Econo power 4-stroke engine, which makes it the most desired bike in society. The 4-stroke engine is an OHC single-cylinder air-cooled engine, which makes it a durable and long-lasting bike.
Safety Features

Most people take bikes as a dangerous ride but let me tell you Honda CD 70 has the entire safety feature a bike could have to keep you safe on the roads. It has high-quality tires and thus runs smoothly on any kind of road and keeps you well-balanced. Its brakes are also made from high-quality material. It has non-asbestos environmentally friendly brakes that make it strong and durable on risky roads and heavy traffic.
Honda CD 70 Features
It has an interior made of the most advanced and high-tech machinery, which makes it an ideal motorcycle. It has 4 gearbox and multiple wet clutch plates which make it run smoothly on all kinds of roads and keeps you stable and well-balanced. It is also equipped with the best suspension system. One of the most amazing properties is that its tank has the capacity to withhold 9 liters of petrol. Thus, it will be your best companion in the long run.
Exterior
It has a charismatic design with a sporty touch and a dynamic body of the aerodynamic design. It has been manufactured with the most eye-catching graphics. It has a comfortable seat, which makes your journey easy and comforting.
It also has an adjustable handle, which gives you the power to adjust it according to your height. It has a modern switch assembly, which makes it applicable to be controlled by the left hand. It also has high-quality side covers with a locking system. It is manufactured with high-quality shock absorbers, which make it an ideal ride on bumpy roads.
Salient Features
Following are some of the attractive key features that the latest model Honda CD 70 is equipped with:
It has a 3-year engine warranty
It has an engine which is durable, eco-friendly and fuel-efficient and provides you with a good mileage of 80km in only one-liter petrol
It is manufactured with thicker spokes and a reliable rear wheel
Extraordinary design with safety seat bars
It has a muffler exhaust
It has a strong side cover with durable locks
A high capacity fuel tank with a sporty design
4-Stroke OHC single cylinder cooled by air
It has a remarkable compression ratio of 8.8:1
It has a framework of backbone type
It is a kick start the beautiful motorbike
It has a remarkable transmission of continuous 4-speed mash
It has a fuel capacity of 9 liters
It has an 82 kg dry weight
It has a high resale value
It has two attractive colors red and black
Its spare parts are easily available on the market
Conclusion
I hope we have cleared all your confusion regarding the New Model 2016 Honda CD 70 Bike Price in Pakistan Its Features, Specifications, and Pictures, as it is the best choice bike. Due to its strong grip and smooth ride, it is the most favored bike in the country and has the highest selling rate. So go and buy your Honda CD 70 now for the best biking experience you should not miss at any cost.

Share This Article with Your Friends