Self Start HONDA 125 Price in Pakistan 2024
The Updated Price of the Honda 125 for the month of September is PKR Rs. 282,900 Rupees.

Let's talk about the 2023 price, new features, and fuel efficiency of the Honda 125 in Pakistan. Atlas Honda Pakistan sells the Honda CG 125, bringing out a better version every year. Recently, they introduced a new and improved CG 125 with exciting features.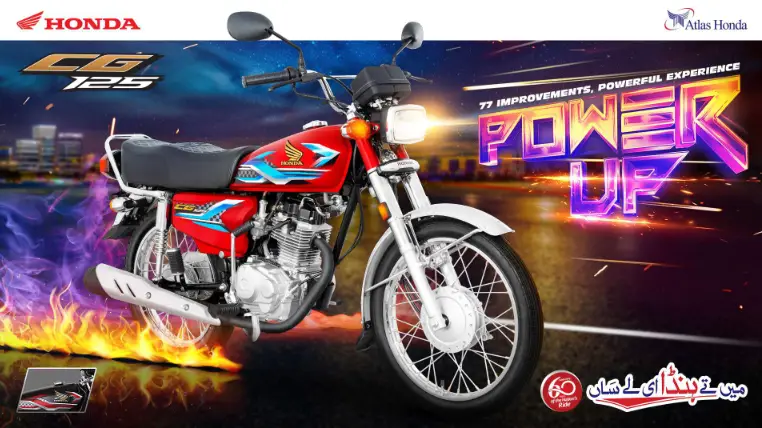 Self Start Honda 125 Price in Pakistan 2024
When Atlas Honda introduced the new Honda 125 model, everyone was curious about its price in Pakistan. The company decided to keep it the same as the 2024 model, which is Rs. 234,900 for the Kick Start version and Rs. 282,900 for the Self-Start model.
Honda 125 Self StartFuel Tank Capacity

Petrol Tank Capacity 9.2 Liters
The Honda 125 is known for its big 9.2-liter fuel tank. Competitors usually have tanks of 7 liters. In 2024, Honda added a 2-liter reserve tank. This is twice the capacity of competitors, who have about 1 liter.
Honda 125 Features in Urdu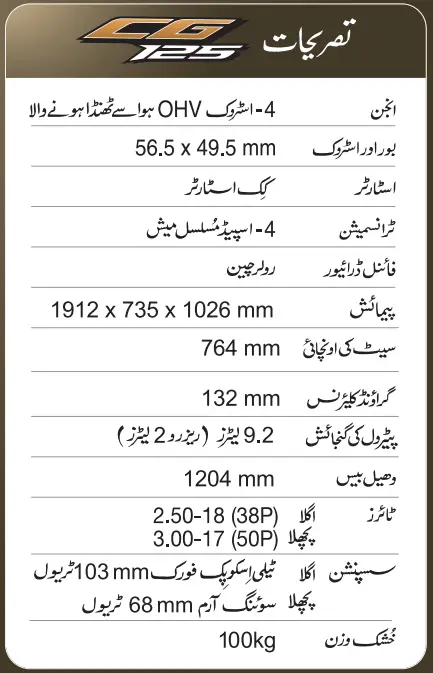 Honda 125 Fuel Average

Almost, 50 Km/L
Fuel average is one of the most critical factors that everyone considers before buying a motorbike. However, it also depends on the driver and the speed at which you are driving. It, however, mainly depends on the motorbike manufacturer. All Honda CG 125 competitors provide fuel averages between 30 and 40 kilometers per liter. The fuel average of the Honda CG 125 is between 35 and 45 kilometers per liter. Additionally, if you maintain it properly and fill it with high-octane petrol, it can give you a fuel average of up to 50 kilometers per liter.
Honda 125 2023 Model Video Review
Honda CG 125 2024 Brief History
Introduced in 1992, the Honda 125 has become a top choice among motorbike enthusiasts in Pakistan. Manufactured and distributed by Atlas Honda, it's gained a reputation for its durability, reliability, and cost-effective upkeep. Its engine is familiar to mechanics across the country, ensuring easy repairs from Khyber to Karachi. This has led to impressive resale value in the second-hand market. Every year, Atlas Honda unveils a fresh model of the Honda 125. Now, let's dive into the specifications and features of the new 2023 model.
Honda 125 Design Philosophy:
Since its launch in 1992, the Honda 125 has evolved constantly over the years. The design and technical specifications of the motorbike have changed significantly. The biggest change was made in 2012 when the motorbike shifted to Euro 2 engine technology. Apart from that, the self-start option that was launched in 2019 was another exciting new feature added to Honda CG 125.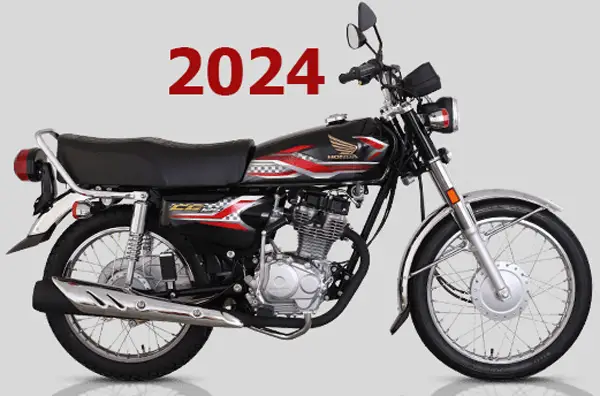 Conclusion:
In this article, we discussed the all-new Honda 125, its exciting features, its price in Pakistan, its fuel tank, and its fuel average. After reading this article, if you have made your decision to buy Honda CG 125 2024 consider buying it as soon as possible because the price might increase if you wait for some days. As Honda has already increased the prices of its motorbikes five times in 2023.

Share This Article with Your Friends