HONDA 125 Price in Pakistan 2023
Honda has become a sign of extraordinary quality, remarkable performance, affordable cost, fuel efficiency, and reliability. No other bike company can meet the remarkable features Honda is providing and thus new model 2023 Honda CG 125 is one of the most amazing productions by Honda. It is manufactured with the latest Japanese technology, which makes it a buyer's first choice.
Honda 125 2023 Mileage/Fuel Consumption
The Honda 125 bike is highly fueled efficient and environmentally friendly because it uses technologies complying with Euro 2 standards. Due to its fuel-efficient engine, which gives an average of 40 to 45 km/liter, the Honda CG 125 Euro 2 is extremely popular in Pakistan.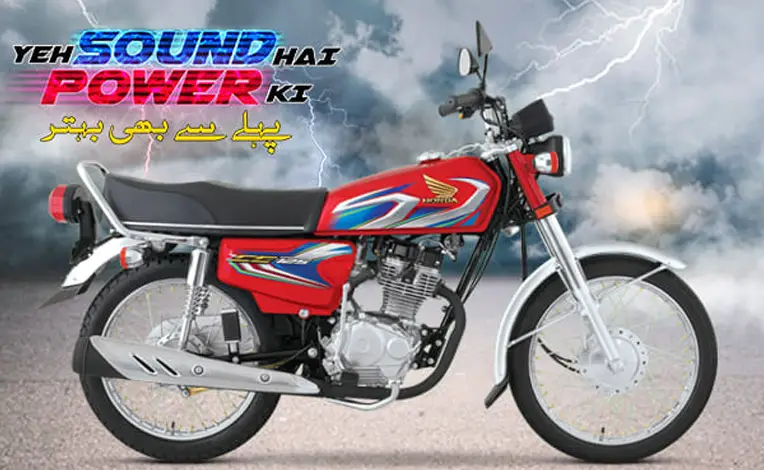 Performance
It is manufactured with a high-tech powerful smoke-free 4-stroke engine, which makes it desirable for long journeys and bumpy roads. It has the extraordinary feature of producing 11 HP, a feature only found in Honda and it is very fuel-efficient. It has a highly modified tank, which has the capacity to fill in 9.2 liters of petrol, and you will not have to worry to fill it repeatedly. It has also the latest Euro 2 technology, which makes it different and better from the other bikes.
Safety
It has a special wheel design that makes it run smoothly on the road thus it keeps you stable and removes all your worries consisting the bike as a dangerous ride. It has strong shock absorbers that make it a comfortable and secure ride on bumpy roads. Its brakes are made with high-technology material thus; they will never betray you in risky situations and will always give you the experience of an unharmed journey. Its silencer is also specially protected from the back to save you from burns during the long journey because of the heating up of the silencer.
Features
Its interior is made of advanced technology and the latest machinery. The most positive point of its features is the remarkable gearbox and multiple plate clutches that make it run smoothly on uneven roads. Its manufacturers have also made an extraordinary suspension system in it, which makes it an ideal bike. One of its remarkable properties is that its tank has the capacity to hold up to a large quantity of fuel, which makes it your best partner for the long journey.
Exterior
It has a unique sporty look and a creative aerodynamic design. It has a comfortable seat, which makes it ideal for a long journey and you will not feel tired even after a long ride. It has a stylish and advanced speedometer that tells you how much you have traveled per litter thus informing you about your fuel consumption. Its front and rear light have also given a better and new look. Its indicators and headlight are brighter than the previous models. It is available in two eye-catching colors red and black.
Honda CG 125 vs Yamaha YBR 125
The new model Honda 125 bike is better than the Yamaha YBR 125 in many ways. It is 26,500 cheaper, more spacious, and weighs less than the Yamaha 125, which ensures an amazing performance. Moreover, the spare parts of CG 125 are very affordable compared to its Yamaha competitor.
Specifications
| | |
| --- | --- |
| Engine | 4-Stroke OHV cooled by air |
| Bore & Stroke | 56.5 x 49.5 mm |
| Wheel Base | 1201 mm |
| Starting | Kick start |
| Transmission | Continuous 4 speed mesh |
| Dimension(Lxwxh) | 1911 x 732 x 1016 mm |
| Height of Seat | 771 mm |
| Ground Clearance | 140 mm |
| Petrol Capacity | 9.2 Liter |
| Tyre at Front | 2.50 – 18 4 PR |
| Tyre at Back | 3.00 – 17 6 PR |
| Dry Weight | 99 KG |
Salient features
It has the following extraordinary features
It has a comfortable seat with a rear grip provided to keep you stable on uneven roads
It has an attractive fuel tank and creative graphics
Its manufacturer has installed the latest technology and a 4-stroke smokeless engine
Attractive speedometer with the economy zone installed in it
Classy front light, which is brighter and better, and a creative shape for the backlights
It has a kick start properly
It has a remarkable transmission of continuous 4-speed mesh
Fuel capacity of 9.2 liters
It has a dry weight of 99 kg
It has a final driver of roller chain type
It has a CDI ignition system
It has a powerful battery of 12 volts
It provides an extraordinary 11 horsepower
It has a good resale value
It has two attractive colors red and black
Its spare parts are easily available
Conclusion
I trust that we have cleared every one of your confusions in regards to the Honda CG 125, as it is the best decision bike. Because of its solid grasp and smooth ride, it is the most supported bike in the nation and has the most noteworthy offering rate. So go and purchase your Honda CG 125 now for the best biking background you ought not to miss at any expense.