Article Summary: Here you will find updated information about the Haval Jolion 2023 Price in Pakistan, premium features, interior pictures, specifications, and the fuel average of this stylish SUV. Additionally, we provide Haval Jolion's showroom address, booking information, on-road price, easy installment plan, and estimated delivery time in Pakistan. Let's start with its cost.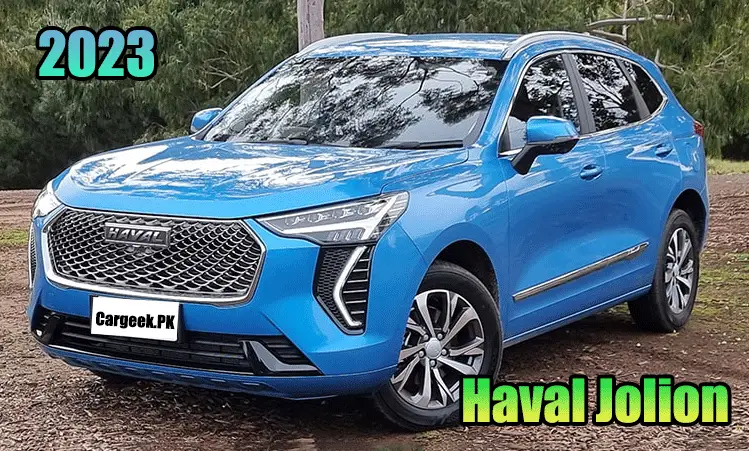 Haval Jolion Price in Pakistan 2023

The Haval Jolion 2023 top-of-the-line model is priced at 6.1 lac rupees. Please note that this price is ex-factory. In Pakistan, Haval offers only one variant of this SUV.
| Model | Price |
| --- | --- |
| Jolion | PKR 6,100,000 |
Haval On-Road Price List 2023:
Find the 2023 Haval Jolion on-road total price in Karachi, Lahore, Islamabad, Sialkot, and Faisalabad in the table below. This price table includes all government taxes, charges for number plates, registration fees, and professional tax.
| City | Price (PKR) |
| --- | --- |
| Karachi | Filer: 6,170,000 |
| | Non-Filer: 6,171,875 |
| Lahore | Filer: 6,153,880 |
| | Non-Filer: 6,157,630 |
| Islamabad | Filer: 6,201,512 |
| | Non-Filer: 6,305,262 |
| Sialkot | Filer: 6,153,880 |
| | Non-Filer: 6,157,630 |
| Faisalabad | Filer: 6,153,880 |
| | Non-Filer: 6,157,630 |
Note: Haval Jolion Price in Pakistan in 2021 was PKR 5,000,000, and in 2022 this SUV was priced at 5,500,000 rupees. Pakistani rupee devaluation forces automakers to increase prices again and again.
Used Haval Jolion Cars for Sale in Pakistan
If you're interested in buying a second-hand Haval Jolion in Pakistan, you've come to the right place! By clicking here, you'll have access to a wide selection of Haval Jolions available for sale.
Jolion Engine:
The Haval Jolion is powered by a 1.5L turbocharged engine that generates a maximum power output of 1100/5600-6000 kW/rpm and a maximum torque of 220/2000-4400 Nm/rpm. Jolion features a 7-speed dual-clutch automatic transmission.
Haval Jolion Fuel Average:
Fuel efficiency is a top concern for car buyers in Pakistan, especially with rising petrol prices. The Haval Jolion fuel average in Pakistan is between 10 to 12 km/liter, a reasonable mileage for its 1500cc engine.
Haval Jolion Interior:
Haval Jolion 2023 provides an excellent driving experience thanks to its incredibly comfortable interior. The multi-functional steering wheel is equipped with audio control and cruise control switches, and behind it sits a 3.5-inch full-color instrument cluster. The center console of Jolion has a 10.25-inch full-color touchscreen infotainment system, which supports radio AM/FM, Bluetooth hands-free calling, Android Auto, and Apple CarPlay. Additionally, the system includes 4 speakers and USB slots located both in the front and back.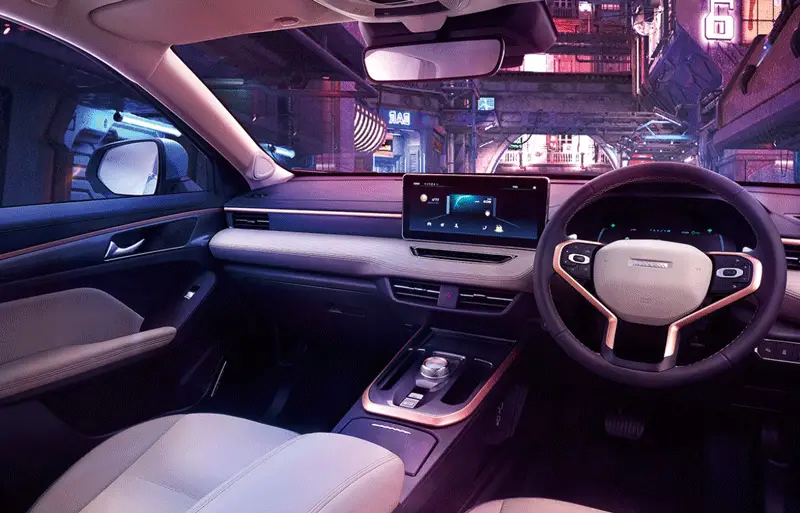 There are six manual ways to adjust the driver's seat in the Haval Jolion 2023 and four manual ways to adjust the front passenger seat. Front seats are heated, while rear seats can be split 60/40 to provide additional flexibility. Other convenient features in the car include automatic dual-zone climate control, sun visors with vanity mirrors and lights, a luggage cover, and a 12V power outlet.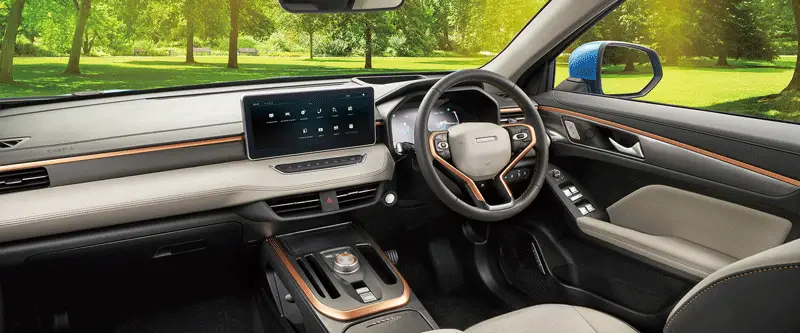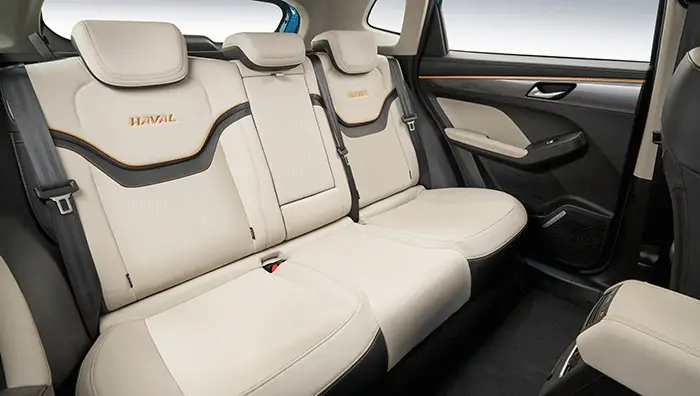 Exterior:
With sharp lines and a bold design, the Haval Jolion 2023 is an eye-catching vehicle. The front of the car features a classic chrome-plated honeycomb grille that gives it a sleek appearance. The halogen headlamps with the Follow Me Home function and daytime running lights add to the car's stylish look
The rear of the car is just as stylish, with rear fog lamps and LED taillights. The rear screen also has a wiper and a purposeful rear spoiler with a high-mounted stop lamp. The panoramic sunroof is also a top feature of this car.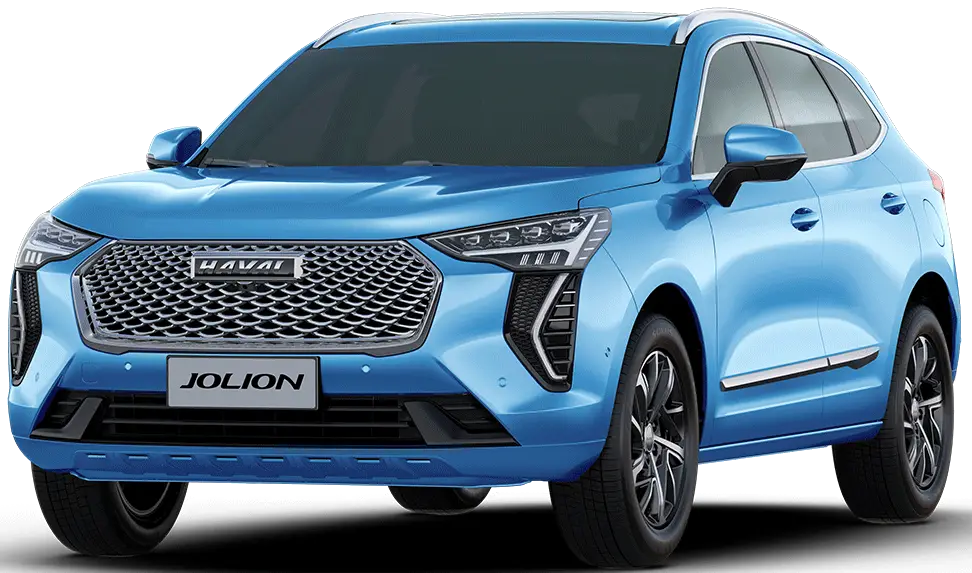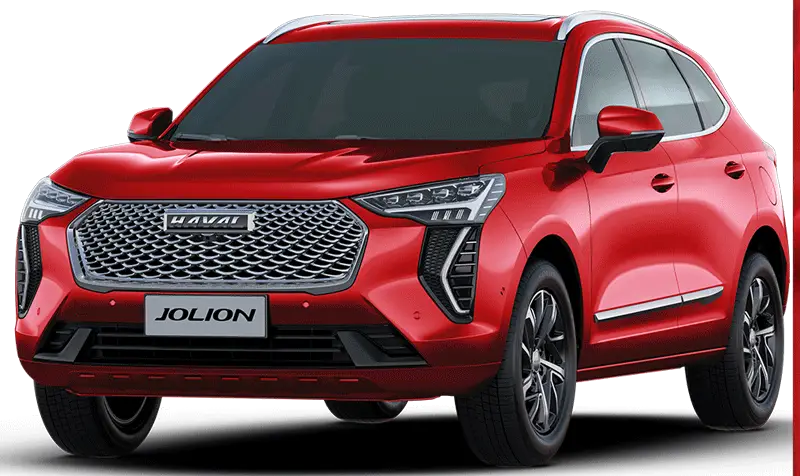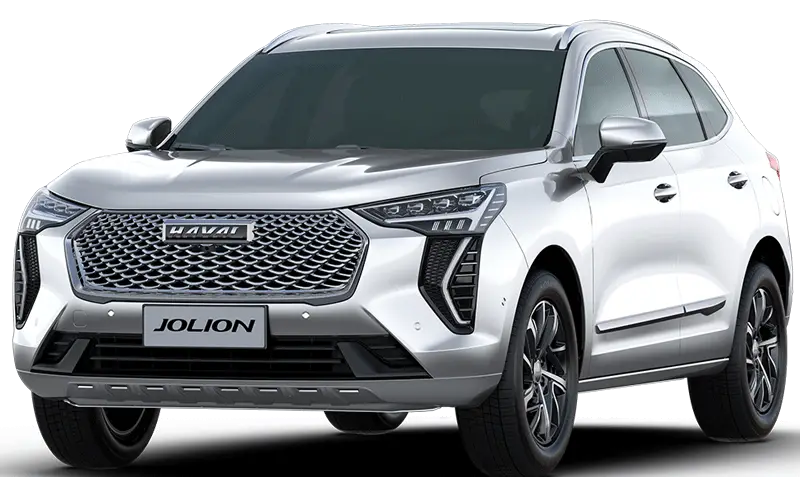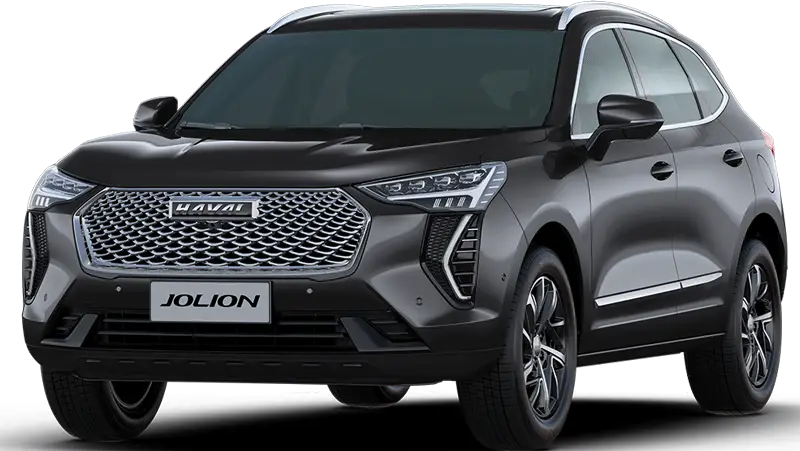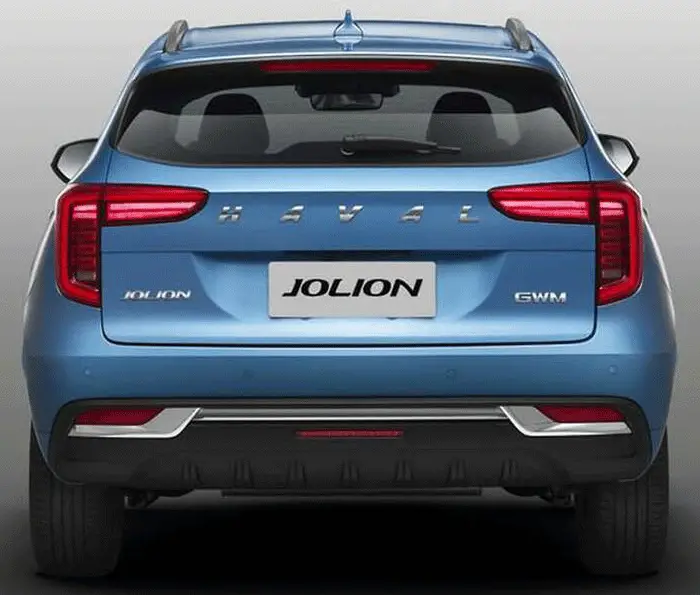 Color Options:
In Pakistan, the Haval Jolion is offered in 6 different color options. The colors are named as follows:
White. Black. Red. Blue. Green. Gray

Features:
Here is the complete table of modern, advanced, and smart features in the all-new Jolion 2023 model.
Security/Safety Feature
6 SRS airbags
Front and rear seatbelts
Child lock
360 camera
Tire pressure monitoring system
Car locating feature
Electronic stability Programme
Traction control system
Secondary collision mitigation
Cornering brake control
Roll movement intervention
Brake assist
Hill Descent Control
Hill-start Assist Control
Maneuver emergency braking
Brake override system
Overspeed warning
Traffic sign recognition
Forward collision warning
Lane departure warning
Lane-keeping Assist
Lane Centre Keeping
Open door warning
Traffic jam assist
Driver drowsiness detection
Keyless entry
Immobilizer
Burglar alarm
Specifications of Haval Jolion:
The Haval Jolion in Pakistan has a fuel tank capacity of 55 liters, with a seating capacity of 5 people. It can reach a top speed of 220 km/h and has a boot space of 337 liters. The tyre size is 225/55/R18.
| Feature | Specification |
| --- | --- |
| Price | PKR 61.2 lacs |
| Body Type | Crossover |
| Dimensions (Length x Width x Height) | 4468 x 1841 x 1619 mm |
| Ground Clearance | 0 mm |
| Displacement | 1500 cc |
| Transmission | Automatic |
| Horse Power | 141 hp |
| Torque | 210 Nm |
| Boot Space | 337 L |
| Kerb Weight | 1550 KG |
| Fuel Type | Petrol |
| Mileage | 10 – 12 KM/L |
| Haval Jolion Fuel Tank Capacity | 55 L |
| Seating Capacity | 5 – Persons |
| Top Speed | 220 KM/H |
| Tyre Size | 225/55/R18 |
Monthly Installment Plan for Haval Jolion:
Haval Pakistan offers easy installment plans for all their vehicles. If you are interested in buying the Haval Jolion, you can also buy it in installments. The lowest financing for Haval Jolion starts at Rs. 120,000 per month.
Haval Sazgar Pakistan:
Chinese car manufacturer Haval Motors entered Pakistan in 2021 and has gained popularity among car enthusiasts. Haval Motors is a subsidiary of Great Wall Motors, one of China's largest car manufacturers.
Haval Motors has established a joint venture with Sazgar Engineering in Pakistan. Sazgar Manufacturing Works Limited (SMWL) produces 3-seater and 6-seater rickshaws, as well as cargo loaders. Sazgar Engineering Haval announced their partnership in a statement on their website.
About Haval Sazgar Partnership:

Innovation being the key driving force, Sazgar Engineering pioneered the first environmentally friendly, smoke-free, and noiseless 3-wheel automobile on the Pakistani market. Due to the success and performance of these automobiles, they have contributed to the development of the national economy. Modernization and innovation are the guiding principles for Sazgar Engineering and the company diligently provides products of superior quality at affordable prices.
Delivery Time:
In Pakistan, Haval Jolion is usually delivered within 8 to 12 weeks. Due to the difficult economic conditions and the shortage of US dollars in the country, the company increased the delivery time in 2023.
Competitors:
The main competitors of Hava Jolion in Pakistan are:
Hyundai Tucson
DFSK Glory 580
Haval Jolion Youtube User Review
Pre-booking on Haval Website:
Haval Pakistan is now offering the option to pre-book the Jolion, H6, and HEV SUVs online. To secure your own vehicle, simply head to the Haval Pakistan website and place your pre-order. Click here for online booking.
In conclusion, the Haval Jolion is a car worth considering for those in the market for a new vehicle. With its affordable price, fuel efficiency, advanced features, and stylish interior, the Haval Jolion is a solid choice for those looking for a crossover that won't let them down. Come to your nearest Haval showroom in Pakistan to learn more about the Haval Jolion and other vehicles from this company.
Haval Jolion Showroom in Pakistan:
Haval Jolion SUVs are now available at Haval showrooms nationwide. The Haval Pakistan offers a wide selection of smart SUVs and cars, including the Haval Jolion and the recently launched Haval H6 and HEV. Following is the list of Haval Pakistan showroom addresses with phone numbers.
Queen's Motor
19-A Queens Road, Gate No. 4, Near Sir Ganga Ram Hospital, Lahore, Pakistan
0423-6301081/82, 0324-4677255/0323-8777772, 0323-8777778
---
Haval Club
129 BLOCK D, Zahoor Elahi Road GULBERG 2 LAHORE
03084444125
---
Sitara Lyallpur Motors
East Canal Road, Near Abdullah Pull Underpass, Faisalabad
03218696766
---
Hashmi & Hashmi
Barki Rd, Near Paragon City, Block J Park View CHS, Lahore, Pakistan
042-37167021, 0321-8462133
---
Haval Central
15KM Multan Road, Lahore
0300 0341444
---
Automotive Technologies
Emarah Suites, Plot No AA/B-8, Block-A, Ground Floor, S.M.C.H 3, Opposite FTC Sharah-E-Faisal, Karachi.
0333-2870698/0333-1839455/0333-0308064
---
Islamabad Motors
Lower Ground Floor, Moscow Plaza, Block H Blue Area, Islamabad, Pakistan
0302-8621222 / 0320-9342665
---
Rawalpindi Motors
Main Grand Trunk Rd, Opposite Al-Shifa Eye Hospital, Kotha Kalan Morgah, Rawalpindi, Pakistan
051-5488064, 0333-6205064 / 0321-8556667
---
Southern Motors
Main Khanewal Road, Near NLC Bypass Chowk, Multan, Punjab
0311-1446677 / 0310-5333884
---
Kaira Motors
Grand Trunk Rd, Opposite Pace Shopping Mall Near, Servis Industries Gujrat, Pakistan
053-3724583, 0334-8403030 / 0333-8403030 / 0313-2223241
---
Sialkot Motors
Eureka Industries, 9th Km Daska Road Sialkot
0315-2067777, 0315 0204777
---
Frequently Asked Questions:
Is the Haval Jolion a Good Car?
The Haval Jolion has received positive reviews from customers and industry experts. The car offers a comfortable ride, a spacious interior, and advanced features. So yes it is a good car.
Is the Jolion Pakistan a Chinese Car?
Yes, Haval Motors is a Chinese automobile manufacturer company working in Pakistan in a joint venture with Sazgar Engineering.

Share This Article with Your Friends