Honda's next-generation Accord Plug-in Hybrid could triple the previous model's electric driving range when the new one debuts in the US in 2018.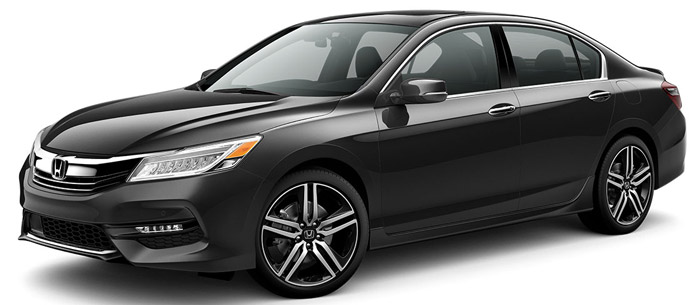 Interior
Discover an expansive open cabin, filled with luxury and quietness. Relax in wide seating with generous room for five adults, including a broad rear seating area with plenty of space to stretch your limbs, thanks to ample head, foot, and legroom. Observe gracious décor in refined colors, rich leather, and woodgrain panels, selected for sophisticated tastes. Note fine craftsmanship that even extends to the tiniest details, such as meticulous stitching of seats. Now, enjoy long trips in the elegant, spacious environment you deserve.
Settle into the roomy cockpit, and look around at ideal driving space. There's a wide luxurious console that emphasizes cabin expanse and allow sample shoulder room for comfort. A forward-shifted dashboard with flat, lower positioning of wipers for an open feeling of freedom. And, a high-mounted instrument interface, situated for effortless visibility to enhance your concentration. Rest your elbow on the broad center armrest, and take hold of controls at your fingertips. You're in a place of unmatched driving authority.
Exterior
Witness the debut of the astonishing new 2013 Honda Accord: the outcome of our all-out pursuit of sedan excellence, successfully uniting all contradictory elements. A bold exterior presence with a luxury air, yet a sporty youthful feeling. An expansive upper-class cabin with comfortable travel space for five adults and panoramic visibility. A larger body with sportier performance than ever before, and powerful i-VTEC engines designed for high fuel economy.
A renowned global car with all advanced Honda technologies for driving command, plus eco-performance for increased recyclability. And, Honda's world-leading safety protection, which even extends to pedestrians and those in other vehicles. Experience its overall quality, riding comfort, and details for yourself, and you'll know why the new Accord represents a distinct "status upgrade" for the sedan.
Command on the Road
The enlarged Accord offers unrivaled "class-above" command of the road. It has a highly rigid, sturdy lightweight body, utilizing high-tensile steel materials. This is optimized for superb driving stability, riding comfort, quietness, and collision safety, as well as sporty yet economical performance.
Double wishbone suspension, a frequent choice in sports cars, is used in front, with multi-link suspension in the rear, assuring unchanged excellence in driving stability plus riding comfort. Front and rear roll centers are moved closer to the level of a lower center of gravity, for reduced roll in cornering.
Performance
Incomparable sporty driving awaits you. Enlarged for luxurious comfort yet more powerful and responsive than ever, the all-new Accord is unforgettable in motion. Such bold performance can only emerge through Honda's painstaking process of comprehensive analysis, planning, and refinement of body design, seeking the ideal balance of rigidity, weight, and dynamism.
Thus, the new Accord delivers impeccable control of linear handling and maneuverability reflecting the driver's intentions. Moreover, its new-generation fuel-saving technology and increased use of recyclable parts will appeal to all those who want to help protect the environment. Now, discover the embodiment of long-desired excitement in action, with spirited acceleration, sporty handling, and satisfying quietness. The new Accord inspires your own performance at the wheel, and makes you yearn to drive it again and again.
Building on the Accord's worldwide reputation for matchless driving performance, the new larger Accord combines even more powerful driving with sporty excitement. Ingenious Honda i-VTEC technology for continuous control of both valve timing and lift is equipped with an intelligent engine 2.4-liter SOHC.
Electric Sunroof
Electric sunroof (single-touch automatic open/close function and pinch-prevention mechanism)
Safety
Honda's renowned commitment to safety begins with respect for humanity. This has led to our philosophy of "safety for everyone"— including not only our own drivers and passengers but passengers in other vehicles, pedestrians, motorcyclists, and bicycle riders. To transform this ideal into reality, Honda has developed a comprehensive array of safety measures known as G-Force Control technology.
The new Accord is a superlative expression of this constant quest for preeminent protection, employing innovations for collision impact absorption to help lessen occupant injury while helping reduce injury to occupants and those sharing the road. The outcome is world-leading safety for you and the whole planet.
This remarkable new vehicle also contributes to environmental protection through application of greener materials and a higher recycling rate. Use of polyvinyl chloride (PVC) and such hazardous materials as lead and hexavalent chromium is reduced, and application of eco-friendly easy-to-recycle olefin-based parts is increased.
Honda Accord Price in Pakistan
PKR 10,650,000

Designed with the true car lover in mind who demands nothing but perfection. The New Accord's advanced and intuitive driving interface fits perfectly around the driver's needs.

Share This Article with Your Friends