11th generation Honda Civic 2023 Price in Pakistan ranges from Rs. 8,599,000 (Base standard variant) to Rs. 10,199,000 (Top variant RS)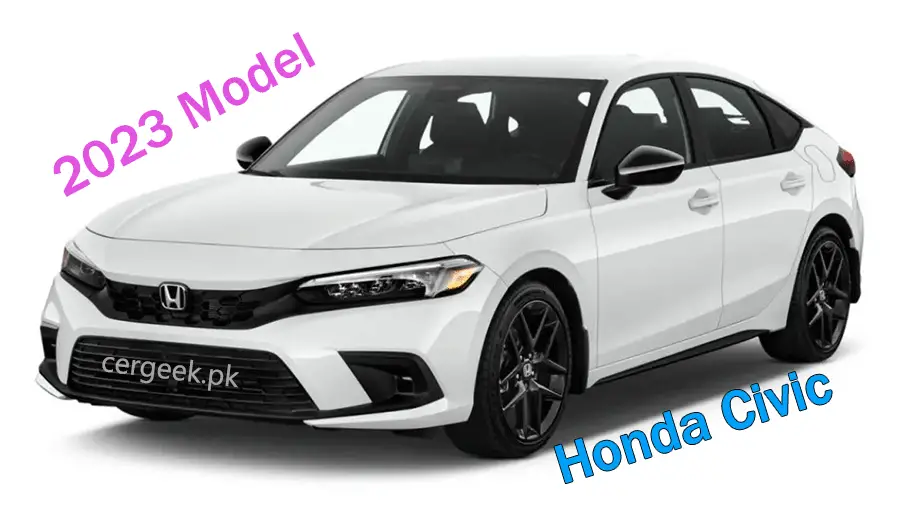 Honda Civic 2023 Price in Pakistan
The new shape Honda Civic is offered in Pakistan in three variants: Standard, Oriel, and RS. Each of these variants is available in automatic transmission mode.
Price List (Last Updated 9 September 2023)
| Model | Ex-Factory Price |
| --- | --- |
| Civic Standard | PKR 8,599,000 |
| Civic Oriel | PKR 9,099,000 |
| Civic RS | PKR 10,199,000 |
Note: This is the ex-factory price.
Below is the on-road price of the Honda Civic 2023 model in Lahore, Karachi, Rawalpindi, Islamabad, Faisalabad, Gujranwala, Sialkot, Multan, and Peshawar.
| City | Total Price Filer | Total Price Non-Filer |
| --- | --- | --- |
| Lahore | PKR 8,008,260 | PKR 8,112,010 |
| Karachi | PKR 8,018,578 | PKR 8,120,453 |
| Sialkot | PKR 8,007,240 | PKR 8,110,990 |
| Faisalabad | PKR 8,023,560 | PKR 8,127,310 |
| Gujranwala | PKR 7,998,060 | PKR 8,101,810 |
| Peshawar | PKR 8,018,813 | PKR 8,155,938 |
| Multan | PKR 8,023,050 | PKR 8,126,800 |
Civic 2023 Colors:
In Pakistan, the Honda Civic 2023 is available in seven different colors. The names of these colors are Carnelian Red Pearl, Urban Titanium Metallic, Taffeta White, Lunar Silver Metallic, Meteoroid Gray Metallic, Morning Mist Blue Metallic, and Crystal Black Pearl.

Honda Civic Engine:
The 11th generation Civic has a 1.5-liter, 4-cylinder DOHC VTEC turbocharged engine. The Honda Civic 1500cc engine can produce 180 horsepower and 220 pound-feet of torque. This engine is paired with a continuously variable transmission (CVT) that provides a smooth and responsive driving experience.
Gear Box: 5 Speed
Transmission Type: Automatic
Here are the Pictures of the New Honda Civic 2023 Model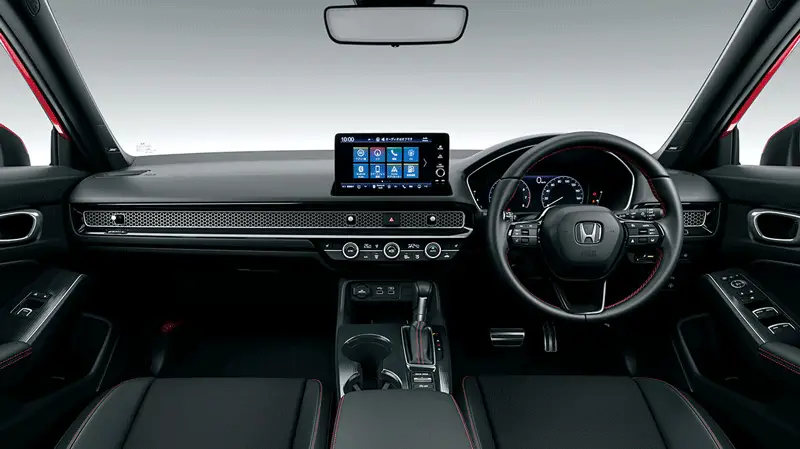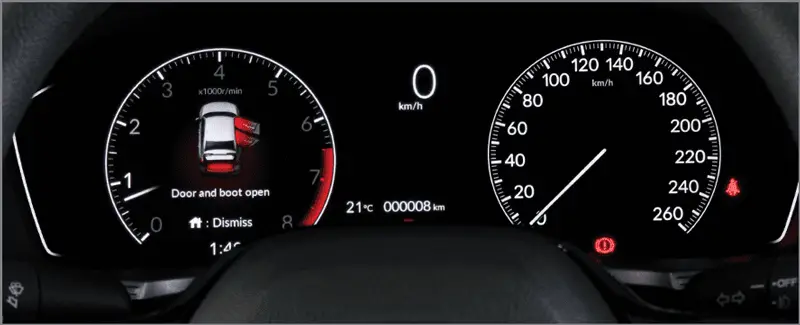 Fuel Efficiency and Driving Modes:
The 2023 model Civic also features an Eco Assist System. This system helps optimize fuel efficiency by adjusting engine output, transmission shift points, and HVAC operation. Additionally, this car comes with three driving modes: ECON, Sport, and Normal. These three modes allow the driver to adjust the performance of the vehicle according to their choice.
Honda Civic Fuel Average:
On Pakistani roads, the eleventh-generation Honda Civic has a mileage range of 11 km/L to 14 km/L. The fuel consumption of this vehicle with a 1500cc engine is reasonable.
11th Generation Honda Civic 2023 Overview: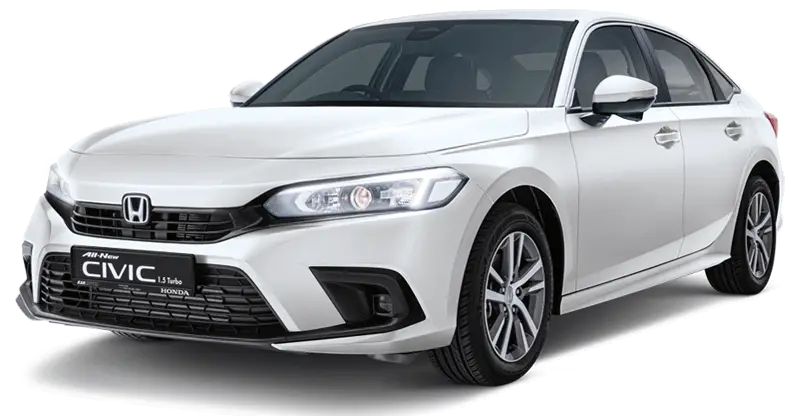 The Honda Civic has been a popular sedan car in Pakistan since its launch in the early 2000s. The Honda Civic 11th generation was launched in Pakistan in March 2022. In Pakistan, almost everyone likes the 2023 model Honda Civic's sleek design, sharp curve lines, latest technology, and modern features. The sharp lines give it a more sporty look than the previous generation.
Honda Civic 2023 Type R:
The Type R variant of the 11th generation Honda Civic is Pakistan's most anticipated car version. The Type R is a high-performance model built for speed and beauty. This model has a turbocharged engine that produces 306 horsepower. The Type R also has a unique exterior design, a more aggressive front grille, an aerodynamic body kit, and a large rear wing. The Type R's interior is also designed to reflect its sporty nature, with modern sports seats, a leather-wrapped steering wheel, and a sporty gear shifter.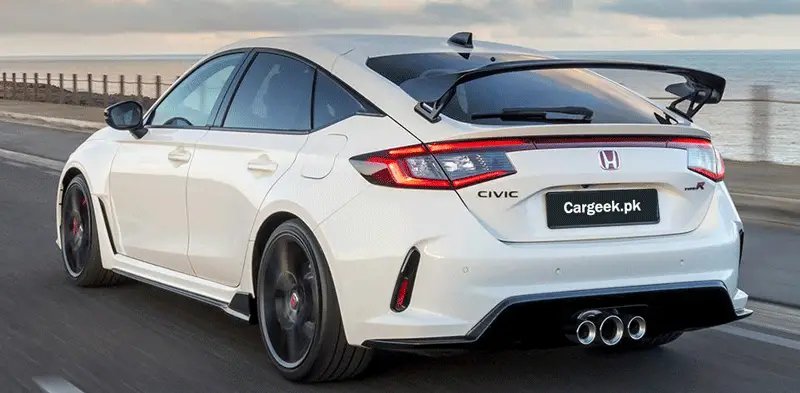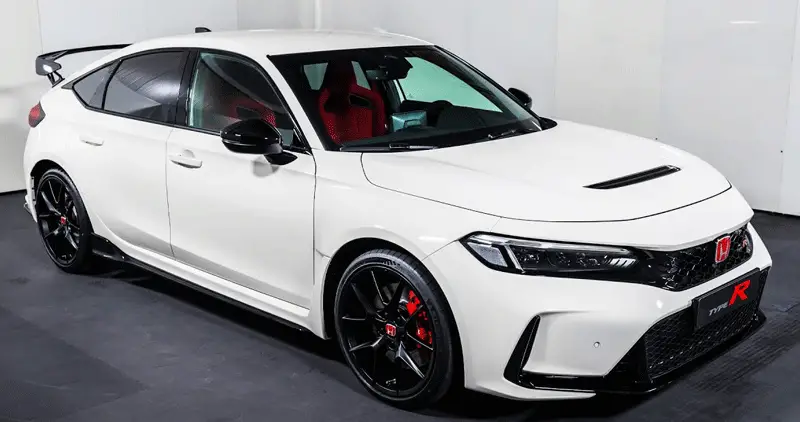 11th-G Honda Civic Interior:
The interior of the eleventh-generation Honda Civic in Pakistan features a modern and elegant design with premium quality materials. The cabin is spacious and comfortable. Very ample headroom and legroom for both the driver and passengers. The front seats are supportive and offer a comfortable driving position.
On the dashboard, there is a digital instrument cluster and an infotainment system, which includes a 7-inch TFT touchscreen, Bluetooth connectivity, and six speakers. Other interior features include dual-zone automatic climate control, a sunroof, and a leather-wrapped steering wheel.
Exterior:
The 11th-Gen Civic has a sleek, modern, and sporty exterior design. The front of the car features a bold and aggressive grille. It has sharp LED headlights and fog lights at the front. The body of the car is aerodynamically designed, with a sloping roofline and sharp character lines that run along the sides of the car.
The rear of the car is also designed with a sporty look, with sharp LED taillights and a dual-outlet exhaust system. The Civic has 17-inch alloy wheels that complement its design.
Related: New Honda City 2023 Price, Specs, Features, Pics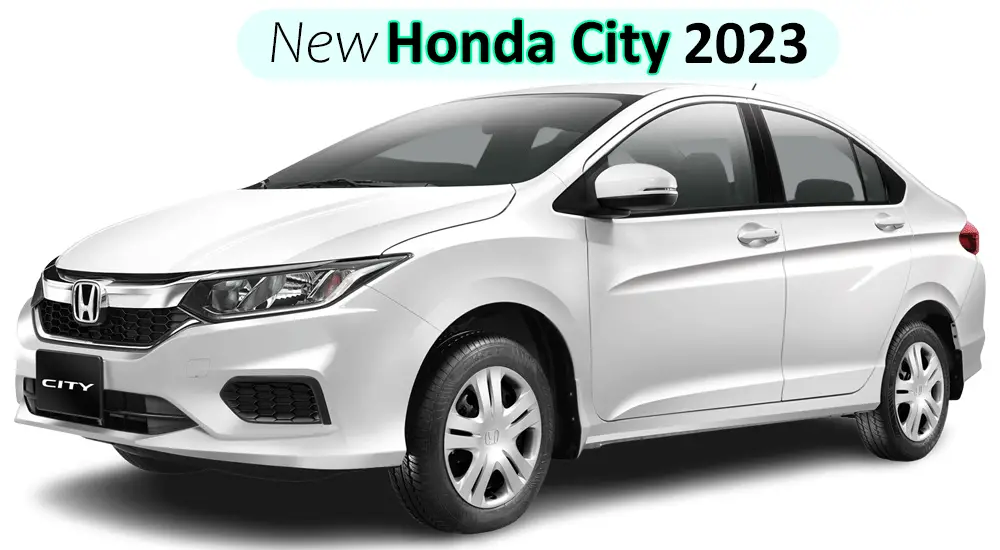 Features:
Listed below are the features that the new Honda Civic 2023 model has for its lovers.
7″ TFT Driver Information Interface
Tilt and Telescopic Steering
Push the Start Button
Dual auto AC
Power Windows
Rear AC vents
Chrome inner handle
Driver Seat Height Adjuster
Armrest with cup holder
Cruise Control
High Mount Stop Lamp
Spacious trunk
Smart Clear Intermittent Wipers
16″ alloy wheels
LED Tail Lights
Led Side Turn Indicator
Manual headlight adjuster
Projector Type Halogen Headlights With LED Drl
Specifications:
| Specifications | Measurements |
| --- | --- |
| Dimensions | 4687 x 1802 x 1432 mm |
| Ground Clearance | 154 mm |
| Displacement | 1500 cc |
| Transmission | Automatic |
| Horse Power | 127 – 176 hp |
| Torque | 180 – 220 Nm |
| Boot Space | 409 L |
| Kerb Weight | 1396 KG |
| Fuel Type | Petrol |
| Mileage | 11 – 14 KM/L |
| Fuel Tank Capacity | 47 L |
| Seating Capacity | 5 – Persons |
| Top Speed | 260 KM/H |
| Tyre Size | 215/55/R16 |
Atlas Honda has aggressively raised the Honda Civic price in Pakistan in the last few months. Here is a glimpse of the price changes in different years in Pakistan.
Old shape model Honda Civic Price in 2018 was 25 lacs.
The Civic Price in 2019 was 29 lacs.
6th generation Honda Civic Price in 2020 was 34 lacs.
The Civic Price in 2021 was 41 lacs in Pakistan.
Honda Civic Price in 2022 was 60 lacs in Pakistan.
Honda Civic Booking
Online booking of vehicle trends also starts in Pakistan. Honda Pakistan is now offering online booking for the new Civic. You can easily book your car online from the comfort of your own home by clicking here.
Booking Time: Atlas Honda has recently announced the booking time for Civic delivery. The standard Civic has a booking time of 8 months, while the Civic Oriel and RS models have a booking time of 11 months.
Honda Civic Booking Status Check Online:
Atlas Honda gives customers the option to track the Honda Civic delivery status online on their website. You need to enter your 8-digit booking number, CNIC, and NTN number to check your delivery status in Pakistan online. Click here to check your booking status now.
Competitors:
The main competitors of Honda Civic in Pakistan are the Toyota Corolla Altis Grande, KIA Sportage, and Toyota Prius.
Honda Civic Resale:
As the most popular sedan in Pakistan, the Honda Civic resale is very impressive. If you want to resale this car you can do this easily by putting your ad on Pakwheels or OLX. Almost every Pakistani wants this car.
Honda Civic for Sale in Pakistan:
If you are interested in purchasing a second-hand Civic from previous years, many options are available. There are many used Honda Civic for sale in Lahore, Karachi, and Islamabad. Click here to explore your options and find the one that suits your needs.
Honda Civic Engine Oil:
The engine oil grade for Honda Civic 1.5L is 0W-20. Engine oil capacity is 3.7 quarters or 3.5 L.
0W-20 engine oil price in Pakistan is Rs. 7828 Havoline 4L.
Honda Civic 2023 Model Release Date in Pakistan:
The 2023 Honda Civic is set to be released in Pakistan in the second half of 2023. Atlas Honda Pakistan has not revealed the exact date yet. The car is expected to receive a warm welcome from Pakistani civic lovers. Keep visiting this page for further updates.
---
FAQs
---
What is the boot space of the Honda Civic?
Answer: The boot space of the Civic is 409 L.
What is the fuel tank capacity of the New Honda Civic?
Ans: The total fuel tank capacity is 47 liters.
What is the top speed?
Answer: The top speed of the Honda Civic is 260 km/h.
What is the tyre size of the Civic car?
Ans: The New Civic has a tyre size of 215/55/R16.

Share This Article with Your Friends