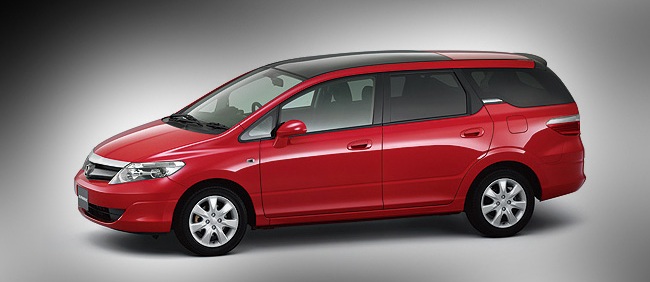 The Honda Airwave is 1496 cc and is powered by 1.5 Liter VTEC 4-cylinder engine. The engine can produce 109 horsepower at 5800 revolutions per minute and a torque of 105 pounds per feet at 4800 revolutions per minute. Both the models are enabled with CVT, which means continuously variable automatic transmission.
The G model corroborates the standard CVT whereas the L model has the CVT with 7-speed mode which enables the driver to choose between the shiftless acceleration of CVT and the option of 7 gears controlled by the computer.
Honda Airwave is a subcompact car produced by the Japanese automaker Honda from 2005 to 2010. It is a five-door station wagon version of the first generation City / Fit Aria and Fit/Jazz, which is a sedan and a hatchback respectively.
Airwave, an all-new 1.5-liter compact station wagon that boasts top-of-class*1 luggage capacity, the practical utility of versatile seating arrangements in a compact body, along with an extra-large glass "Sky Roof"*2 that conveys an exhilarating open-air feeling.
The interior versatility of the Airwave was similar to its smaller sibling, the Fit. By moving the fuel tank underneath the front row of seats, space was freed up in the rear for a flexible seating system. Like the Fit, the Airwave had five different seating modes.
Honda Airwave Price in Pakistan
Rs:1750000
Honda Airwave Features
Features
1500CC 4-cylinders in-line SOHC VTEC Engine
CVT Transmission

Right Hand Drive

Power Steering
Power Windows
Air Conditioned
Anti-lock

Brake System

UV Cut Glass
SRS Dual

Air Bags

Navigation and Central Locking System
Side Impact Bar
Knock Down Rear Seats
18Km/L Fuel Consumption
42 Liters

Fuel Tank

Capacity

Share This Article with Your Friends