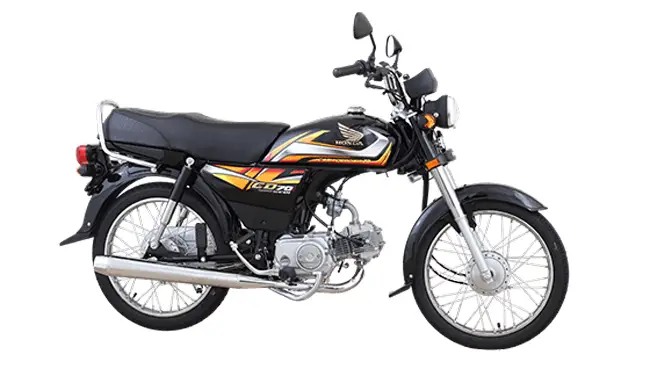 Karachi: Atlas Honda Company launched the Honda CD70 2022 in Pakistan. New Honda CD 70 2022 is stylish, sophisticated and has an eye-catching look. It is described as a " Nice, Clean City Bike".
Honda CD 70 2022 Price In Pakistan:

Price is: PKR 102,900/=
Features:
Considering Fuel Consumption it is considered as the best in Pakistan. Powered by a Powerful 72cc 4 cycle engine that provides Power and Economy at the same time, CD 70 rules the roads of Pakistan!
Engine Specifications:
Displacement: 72cm
Engine: 4 Stroke Air Cooled Single Cylinder Overhead Cam
Bore and Stroke: 47 x 41.4mm
Ignition: Breaker Points (Later Models Upgraded to CDI)
Electrics: 6 Volts (Later Models Upgraded to 12 Volts)
Power: 6.5 PS (4.8 kW) @ 9,500 rpm
Transmission: 4 Speed (Primary Reduction: 3.722 ~ Final Reduction: 2.928)
Compression Ratio: 8.8:1
Fuel System: Carburetor
Valves: 2 Valves per Cylinder
Maximum Rotation Speed: 11,500 rpm
Top Speed: 90 km/h (53mph)
Curb Weight: 80 kg
Share This Article with Your Friends