Honda CG-125 vs. Yamaha Ybr-125 Comparison
The actual Yamaha of Japan made its venture into the motorcycle market of Pakistan and launched its first model of 125cc bike by the name "Ybr 125″. Yamaha has tried its level best to give a setback to the monopoly of Honda in the motorcycle industry. People have been comparing CG 125 with YBR 125 since the launch of Yamaha. Let's make an unbiased detailed comparison of both these bikes that will help you in rating both these bikes in a better way.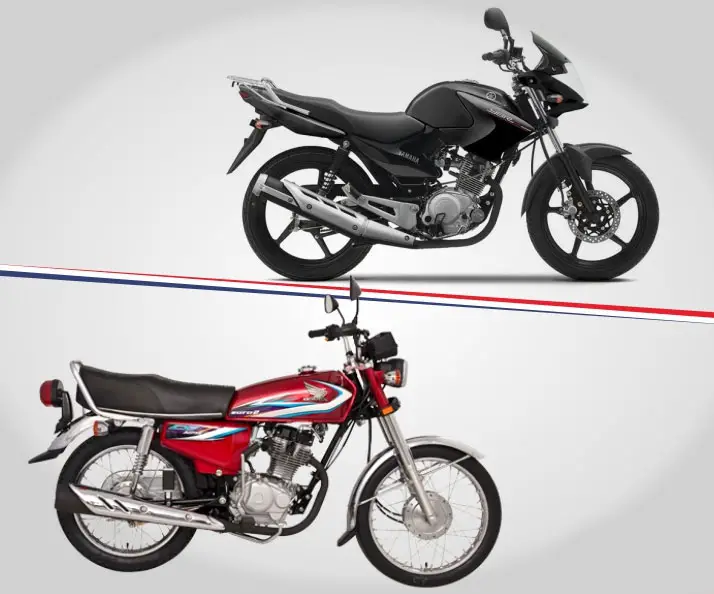 Look:
The Ybr-125 looks like a 150cc or 200cc bike. It has a more dynamic look and impression. If you just change the original tires with wider ones and get it slightly modified, it will look like a heavy bike. Whereas, the CG-125 does not give that impression of a heavy bike even after loads of modification. To be fair, the Honda CG125 is 39 years old (1976-present) old design still remains in play so obviously, it struggles against the YBR-125.
Performance:
It's really hard to compare the performance of both these bikes. Both have good acceleration and top speed but if you compare the performance of Ybr-125 and CG-125 on High Octance, Ybr-125 takes the lead plus there's a difference in technology in both as well.
Comfort:
Even a very short test ride of Ybr-125 was enough to convince me of its comfort. The comfortable seat and good-quality shocks make its ride more smooth than the CG-125.
Sound:
The only disappointment in the Ybr-125 to some extent was its sound. Its dynamic look does not cater to its sound from any aspect. On the other hand, CG-125 has a more lively and energetic sound even though it has aged now and the vibrations and loud exhaust are unable to match the speeds We've met quite many people who moved in favor of the Suzuki 150 and now, they'll move to YBR-125.
Since Ybr-125 is a new addition to the market, its spare parts are a expensive than that of CG-125. A guy told me that one LED bulb for the headlight of Ybr-125 cost him Rs 600. However, I checked the spare parts market in Lahore and found that the set of two pairs of indicators was priced at around Rs 1300. One reason for high-priced spare parts is that spare parts are not being imported in bulk. Once Yamaha starts importing spare parts in bulk, a significant cut in price might be seen.
Also, when the market finally accepts and embraces the YBR-125, private traders and dealerships will stock them well, and that in turn will affect the current high prices.
Fuel Economy:
The fuel economy of Ybr-125 is very impressive. Before its first tune-up on 1000 km, it gave me 55 km/liter on hi-octane and 40 km/liter on supreme. After its first tune, it is giving me 48 km/liter on Supreme and 60 km/liter on high octane. In short, CG-125 is not as fuel efficient as YBR-125 and never has been.
Practicality:
Overall, CG-125 is more practical than Ybr-125. Typical Pakistanis do comment on Ybr-125 like "Is pe aik biwi aur 3 bachay nahi beth saktay" (We cannot ride on it with a wife and 3 kids). And yes it's true! Ybr-125 is not a family bike. The shape of the seat does not make it comfortable for women to sit with both legs on one side. Moreover, you cannot ride with a kid on the fuel tank as well. Whereas, CG-125 is preferable for families. We do not recommend however putting a woman and three kids on any motorcycle since it is highly dangerous but we're Pakistanis, and we'll try to do it regardless.
The impracticality stated here is because of the seat's sloping position on the YBR-125 and 125's flat seats.
Resale:
Even though I do not believe in the Pakistani definition of resale value as Pakistani people want to use a bike/car for 5 years and then sell it for profit if you consider a sane definition of resale value; I would say that currently, CG-125 has more resale value than Ybr-125 owing to the fact that YBR has just arrived. The resale value of Ybr-125 will increase gradually as people who do not use bikes for inter-city family travel will ultimately switch to Yamaha. Courtesy: PakWheels.Com

Share This Article with Your Friends