Latest New Model Honda Vezel Hybrid Price in Pakistan Review, Specs, Interior Pics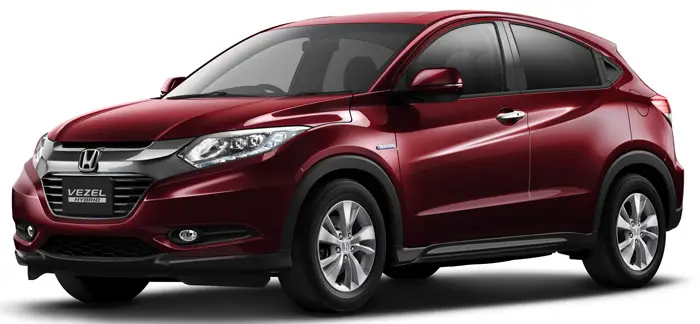 Honda has never disappointed the people of Pakistan from producing the high-quality vehicles in Pakistan. There is always quality vehicles produced by Honda. These luxury cars are liked by the people of Pakistan in a great way. These cars not only play a good role in giving good drives and user experience but they also possess environment-friendly interior and exterior.
The good thing about Honda is they keep observing the reviews and needs of the clients and hence they come up with the new changes and modifications in the next model. Hence, the reputation of HONDA is setup very high in the auto markets of Pakistan. By following the same reputation, Honda has launched its new model HONDA VEZEL 2015 in last year with excellent and improved features. Let's go through some of the excellent features of Honda VEZEL Review.
Performance
Honda VEZEL 2015 provides you with excellent performance with the help of its powerful engine. It has an engine with the capacity of 1497cc. It has a 4 cylinder engine along with 16 valves. The layout of its engine is straight too. All these features of its engine allow it to give powerful performance over a long period of time.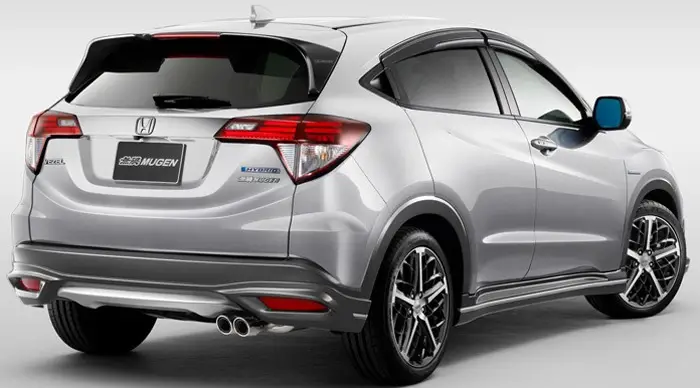 Safety
VEZEL Hybrid has the best safety features which are required by a luxurious car. It has front ventilated discs along with the rear brakes discs. The modern ABS braking system is also present in this car. It contains the side and passenger airbags in it too. It also has a keyless entry and the side mirrors embedded with electric power guides you in a perfect way to give you a long and safe drive.
Honda Vezel Hybrid Specifications
Honda Vezel hybrid 2015 2016 is also available in Pakistani Auto market that makes use of Honda Sport hybrid i-DCD system and pairs the gasoline engine with electric motor to produce a combined horsepower of 130. Vezel is available two in layouts, one is Two Wheel Drive (2WD) and the second one is Four Wheel Drive (4WD).
What is Honda Vezel Fuel Consumption
The gasoline variant of the Honza Vezel Pakistan is known to give an average fuel economy of 20.6 km/L on Pakistani roads, while the hybrid engine delivers an exceptional fuel average of 27.0 km/L.
Some of the interior and exterior features of this car are following,
Vezel Interior
Honda VEZEL has the best interior available in the auto cars at the present time. It has very comfortable seats to sit in. It has a three spoke guiding wheel.  It has several buttons in it which can be used to operate different things in the car. It also contains front motorist with round shape.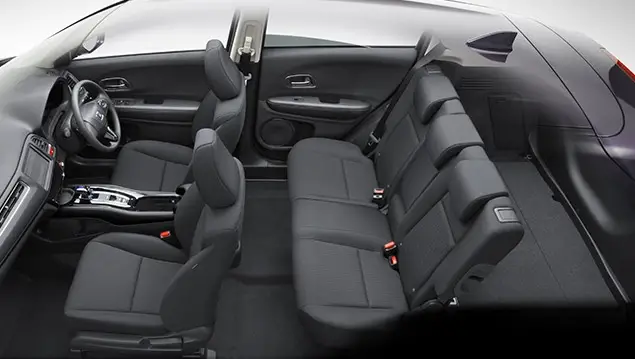 It has an excellent air conditioned system embedded in it which keeps you cool from inside. There is high-quality dashboard along with the DVD player for the entertainment purposes. This car contains the power steering which helps you to drive in an easy way. There are lights setup in this car which reveals the fuel low alarm and turn the warning when there is danger in hitting something.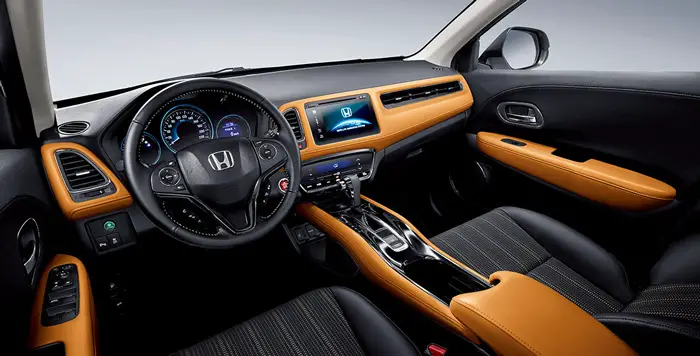 Exterior
Vezel has the luxurious exterior which gives it an outstanding look. It has a unique and new design with a nice top quality metal body. It contains a nice front cover which is further embedded with nice headlights. It has front and rear fog lights too. The front bumpers look stunning having a grill in between. It also has the front wipers to resist to the extreme weather conditions.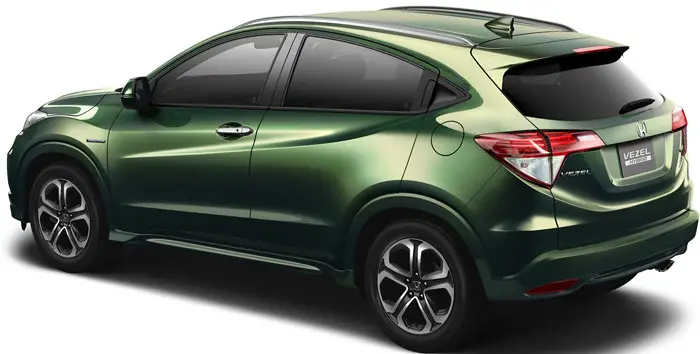 This car contains 5 doors in all which can be controlled with automatic remote too. It also contains defogger. It has the alloy wheels and cup cover in it too. There is a rear wash wiper present in it too. So, all these exterior features combine to make it an excellent SUV car which suits on all kinds of roads in Pakistan. So, the entire above information sum up the exterior features of HONDA VEZEL 2015 Hybrid Model in Pakistan.
Color Range
There are a vast variety of colors in which this car is available such as,
White
Black
Grey
Milky Black
Salient Features
Following are the salient features this car contains,
It has a KERB weight of 210 kg.
The length and height of this car are 4295 mm and 1605 mm respectively.
The width and wheelbase this car contains are 1770 mm and 2610 mm respectively.
The fuel capacity of this car is 40 liters.
It has a sunroof and moon roof.
Honda VEZEL contains Bluetooth navigation and Aux audio jack.
Its compression ratio is 10:5:1.
This car contains the immobilizer.
The maximum power this car produce is 129 HP/ 6600 rpm
It has a top speed of 187 km/h.
Honda Vezel Price in Pakistan
>>> Honda Hybrid 2015 Price: Rs. 2,260,000
>>> Honda Vezel 2015 Price: Rs. 3,350,000
>>> Honda Vezel 2014 Price: Rs. 3,100,000
Bottom Line
So, Honda VEZEL Hybrid 2014 2015 2016 is the new luxury sensation SUV in Pakistan. If you want to get something exciting with all the modern features this car is waiting for you, go and get a life time excellent experience provided by Honda.

Share This Article with Your Friends