This article focuses on the all-new Kia Stinger 2023 price in Pakistan. The newly launched Kia Stinger in Pakistan costs between 2 crores and 2.30 crores. Kia Stinger 2023 comes with GT 2500cc Automatic and GT-Line 3300cc Automatic engines. The 2023 Kia Stringer is Pakistan's premier sedan car due to its advanced features and high specifications.
Kia Stinger Price in Pakistan 2023:

| Model | Price | Engine |
| --- | --- | --- |
| KIA Stinger GT Automatic | PKR 28,500,000 | 3342 cc engine Petrol |
| KIA Stinger GT-Line Automatic | PKR 28,500,000 | 2500 cc engine Petrol |
2023 Kia Stinger Engine:
In Pakistan, Kia launched two variants – Kia Stringer GT with a 2.5L engine and Kia Stringer GT Line with a 3.3L engine. Both models come with turbocharged four-cylinder powerful engines that deliver an impressive 300 horsepower and 311 lb-ft of torque. These engines are paired with an eight-speed automatic transmission that provides smooth and responsive shifting.
Kia Stinger Fuel Average:
The 2023 Kia Stinger has fuel economy (mileage) of approximately 7 km/l to 10 km/l, making it among the most fuel-efficient sports sedans available in Pakistan. This fuel efficiency is achieved through a combination of the car's aerodynamic design and advanced technology, including its eight-speed automatic transmission and start-stop system.
Fuel Tank Capacity:
You can store up to 72 liters of petrol in the latest Kia Stringer 2023 model. With this amount of petrol, you can travel from Lahore to Islamabad on the motorway.
Kia Stinger Top Speed:
The Kia Stinger 2023 has a top speed of 300 km/h. It is one of the fastest sports cars on the market. The car is designed for speed and performance, and its aerodynamic and sporty design helps it achieve high speeds with ease.
Booking:
Kia Pakistan did not initiate the booking of this supercar. Stay tuned as we will update this page as soon as booking begins in Pakistan.
Kia Stinger Features:
In addition to its powerful engine, the 2023 Kia Stinger is packed with advanced technology and features. It also has advanced safety technologies such as lane departure warning, forward collision warning, and blind spot monitoring. Keep reading for details on the top features.
| Feature | Description |
| --- | --- |
| Full LED Headlamps | Bright and energy-efficient LED lights for the front of the vehicle |
| Rear LED Combination Lamps | LED lights for the rear of the vehicle |
| 19″ Alloy Wheels | Stylish wheels with a dark chrome finish |
| 18″ Disc Brakes with Brembo | High-performance brakes with the renowned Brembo brand |
| Driver & Passenger Power Seats | Adjustable seats with power controls for the driver and passenger |
| Expansive 2nd-row Roominess | Ample space for passengers in the second row |
| Wide Sunroof | A large sunroof for ample natural light and fresh air |
| 7″ Supervision Cluster | A 7-inch display for monitoring vehicle information and settings |
| 3 Zone Climate Control | Climate control can be set differently for the front, rear, and middle of the vehicle |
| Electronic Parking Brake | An electronic parking brake for easy and convenient stopping |
| Integrated Memory System | A advance system that remembers and adjusts driver preferences, such as seat and mirror position |
| Smart Power Trunk | A power trunk that opens automatically when the key is nearby |
| Head-up Display LCD | A display that projects information onto the windshield, allowing the driver to keep their eyes on the road |
| 15 Speakers Harman | High-quality speakers from the renowned Harman brand |
| Paddle Shift Levers | Steering wheel-mounted paddles for quick and easy gear shifting |
| Remote Start | The ability to start the vehicle remotely using a key fob |
| Wireless Smartphone Charger | A convenient way to charge a smartphone wirelessly |
| Ventilated Front Seats | Seats that can be cooled for added comfort |
| Lambda 3.3 TGDI Engine | A 3.3-liter engine with turbocharging and gasoline direct injection |
| Theta II 2.5 TDGI Engine | A 2.5-liter engine with turbocharging and gasoline direct injection |
| Electronic Stability Control | A system that helps the vehicle maintain stability during sudden maneuvers |
| Drive Mood Select | A feature that allows the driver to adjust the driving experience to their preference |
| 8 Airbags with Knee Airbags | A comprehensive airbag system with knee airbags for added protection |
| Around View Monitor | A 360-degree camera system that helps the driver see their surroundings |
| Parking Distance Warning | new warning system that alerts the driver if they are too close to another vehicle or obstacle while parking |
| Blind Spot Collision Warning | Advance warning system that alerts the driver if there is a vehicle in their blind spot |
| Rear Cross Traffic Collision Warning | A warning system that alerts the driver if there is cross traffic behind the vehicle while backing up. |
Pictures:
Here are the beautiful pictures of the latest Kia Stinger 2023 in red colors.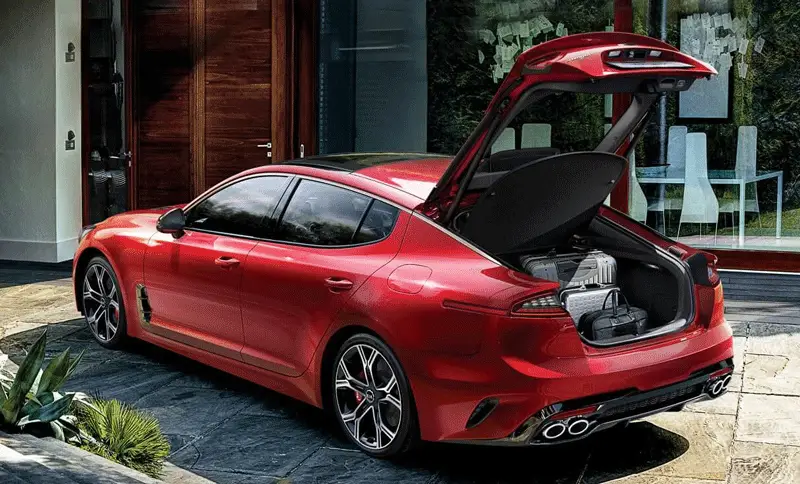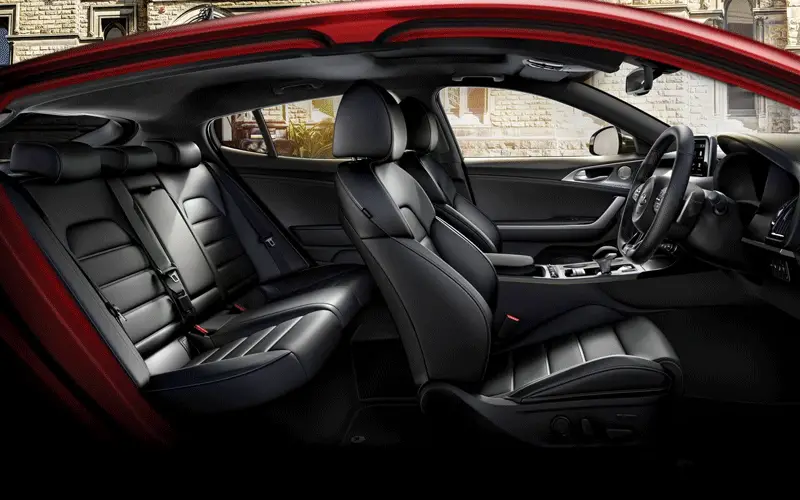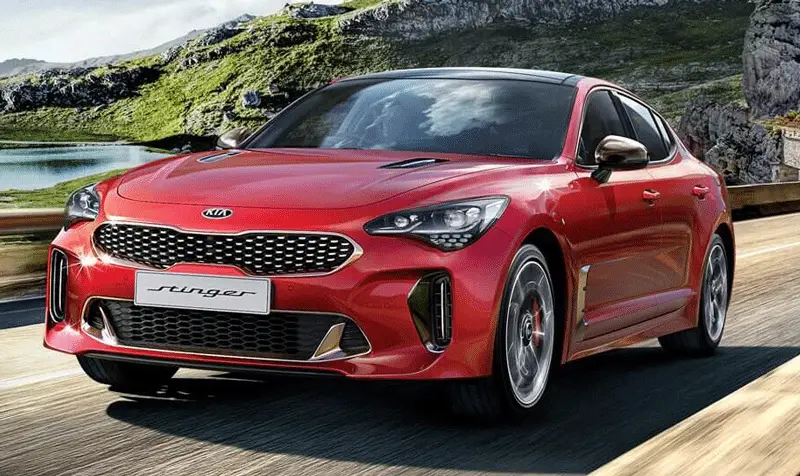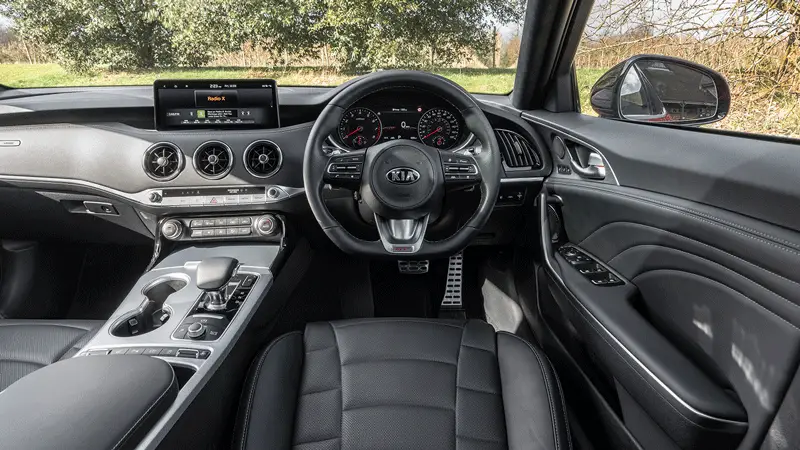 Competition:
The Kia Stinger faces stiff competition from other high-performance sports cars, including the Audi S4, BMW 440i, and Genesis G70. With its combination of power, performance, and advanced technology, the Stinger stands out from the competition.
Interior:
The interior of the Kia Stinger is luxurious and modern, with high-quality materials and advanced technology features. The front seats are comfortable and supportive, with available heating and ventilation functions. The infotainment system is advanced and easy to use, with a large touchscreen display, and a range of connectivity options including Apple CarPlay and Android Auto.
The interior is spacious and well-designed, with a large trunk and ample legroom in the rear. Higher trims come with additional premium features such as leather upholstery, a panoramic sunroof, and a premium sound system. Overall, the Kia Stinger offers a comfortable, high-end interior environment.
Exterior:
The Kia Stinger is a sports sedan with a sleek, athletic exterior design. It features a long hood, short overhangs, and a low stance, giving it a sporty and aggressive look. The front of the vehicle is marked by a distinctive "tiger-nose" grille, sharp LED headlights, and a bold front fascia.  The rear of the car features a sharp, angular design with full LED taillights and dual exhaust tips.
Colors:
The Kia Stinger is available in a range of exterior colors, including several metallic options, allowing customers to personalize their vehicle to their style.
Specifications:
| Feature | Specification |
| --- | --- |
| Displacement | 2500 – 3342 cc |
| Transmission | Automatic |
| Horse Power | 300 – 368 hp |
| Torque | 422 – 510 Nm |
| Boot Space | 0 – 659 L |
| Kerb Weight | 0 – 2021 KG |
| Fuel Type | Petrol |
| Mileage | 6 – 10 KM/L |
| Fuel Tank Capacity | 72 L |
| Seating Capacity | 5 Persons |
| Top Speed | 300 KM/H |
| Tyre Size | 225/45/18 |
Some FAQs About This Car:
What is the starting price of the Kia Stinger 2023 in Pakistan?
The starting price of the Kia Stinger 2023 in Pakistan is PKR 10,000,000 and can go up to PKR 15,000,000 for the top-end model.
What kind of engine does the Kia Stinger 2023 have?
The Kia Stinger 2023 has a 2.5L and 3.3L turbocharged engine that produces up to 365 horsepower and 376 lb-ft of torque.
What is the fuel efficiency of the Kia Stinger 2023?
The fuel efficiency of this car is 7 to 10 km/L
What is the top speed of the Kia Stinger 2023?
The top speed of the Stinger is 300 km/h.

Share This Article with Your Friends