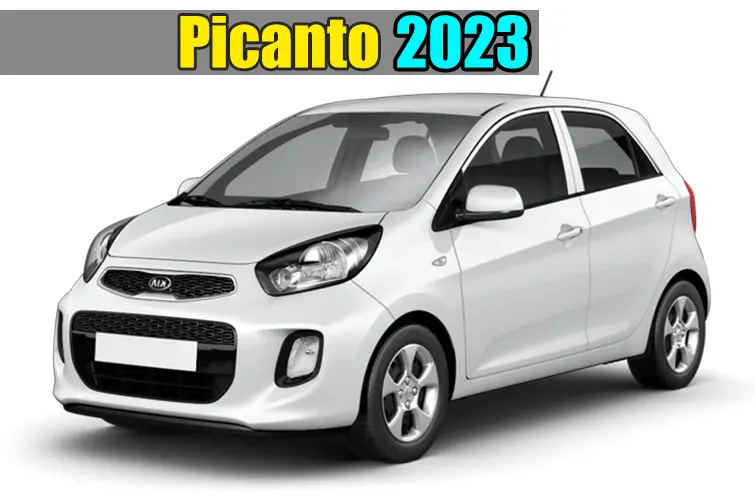 KIA Picanto Price in Pakistan 2023 increased many times because of the Pakistani rupee devaluation. The current price of the Kia Picanto automatic and manual models in Pakistan ranges between 3.2 million and 3.4 million. If you want to buy this vehicle, please be quick. This is because the company is going to increase its price once again due to the deteriorating economic condition of Pakistan and the devaluation of the Pakistani rupee. More price details are listed below:
KIA Picanto Automatic 2023 Price in Pakistan:
KIA Picanto 1.0 A/T – 1000CC, Automatic, Petrol

Ex-Factory Including CVT
Updated Price: PKR 3,400,000
KIA Picanto Price in Pakistan 2023:
KIA Picanto 1.0 M/T – 1000CC, Manual, Petrol

Ex-Factory Including CVT
Updated Price: PKR 3,200,000
Kia Picanto is a popular city car in Pakistan. It is available in both manual and automatic transmission options and comes with a 1.0L engine. The car has a modern and stylish design, with features such as power windows, power steering, and air conditioning, keyless entry, ABS bracks. The car is targeted toward customers looking for an affordable and reliable city car in Pakistan. The Picanto is well received by the Pakistani market, as it offers a good balance of features, performance, style, and affordability.
Kia Picanto Fuel Average
Kia Picanto Automatic and manual variant fuel average ranges between 12 to 15 km/l in city driving conditions and up to 18 to 20 km/l on the highway and motorway. The Kia Picanto 1000c engine is very fuel efficient. The compact size of the car also helps improve its fuel economy.
Kia Picanto Automatic and Manual:
Ki Picanto is available in two variants in Pakistan:
Picanto manual and Picanto automatic are equipped with 5-speed manual transmissions and 4-speed automatic transmissions, respectively.
Competitors:
In Pakistan, Kia Picanto competes primarily with Suzuki Cultus and Suzuki Wagon R.
Top Speed:
The Kia Picanto's top speed is 200 km/L.
Kia Picanto Pakistan Video Review
Kia Picanto Engine:
The Kia Picanto is a subcompact car that has offered a variety of engine options over the years. Generally, the Picanto is available with a 1.0L or 1.2L engine. These engines typically have 4 cylinders and use gasoline as fuel. They are designed to provide good fuel efficiency and performance while keeping emissions low. The exact engine specifications may vary depending on the specific model and year of the vehicle, and also the country where the car is being sold. Some of the engine options include:
1.0L 3-cylinder engine producing 66 horsepower and 96 Nm of torque.
1.2L 4-cylinder engine producing 84 horsepower and 122 Nm of torque.
1.0turbochargeded 4-cylinder engine producing 100 horsepower and 172 Nm of torque.
Engine Oil For Kia Picanto Pakistan:
The recommended engine oil for the Kia Picanto will depend on the specific model and year of the vehicle as well as the engine type. It's best to check the owner's manual or consult an authorized Kia dealership for the correct oil specification. 5W-30 engine oil is best for KIA Picanto.
As a general rule, you should also use oil with the correct viscosity for your engine and the climate in which you're driving. For example, in cold climates, it is recommended to use 5W-30 oil to ensure optimal engine performance, and in warm climates, it is recommended to use 10W-30 or 10W-40 oil.
Interior:
The interior of the Kia Picanto is designed to be comfortable, spacious, and user-friendly. The car comes with a variety of features such as an infotainment system with USB and AUX ports and Bluetooth connectivity. This car also has a spacious and well-designed cabin, with comfortable and supportive fabric seating for drivers and passengers.
This car features a stylish and modern design with a clean and uncluttered dashboard. The interior is equally well-built and made of high-quality materials that give it a premium feel. The car also comes with ample storage space, including door pockets, cup holders, and a glove box. The air conditioning system, keyless entry, adjustable side mirrors, headrests, and power windows, as well as front and back speakers, make this car a smart choice for buyers.
Exterior:
The exterior of the Kia Picanto is designed to be modern, sporty, and stylish. It features a compact and aerodynamic body shape, with a sleek and sporty Tiger nose front grille and sharp headlights. The car also has a smooth and flowing bodyline that gives it a dynamic and sporty appearance. The car's compact size makes it easy to maneuver in city driving and easy to park.
The car comes with a variety of exterior color options, including solid and metallic colors. In addition to alloy wheels, fog lights, and LED daytime running lights, the upper model has sporty and modern features. The car also has a spacious and well-designed trunk, which is suitable for storing groceries and other small items. Kia Picanto's exterior design makes a bold statement, and its sporty and modern design is sure to turn heads.
Picanto Pakistan Picture: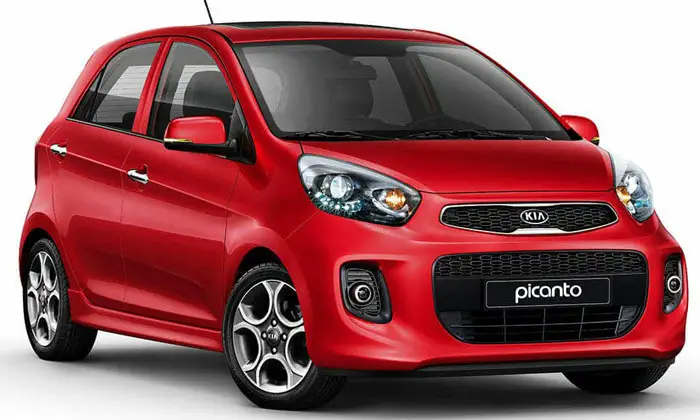 Kia Picanto Top Features:
This car comes with a variety of features that are designed to provide a comfortable and convenient driving experience. Some of the top key features of the car include:
Electronic power steering with tilt and adjustable feature
Power mirrors and windows
Folding keyless entry
Front seat airbags
Immobilizer
Central Door Locking
Burglar alarm Security
Manual AC
ABS (Anti-lock braking system)
Cluster display tachometer
Sunglass holder
Luggage under the floor tray
Passenger seat underfloor box
Front and back speakers
Rear headrests
Audio System + Call Function
Rear wiper
Daytime running lamps
Electronically Adjustable & Heated Side Mirrors
Tiger Nose Grille with Chrome Outline
9 Inch LCD (Optional)
Cup Holder
Car Background: Kia Picanto was launched in Pakistan in 2021. The manufacturers of this car are Kia Lucky Motors Pakistan Limited. It's a joint venture between Kia Motors Corporation and Lucky Cement Limited Pakistan.
Specifications:
| | |
| --- | --- |
| Name | Specs |
| Body Type | Hatchback |
| Dimensions (Length x Width x Height) | 3595 x 1595 x 1490 mm |
| Ground Clearance | 152 mm |
| Displacement | 1000 cc |
| Transmission | Manual & Automatic |
| Horse Power | 68 hp |
| Torque | 94 Nm |
| Boot Space | 200 L |
| Kerb Weight | 840 – 860 KG |
| Fuel Type | Petrol |
| Mileage | 12 – 15 KM/L |
| Fuel Tank Capacity | 35 L |
| Seating Capacity | 5 – Persons |
| Top Speed | 180 KM/H |
| Tyre Size | 165/65/14 |
Online Booking: To book the Kia Picanto online, click here. The complete list of Kia showrooms in Pakistan can be seen here. There is a Kia dealership in every major city in Pakistan, including Karachi, Lahore, Islamabad, Peshawar, Multan, Faisalabad, and Sialkot. Your city can be found on the list. Kia also offers a 4-year warranty on the Picanto car in Pakistan.

Share This Article with Your Friends