Short Summary: In this article, you will find the latest information regarding Massey Tractor MF 240 Price in Pakistan 2023, Load lifting capacity, Millat Tractors Installment plan for Massey Ferguson 240, Features, Specifications, MF 240 tractor engine power, diesel and petrol average per acre and more. Let's begin the article step by step.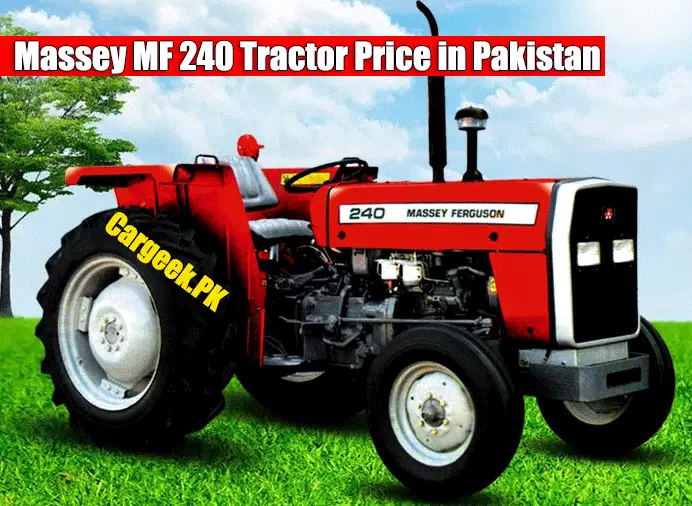 Massey Ferguson MF 240 Tractor Price in Pakistan 2023
Millat Trackers Limited has increased the cost of its tractors many times over the past year. MF 240 Tractor Price in Pakistan today ranges from PKR 1,958,445 to PKR 1,968,445. Punjab, KPK, and Sindh have slightly different prices. Below is a provincial vise price table.
As of 1st April 2023: 240 Tractor Price in Pakistan (Updated)
| Province | Ex-Factory Price (PKR) |
| --- | --- |
| Punjab | PKR 2,020,000 |
| Sindh | PKR 2,030,000 |
| KPK | PKR 2,023,000 |
Millat Tractor Massey Ferguson MF All Model's Official Price List for April 2023.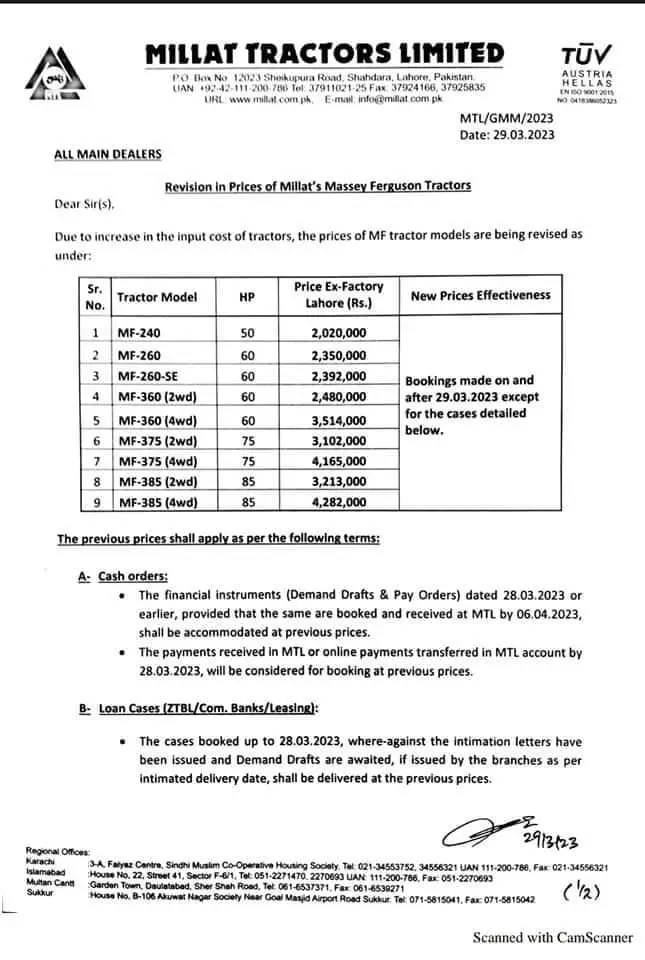 As prices have increased significantly in recent months, it has dramatically affected farmers' daily routines, especially in Punjab. The devaluation of the Pakistani rupee has played a significant role in the high cost of tractors, adding to the challenges faced by farmers. Refer to the following list for Massey 240 tractor price in 2021 and 2022.
Massey Tractor MF 240 Price in Pakistan in 2021 was 1,140,000.
Massey Tractor 240 Price in Pakistan in 2022 was 1,520,000.
I find this disturbing and a nightmare for Pakistan's poor farmers. Hopefully, everything will be fine soon. InshaAllah.
240 Massey Ferguson Tractor Engine:
The Massey 240 tractor engine is 2500cc based on information from Millat. The engine can produce 50 horsepower. An MF 240 tractor can lift and tow 1700 kilograms of weight. The fuel tank capacity of the MF 240 tractor is 47.7 liters.
The Massey Ferguson MF 240 tractor is widely used in the province of Punjab, where agriculture is the primary source of income for most of the population. Punjab's agricultural cities like Gujranwala, Sialkot, Faisalabad, Multan, Sargodha, and Khushab mostly use this tracker.
MF 240 Tractor Fuel Average Per Acre:
This tractor has the potential to deliver a mileage of 7 liters per acre or 8.5 liters per hour.
Massey 240 Tractor 2WD Features:
Powerful and quiet diesel engine.
Compliant with ECE R49 for Low Emissions.
Clean Burn for Low Smoke.
Improved cooling with an oil cooler.
Smooth steering with hydrostatic power steering.
Proficient brakes with an Oil-Immersed Multi-Disc Brake System.
Comfortable spring suspension seat.
Convenient maintenance and service access points.
MF 240 Tractor Tyre Price in Pakistan
With the increase in government taxes in 2023, the MF 240 Tractor Tyre Price in Pakistan ranges from PKR 90,000 to PKR 130,000. MF 240 tractor front tyre size is 6.00 – 16 (6PR) and rear tyre size is 12.4 / 11 – 28 (6PR).
Massey 240 Tractor on Installment
As inflation continues to rise, Massey Ferguson Pakistan has introduced an installment plan for their tractors. If you're interested in purchasing a tractor but can't afford to pay in cash, please reach out to your nearest Massey tractor dealer for further details.
Used MF 240 Tractor for Sale in Pakistan:
In case you do not want or cannot afford a brand-new tractor, there is an alternative option available – used tractors. Compared to the latest ones, used tractors are available for sale at lower prices. If you're interested in purchasing a Massey 240 used tractor for sale, you can click here to explore your options olx. Used tractor prices start at 5 lakhs in Pakistan.
Youtube Short Review of Massey MF 240 Model 2023
Massey Ferguson Pakistan:
Massey Ferguson Pakistan has manufacturing units in Lahore, Pakistan. This manufacturing unit specializes in agriculture machinery, farm implants, tractor parts, tyres, Potato Planter, Multi Crop Bed Planter, and other agricultural accessories.
The MF Pakistan also exports agricultural machinery to countries such as Oman, Libya, Sudan, Nigeria, Ghana, Kenya, Zambia, Botswana, Uganda, Tanzania, and Togo. This is a source of pride for Pakistan.
Massey Ferguson Pakistan Whatsapp Contact Number: +92-321-8460703 
Specifications and Performance:
| PERFORMANCE | Description |
| --- | --- |
| Engine Power at 2,250 rpm | 50(B.S) hp* |
| Torgue at 1,400 rpm | 172 Nm |
| PTO power at rated engine speed | 44 hp** |
| ENGINE | Description |
| --- | --- |
| Type | Diesel / AD 3.1524 |
| No. of Cylinders | 3 |
| Injection | Direct |
| Bore | 91.5 mm |
| Stroke | 127.0 mm |
| Capacity (liters) | 2.5 |
| Compression Ratio | 16.5:1 |
| Aspiration | Natural |
| Starting Aid | Thermostat |
| Throttle Control | Hand and Foot |
| Cooling | Water |
| Air Cleaner Type | Oil Bath |
| Air Pre-Cleaner | Over Bonnet |
| Fuel Filter | Dual, High Capacity |
| Exhaust | Vertical |
USAID Tractor Massey 240:
The Massey 240 tractor has gained popularity among Pakistani farmers, especially those who have received the USAID tractor Massey 240. The United States Agency for International Development (USAID) has provided thousands of Massey Ferguson tractors, including the MF 240, to Pakistani farmers to increase their productivity and improve their livelihoods.
Massey 2400 Price in Pakistan
Price of MF 2400 in Pakistan in 2023 starts at Rs. 2,230,000. This tractor has disc brakes and a powerful engine.
MF 240 4×4 Price in Pakistan
The MF 240 4×4 is a powerful tractor used in Pakistan. The price of the MF 240 4×4 tractor starts at 2,100,000 rupees.

Share This Article with Your Friends