Toyota Vitz Latest Model 2016 Price in Pakistan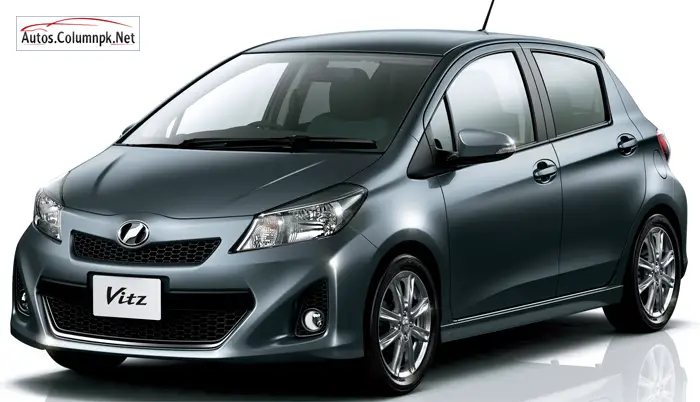 Toyota has launched its Latest Model Toyota Vitz 2016 in Pakistan and other parts of the world as well. It is a Japanese car with an attractive look. It has a hatchback body type. This car, after its release, in no time has become famous in the young generation of Pakistan due to its unique look and appealing body colors. It is an international car and it is launched in some other countries named as Toyota Yaris.
>> Performance
This master piece from Toyota provides you with great performance. It is easy to drive and it has a good grip on all kinds of roads in Pakistan. It has an engine that doesn't misbehave in any kind of situation, even if a lot of load is put on it. It is used by young generation mostly, that is the description to its good performance.
>> Safety and Attractiveness
New Model Toyota VITZ 2016 has the best safety features in it. Toyota has used EBD technology along with anti lock breaking system that has made it a safe car to use and drive. The advanced suspension system has also been embedded in it to stop it from any jerks or etc.
So, overall it is a safe car to use for everyone. It has a vast range of colors in it. This feature of its availability in different colors is an essential feature owing to which this car is famous in the young generation.
>> Interior
Toyota VITZ went under slight modifications from its recent models. It has the capacity of 5 persons. Its driver seat is height adjustable and it has bucket front seats. It has a clock and trip computer and it also has the external temperature display.
Toyota Vitz New Model 2016 Interior Picture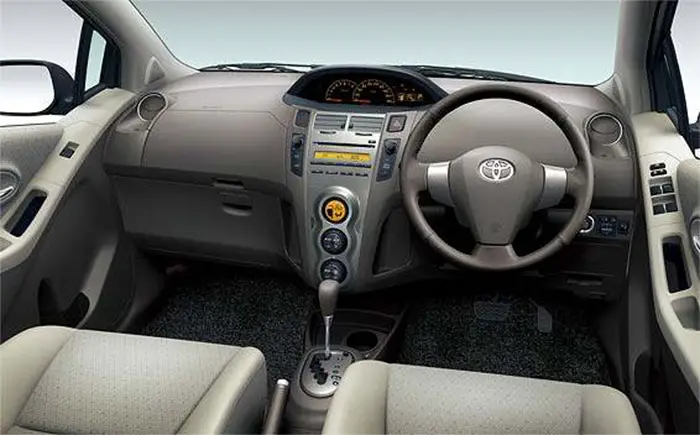 For the sake of entertainment it has a Mast antenna along with 6 total speakers. It also has FM/AM stereo. Its luxurious entertainment features also contains Auxiliary audio input and USB with external media control. It also has the facility of Bluetooth wireless data link for hands-free phone.
>> Exterior
Vitz Car has an outstanding exterior. It has the curves in its body style of hatchback with 5 doors. It possess projector beam headlights along with oversize blacked-out grille add attitude.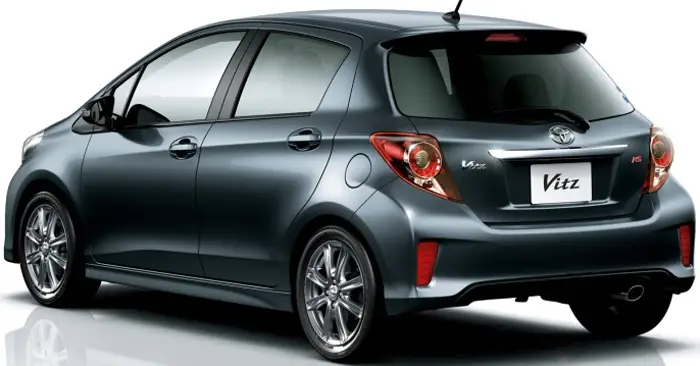 One of the unique things its exterior body has is the, day time running lights called as "DRL". Integrated fog lights and its alloy wheels are also essential features of its exterior. It has intermittent wipers, Rear defogger and intermittent rear wiper.
Features and Specifications

Toyota VITZ 2015 has unique features that can be described with many details; some of its details are given below.
Measurements
Its width and height is 5 ft. 6.7 in. (66.7 in.) and 4 ft. 11.4 in. (59.4 in.) respectively.
Its length and wheelbase is 12 ft. 11.5 in. (155.5 in.) 8 ft. 2.8 in. (98.8 in.) respectively.
Fuel and Engine
Its fuel type is regular unleaded
Its EPA MILEAGE EST. (CTY/HWY) is 30/37 mpg.
Its engine is a 106-horsepower, 1.5-liter four-cylinder.
Its engine is paired with 5 speeds manual or 4 speed automatic transmissions
Some other Features
It has power door locks with one touch power windows.
Vitz is available in Manual and Automatic Transmissions.
It has front and rear cup holders along with front door pockets.
Toyota VITZ 2015 also has interior air filtration, Air conditioning and duel vanity mirrors.
This is the list of some of its features.
Vitz 2016 Price in Pakistan
Its price is around about 1,500,000 PKR just because it is imported from Japan. Learn How to Import a Car from Japan to Pakistan.
Bottom Line
If you are looking to enjoy a luxurious car with not a huge range of price, this care is best for you. Latest Model Toyota Vitz 2016 has all the features of luxurious car along with the attractive look. So, come drive it to feel the real comfort.

Share This Article with Your Friends