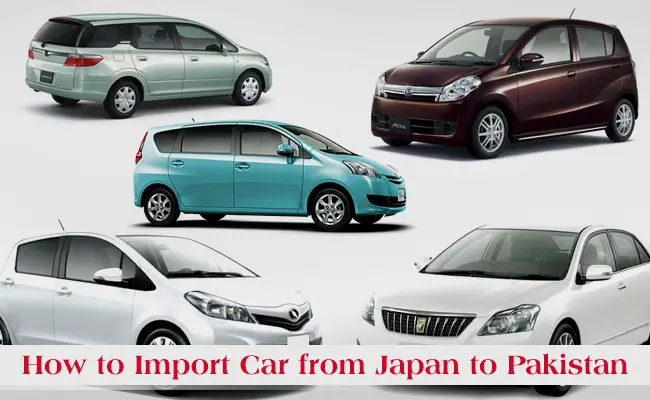 How to Import a Car from Japan to Pakistan
In this article, we have shared the complete detail about How to Import a Car from Japan to Pakistan. The Japanese automotive industry is one of the most prominent and largest industries in the world. Japan has been in the top three of the countries with most cars manufactured since the 1960s, surpassing Germany.
How to Import Used Cars from Japan to Pakistan – The automotive industry in Japan rapidly increased from the 1970s to the 1990s (when it was oriented both for domestic use and worldwide export) and in the 1980s and 1990s, overtook the U.S. as the production leader with up to 13 million cars per year manufactured and significant exports.
In the current recession, it is a good idea to import a used car from Japan.
Money-Saving on Used Cars
One advantage of importing cars from Japan is in the money you can save.  It is possible to save up to 30% when you import your used car from Japan than when you were to purchase a similar car locally.
Also Check: Used Japanese Cars Prices in Pakistan
Wide Selection of Car Models
All the major Japanese automobile makers first release their latest car models in Japan.  So, if you are importing used cars from Japan, you get to choose many more models with more options than what you get in your country.
Latest Car Models from Japan
You can give a boost to your ego by owning the latest model of popular car brands.  You can be the very first person in your country, who is driving a cool brand new car model before anyone gets his hand on that model.
How to Import Car Direct From Japan to Pakistan

If you are going to buy an imported car, vehicles from Japan directly then verify cars detail as to include
Documents
Auction Sheet
Actual Cost of Vehicle
The Import Regulation
>> Shipping Destination Ports
>> Age Restriction
No more than 3 years from the first registration year for vehicles.
No more than 5 years for pick-ups and trucks, trailers, and other heavy duties equipment from the first registration year.
>> Road Worthiness Inspection
>> Other Restrictions
>> Import Government Taxes Rates
Download Taxpayer's Facilitation Guide

You can import cars from Japan yourself and the most reliable auction house is USS, but there are some points you should consider.

1-In order to ship your car you need a container and a container usually contains 4 sedan size vehicles or 5 small like alto, Vitz, etc. with whom you will share a container if you are not buying enough number to fill the container up.

2- If you have any person in Japan then he can make payment on your behalf.

3- You should have someone in mind who will help you in the clearing process which includes the selection of Consignment. PPL usually buys the passports which is not the safe way you should at least know the consignee.

[acf field="Schema"]

Share This Article with Your Friends