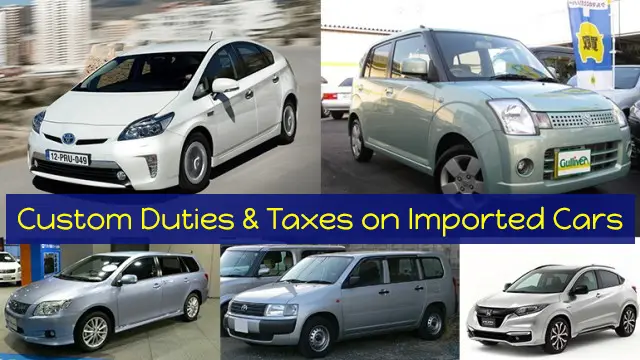 Used Imported Cars in Pakistan Custom Duties Calculator – Pakistan is the least evolved country when it comes to the manufacturing of cars, bikes and other vehicles. Most of the automobile that our public wants to buy are either not manufactured here or our industry does not have the raw material or engineers to manufacture it.
Moreover, in order to import a car from Japan, the public have to pay a large amount of custom duties to have their desired automobile in Pakistan. The ironic part is that most often the imported cars or bikes are cheaper than the locally manufactured ones even after paying the custom duty. These Japanese imported cars are also more reliable than the local one as they provide a good driving experience and have higher quality.
Custom Duties
Before buying an imported car following are the things you should keep in mind regarding the custom duty.
>>> You should know the custom duty on the cars or your required vehicles before ordering them according to their engine capacity or you can find several custom duties calculators online that will help you to calculate the custom duty of your specific automobile.
>>> In case you want to finalize your order, you have to pay an advance of 10,000 Rs and the rest of the money is paid after the automobile is delivered at the port. This is how custom is cleared.
>>> Mostly cars are imported from Japan and UK thus, both have a difference in the custom duties for their vehicles.
Custom Duties on Cars
Following are the custom duties on cars according to their engine capacity
>>> For a car with an engine capacity up to 800cc and 50% existing duty, it will cost you about  $ 4400 to $ 6600.
>>> With 801cc to a 1000cc car with the 55% existing duty, it will cost you $ 5500.
>>> You will be charged $ 11000 to $ 15400 for a car with engine capacity of 1001cc to 1500cc with an existing duty of 60%.
>>> For 1501cc to 1800cc cars with an existing duty of 75%, you will be cost $ 18700 to US$ 23100.
Estimated Custom Duties on Non Hybrid Cars
Hybrid Cars

JEEPS / SUVs / COMMERCIAL VEHICLES

Custom Duties on Bikes
Following are the custom duties you will have to pay if you want to import a bike from other countries to Pakistan.
For 250cc to 500cc, the custom duty is $ 14.64 per cc.
For 501cc-650cc, the custom duty is $ 13.26 per cc.
For 651cc to 900cc, custom duty is $ 11.47 per cc.
For 901cc to 1000cc, custom duty is $ 11.35 per cc.
For above 1000cc custom duty is $ 9.53 per cc.
How it Helps Society
It helps both the upper and lower class families to upgrade their automobile by lowering the car prices. It also leads to the manufacturing of new vehicles by improving the automobile industry and hiring new talent of automobile manufacturers in the industry.
It can also help the government to improve the economy of Pakistan for a long time efficiently. Thus, custom duty and auto policy are important for a country. You can comment below if you need further information.