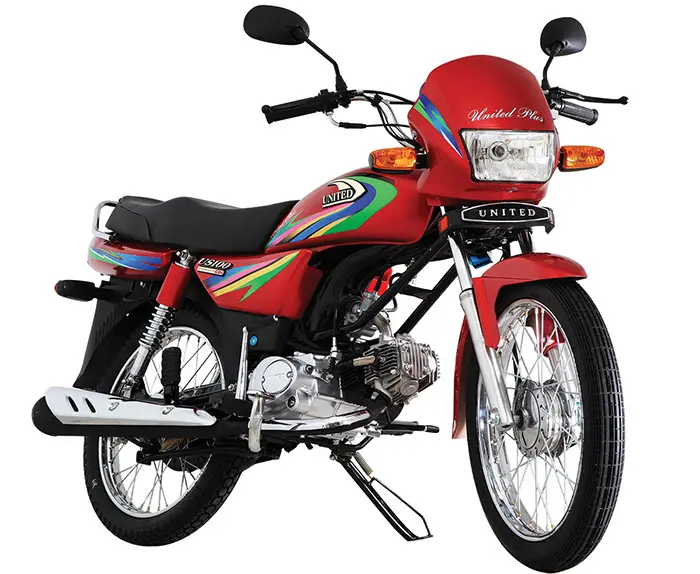 Recently the new model 2016 United 100cc motorcycle was launched in the market that has caught the eye of many Pakistani bike lovers. It has good specifications, affordable price, durable and has a good fuel average. It is assembled with such material that you will not have to worry about its maintenance. It is available in red and black colors
In this time of hustle and bustle and everything with high expenses, it is hard for a middle-class person to buy a decent mode of transportation. Therefore, to make it accessible for a person with normal income, United motorcycle has introduced many affordable and high-performance bikes in the automotive market. It has been the name of quality and low rates since a long time. People prefer to buy the bikes assembled by the United because of their durability, cheap prices and potential.
Exterior:
With the performance, the look of a vehicle also matters and therefore United 100 cc bike has been assembled with a streamlined design. It will reduce the air resistance and its aerodynamic exterior will minimize the friction giving you a good grip and speed over the bike. These features will also let you ride the motorbike with the speed you like.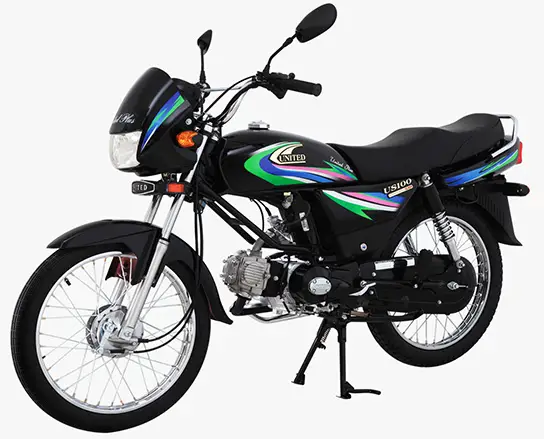 Apart from these, it also has a comfortable seat and balanced wheels that will not let you get tired on long journeys. It will help you can enjoy your ride on this amazing bike. It is also equipped with a beautiful front light to make it easy for you to travel on dark roads.
United motorcycle Specifications:
United 100 cc new model is equipped with the 4-stroke engine with latest OHC technology. It also has the air cooling system that will not let the bike's machinery be overheated even in the hot summer days. Although this vehicle is not very expensive but its engineers has not compromised on the technology of this bike. They are providing you with the latest technology vehicle at a price that you will be amazed to hear.
It has a 4-speed transmission system that will allow the motorbike to give an efficient performance. It has a strong clutch and combustion system that makes it a very convenient and reliable mode of transportation.
Salient Features:
United US 100 motorcycle is assembled with the following features:
OHC technology, 4-stroke air-cooled engine
It has a displacement of 98.1
6 months or 6000 km warranty
United has wet multi-plate type 4 clutch
4-speed transmission system
It has a digital speedometer
It is equipped with indicator lights, neutral position indicator and turn signal indicator
Fuel tank capacity is 10 L
Odometer and an ON/OFF switch are also present
United 100cc Review:
This United 100 bike is one of the best vehicles in the country with the advantage that it is inexpensive and affordable for the middle-class families. Its high technology and low price have given it a special place in the auto market and many people prefer to buy it. With the high prices and especially the rising fuel rates, united 100 cc is fulfilling the dreams of local Pakistani.
United 100 Motorcycle New Model Price in Pakistan
Its very popular bike and available in Pakistan in just PKR 51,000/-
Bottom Line:
Therefore, if you are looking for an affordable motorbike that is both fuel-efficient and good in performance then Latest United Motorcycle 100cc 2016 Model is your perfect choice. With its durability and comfortable ride, it will be your best companion for the long journey.

Share This Article with Your Friends