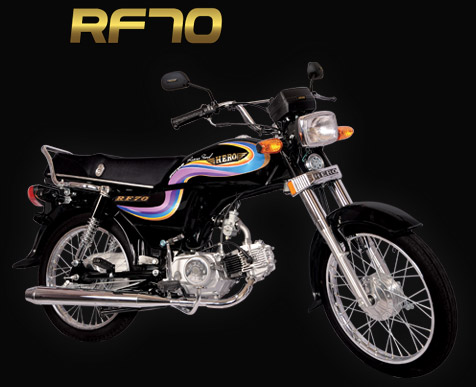 New Pak RF 70 Bike is an ideal combination of attractive design with super econo-power and smoke-free 4-Stroke engine, which promises you the most economical ride of your life. The new eye-catching graphics, comfortable new seat design and aerodynamic shape have made Hero RF 70 motorcycle best choice and a perfect partner.
Further, high resale value of Hero RF 70cc proves to be a life time asset for its customers. Hero Motors extensive dealership network makes the motorcycle and its parts, available at your doorstep and its countrywide warranty facilitates provide you trouble free companionship.
Pak Hero PK 70CC bike launched to fulfill the demand of Pakistani youngsters who likes a stylish bike. PH R70CC also cheap price bike in Pakistan more capacity and travel 80 KM with 1 liter. Spare parts of this bike also cheap. Pak Hero always tries its best to lunch a beautiful bike for boys in Pakistan that has affordable rate.
This is the most popular and favorite bike in Pakistan after Honda CD 70 and Honda 125. There is lots of Chinese and local Pakistani bike assembling companies but quality bike is the main concern of every one. Pak Hero is one of them that is offering quality bike in affordable price. Following is the price of this stylish bike.
Pak Hero R70cc Bike Price in Pakistan
PKR 38,000
Pak Hero R70 Bike Specs
Comment below if you like this beautiful motor bike by Pak Hero.

Share This Article with Your Friends