Suzuki Hayabusa Top Speed and Specifications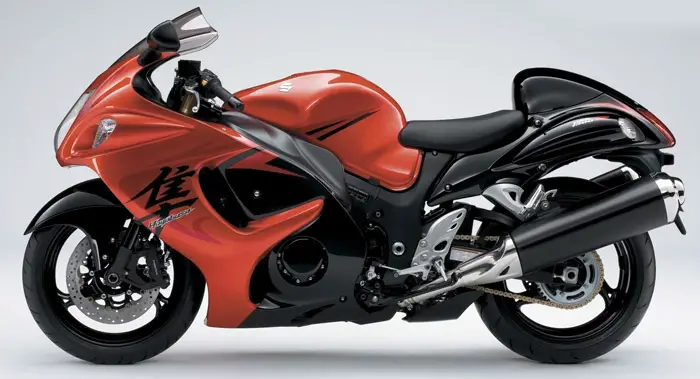 Suzuki Hayabusa is the latest bike engineered by Suzuki. It has won the hearts of many bike lovers due to its extraordinary style. It attracted the people because of its design that has the air cutting power. This bike also known as GSX-1300R-X (1999), GSX-1300R-Y (2000), GSX-1300R-K1–K7.
Suzuki has been manufacturing the best and advanced technology automotive since a decade now. This Japanese company has provided the people of Pakistan with the best quality and extraordinary performance vehicles. Suzuki is the brand that is loved in Pakistan. It is one of the high reputed Japanese brand in Pakistan.
It is manufactured by the Japanese technology as indicated by its name. It is famous for its extraordinary acceleration and sports bike like features. It is equipped with the extraordinary specifications and amazing performance.
Exterior
The catchiest feature of  New Model Suzuki Hayabusa is its sports bike like design. It has won the heart of the youth with its sporty design and features. It is available in cool and eye-catching metallic colors. It is equipped with cool tires and attractive headlight and taillight. It has a creative speedometer manufactured with the latest technology.
Performance
Hayabusa by Suzuki has a 1340cc in-line engine. It is manufactured with the liquid cooled DOHC technology. Heavy Bike Hayabusa has a special drive mode selector that enables the rider to select the engine output according to the conditions he is driving in. It is also equipped with the anti-lock brake system.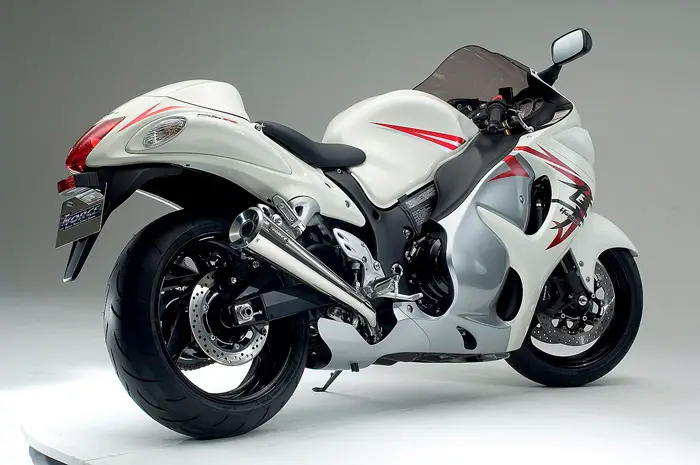 The ABS system will keep the bike stable on bumpy and uneven roads and will not let it skid. The brakes are manufactured with the 310mm dual brake rotors that enhance its stability and makes its control easy.
It is manufactured with the advanced technology and highest quality material. The performance of Hayabusa has made it a reputed bike in the auto market.
Specifications
Suzuki Hayabusa 2016 latest model is equipped with the latest specifications that make it is an extraordinary bike. It is equipped with the latest 4-stroke liquid cooled engine. It has the Suzuki fuel injection installed in it. It gives a transmission of 6-speed constant mesh. It has a very eye-catching exterior and is available in a wide range of colors.
Hayabusa Mileage/Fuel Consumption
15+ km/per Liter on Long Route
Suzuki Hayabusa Top Speed
It immediately won acclaim as the world's fastest production motorcycle, with a top speed of 299 km/h.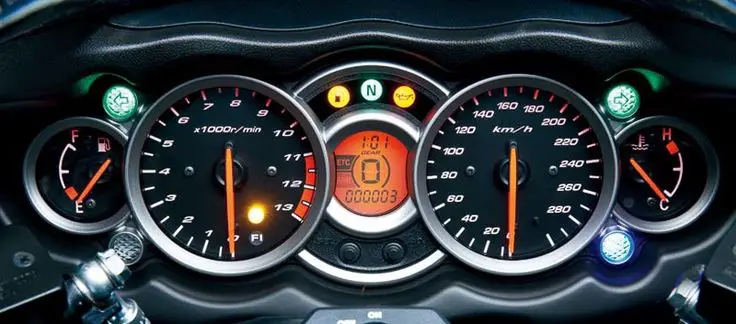 Hayabusa Specifications & Features
Suzuki Hayabusa Pakistan is manufactured with the following salient features
It has a DOHC technology 4-cylinder engine
The bore and stroke value of this bike are 81 mm x 65 mm
The compression ratio is 12.5:1
Hayabusa has an electronic starting system
The lubrication is wet sump
The front brakes are Brembo, disc and twin
It is also has a rear brakes of disc type
The fuel capacity of Suzuki Hayabusa is 21 liters
This heavy bike also has an electronic ignition system
It has anti-lock brake system
The dry weight of this bike is 266 KG
It comes with a warranty of 12 months
Color Range
This heavy bike is available in candy daring red, metallic mystic silver, metallic thunder gray, glass sparkle black colors.
Review
Suzuki Hayabusa is one of the most reputed bike worldwide. With its sporty look and extraordinary features, it has won the hearts of bike lovers. It is the reliable and high-performance heavy bike. Due to its ABS installation and other features it has proved to give a stable and comfortable ride.
Suzuki Hayabusa Price in Pakistan
This bike is available in all big cities of Pakistan Like Lahore, Karachi, Islamabad, Faisalabad, Multan, Rawalpindi. The labor and spare parts are also available from authorized dealers. The price varies from PKR 2,400,000 to PKR 3,000,000 depending on the condition and the mileage.
Conclusion
Suzuki Hayabusa can be your best companion. It has become the trademark of heavy bikes in Pakistan. As being equipped with the latest features and latest technology it is a long lasting and reliable bike. It has a strong place in the automotive market. If you want to take the best biking experience then you should defiantly consider buying Latest Model 2016 Suzuki Hayabusa. Best of Luck!