Tata Nano Car Price in India, Review & Features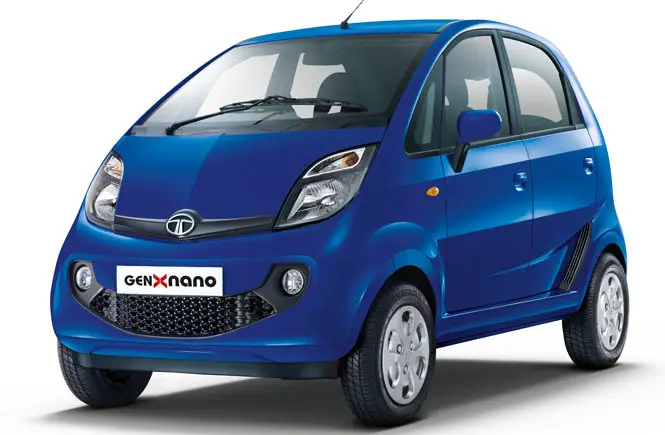 The Tata Nano Car is manufactured by Tata Motors. Tata Nano is the world's cheapest car made by India. Before it went on sale, a price of INR1 lakh (US$1,800) was widely touted. Since its 2009 debut, the price has increased; while the Nano remains the lowest-cost four-wheeled passenger vehicle in India, it is significantly more expensive than a motorcycle, a popular means of cheap transport in the India.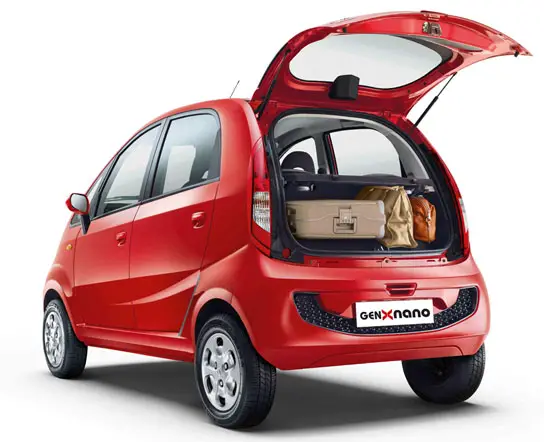 The GenX Nano is a perfect city car with the new Easy Shift (AMT) technology, which guarantees a wonderful driving experience. So waste no time! Select your city, to find out the ex-showroom price of the XTA, XMA, XT, XM and XE variants of GenX Nano.
Nano Features, Colors, Interior & Exterior
The new GenX Nano, will be offered in 5 variants i.e. the XTA & XMA with Easy Shift (AMT) and 3 variants i.e. XE, XM, XT with Manual Transmission, equipped with features such as creep technology to facilitate easy driving in bumper to bumper traffic and design as seen by the stylish first-in-segment, digital information display system.

The interiors range from beige, with silver and cappuccino accents to fully black interiors. The exteriors boast of body coloured handles, new Infinity Motif Design Grille, and a new Integrated Rear Spoiler to name a few. The XTA/XT is available in 7 trendy colours whereas the XMA/XM comes in 5 colours and the XE in 2 colours.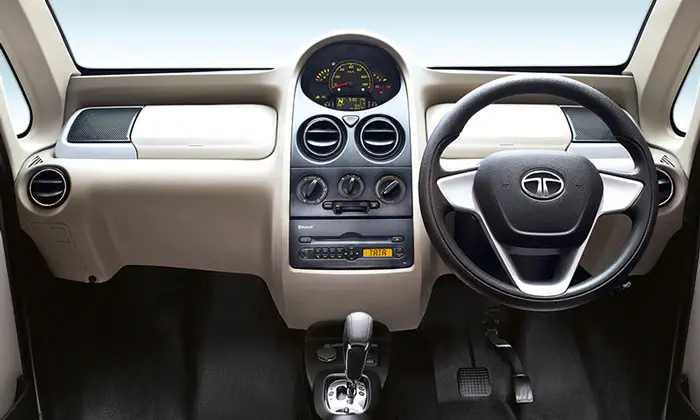 Tata Nano Standard Features
Dual-tone vinyl seats and fold-down rear seat
3 color options – Aqua Blue, Serene White and Rouge Red
Clear headlamps
Tubeless tyres
Tip-tap driver side mirror
Engine & Transmission
| | |
| --- | --- |
| Engine Type | 624 cc, 2 cylinder, MPFI |
| Maximum Engine Output | 38 PS @ 5500 ± 250 rpm |
Tata Nano Car Price in India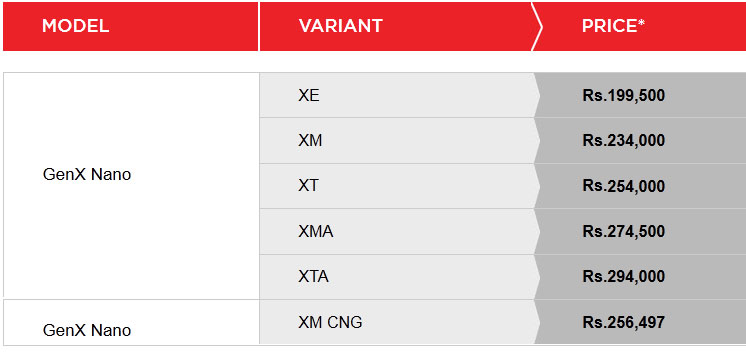 The Tata Nano is simply known as the cheapest car in the world, but in reality there is lot more to this entry-level hatchback. It is actually a decent car worthy of competing with the Maruti Alto and the Hyundai Eon.