FAW Sirius Grand S80 Price in Pakistan with Pics

FAW Sirius Grand S80 Price in Pakistan – The Sirius car is a 7 seater Urban Multi-Purpose Vehicle (MPV) launched by First Automobile Works (FAW) in 2013. It has been designed to provide luxury, comfort, utility and affordability all under one hood. Al-Haj Faw Motors revealed the Sirius S80 Grand in July 2014, and captured the attention of consumers looking actively for a Sirius car for sale.
The FAW Sirius S80, which is named after the brightest star is a 7-seater family van powered by a 1,300cc engine. FAW motors introduces new extra utility Vehicle (XUV), Sirius S80 ads new dimensions to luxury, utility and comfort with state of the art technology.
See also: New Model FAW XPV 2016 Price in Pakistan, Pics, Features
With Euro-4 emissions standards as promised, and average looks, so far, we think it's quite a good deal considering the similar 7-seater Toyota Avanza is currently sold for 2,800,000 rupees by Indus Motors.
FAW Sirius S80 Interior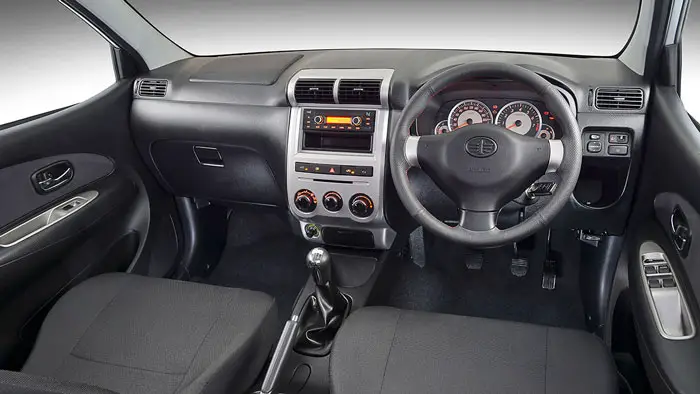 The FAW Sirius grand interior is beautifully designed and composed of high quality materials used in it. It really adds to the luxury car feel with its awesome design. A dual AC system is in place to comfort the passengers in the third row. It retains a leather power steering, DVD player and a rear view camera.
The rear window viper of FAW Sirius S80 Grand ensures a clear view for the camera. The front seats are fully adjustable and feature dual air bags for safety purpose. It has ample cargo space with rear seat folding and roof rails.
FAW Sirius S80 Exterior
The Sirius does not compromise aesthetics and has a luxurious exterior. It owns beautifully designed Projector type headlights with integrated LED turn signals. The rugged front and rear bumpers with integrated brush guards add to its tough persona.
Features
Powerful 1.3 Litre VCT Euro 4 Engine
ABS Brakes with EBD
1300cc Powerful Engine
Adjustable Projector Headlights
Dual Airbags
Leatherite Power Steering
Specious 7 Seater
Two Year Warranty (50,000 KM)
Sirius S80 Price in Pakistan
The FAW Sirius Grand price is around PKR 1,885,000 while the FAW Sirius S80 price in Pakistan is PKR 1,705,000.

Sirius S80 is the beautiful and luxury SUV in Pakistan by the Chinese auto company. Its stylish, affordable and easy to maintain vehicle.

Share This Article with Your Friends