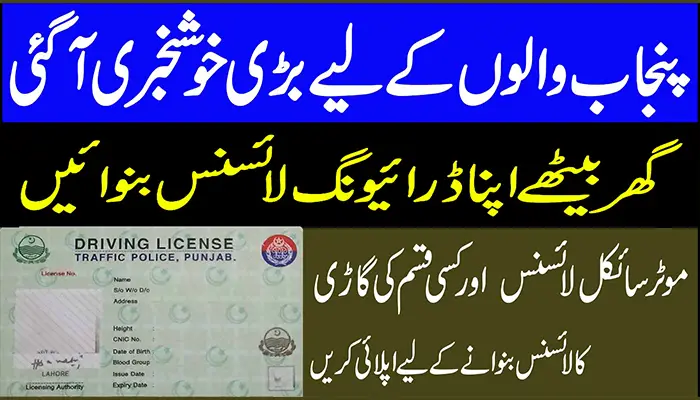 Apply for Online Punjab Driving License. DLIMS stands for Driving Licensing Management Information System, it is a computerized system for issuing and managing driving licenses in the province of Punjab, Pakistan. Through the DLIMS website, residents of Punjab can apply for a new driving license, renew an existing license, check the status of their license application, and make payments for license-related fees. Additionally, the system is also used to maintain records of driving licenses, vehicles, and traffic violations in the province.
With the DLMIS system, applicants can apply for a driving license online, and the system will validate the applicant's information and perform the necessary background checks. After the applicant has passed the driving test, the DLMIS will generate the driving license and sends it to the applicant's mailing address.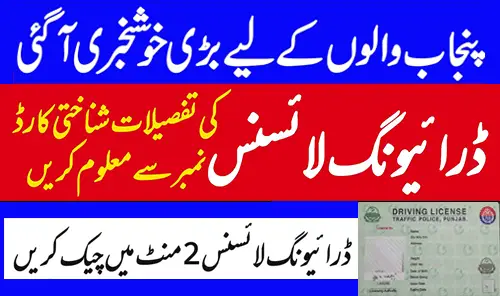 Driving License Fee And Required Documents 2023
Below is the official poster released by the traffic police in Punjab for the year 2023. In this poster, Punjab traffic police clearly mention everything about how to Apply online for a Punjab Driving License and the Required Documents in 2023. Let's read this poster for more details.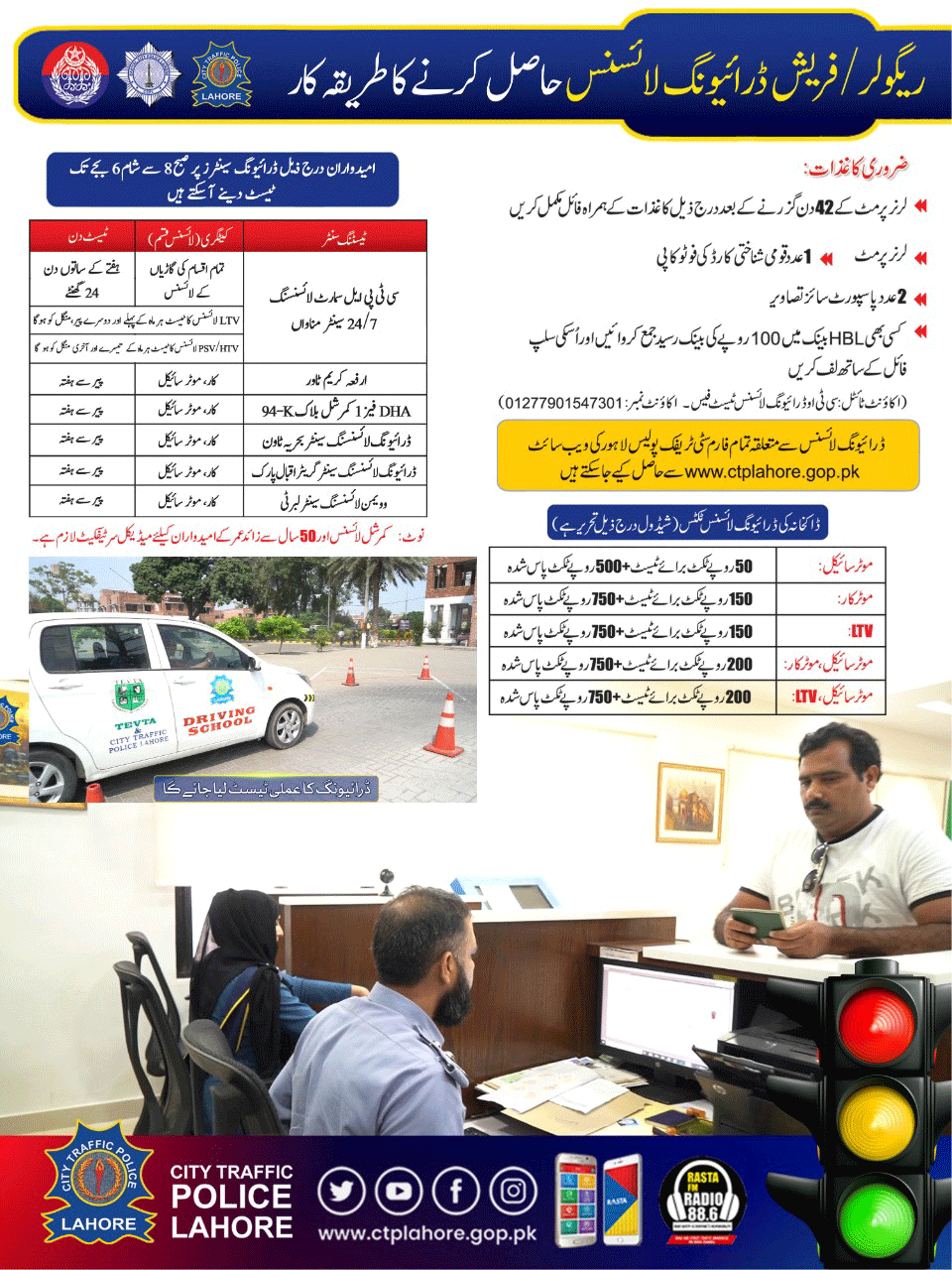 How To Get A Learner Permit In Pakistan (Urdu)
Below is a video showing how to get a learner's permit in Punjab from the official instructor of the Punjab traffic police. Watch the video for complete details.
How to Apply for a Bike and Car LTV Driving License in Punjab?
Click here to apply online on DLIMS portal
Driving License Centers and Office Timings
Get the latest information about driving license centers in Punjab, office timings, and fee schedules by downloading the Rasta App from the Punjab traffic police. On this app, you can also apply online from the comfort of your home.
or Click here for driving license centers in the cities of Punjab address and phone numbers.
Required Documents for Learner License
A copy of C.N.I.C
A Ticket of Rs.60 from any Post Office.
Get a Code Book of Traffic Rules & Regulation from the Traffic Police Office.
Medical Certificate (for candidates of 50 years or more)
Age Limits for Learner Permit
Motor Cycle/ Motor Car: 18 Years
LTV (Rikshaw, Taxi, Tractor Commercial): 18 Years
HTV: 22 Years
Note: Learner permits are issued on Daily Bases whose Validity is of 6 months.
After 42 days of receiving a learner's permit, you can apply for a regular driving license in Punjab, Pakistan. An additional Medical Fitness certificate is also required for people above the age of 50 years. A ticket is also required and the charges vary on the kind of vehicle.
Online Sign Test for Driving License
Here you can take a free online sign test on the Punjab traffic police official sign test website.
Required Documents for Permanent/Regular License
Application Form (A) within File Cover
Original Learner Permit of at least 6 weeks.
Medical Certificate
3 Passport size fresh Photo Graphs (Attested)
An Attested Copy of C.N.I.C.
Paste a Ticket of Mentioned Fee on License Document.
Required Documents for International License
Required International Application Form within File Cover
An attested copy of C.N.I.C.
A copy of the Valid Driving License issued from Lahore.
A copy of a Pakistani Passport valid for at least 6 Months with a Visa.
2 attested photographs (Passport Size)
Rs. 66 Court Fee Ticket.
Rs. 450 BankChallan Fee.
Note: Applicant will bring his original C.N.I.C., Driving License, and Passport with him.
International Driving License Fee and Documents
Following is the complete procedure for getting an international driving license. Fee schedule for international driving permits for Saudi Arabia, UAE, Dubai, Oman, and Qatar in 2023.

Required Documents for Duplicate License
Required Duplicate Application Form within File Cover
An attested copy of C.N.I.C.
2 Attested fresh Photographs (Passport size).
Report from the Computer section for a Computerized License or A certificate issued by relevant
Post Office which expresses the expiry date of the license.
FIR (Lost License report) of the Police Station.
Tickets will be pasted according to the schedule.
Duplicate Fee! According to the Category
Motor Cycle 100 Rs.
Car, LTV 150 Rs.
HTV 200 Rs.
Required Documents for Renewal of License
Required Application Form E within FileCover
2 Photo Graph Passport Size
A copy of the NIC
Original Driving License
Medical Report
A Ticket of relevant License
Renewal Fee! According to the Category
Motor Cycle, Rickshaw 500 Rs.
Car, LTV (PSV), Tractor Commercial 750 Rs.
HTV (PSV) 1000 Rs.
Note: License is renewed for five years
The initiatives taken by Traffic Police Punjab and Sindh are worth appreciating. They took a system with many flaws and systematized it for the benefit of society. This was the complete procedure of Apply Online Punjab Driving License in 2023.
Additional Information:
Click here to verify your driving license
Click here to Track your driving license
Q: What documents do I need to apply for a driving license?
A: Commonly required documents include personal identification such as a passport or national ID card, proof of address, post office tickets,  and any necessary medical documents.
Q: How old do I need to be to apply for a driving license?
A: The minimum age for applying for a driving license will vary depending on the jurisdiction and the type of license you are applying for. In most cases, you will need to be at least 18 years old to apply for a standard driver's license in Pakistan.
Q: What are the steps to apply for a driving license online?
A: The steps to apply for a driving license online typically include gathering the required documents, creating an online account, submitting the application and paying any applicable fees online, scheduling a driving test or appointment, passing the driving test and traffic sign test, and receiving the license.
Q: How long after a learner's permit can I get my driving license in Pakistan?
A: You can apply for a Regular Driving Licence after 42 days

Share This Article with Your Friends