Daihatsu Mira ES Price in Pakistan 2023, Fuel Average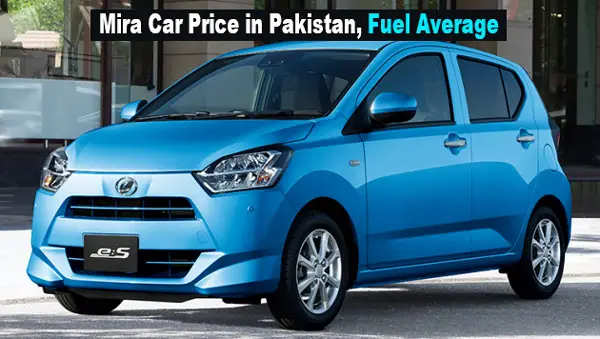 Daihatsu Mira is a Japanese imported Car in Pakistan. Daihatsu has been serving the entire world with the cars having most innovative technology and quality. 2016 Daihatsu Mira is a very good launch of its MIRA series which is used as a good family car. This car has a very sleek and stylish look with high quality interior and exterior.
Daihatsu Mira Car Price in Pakistan:
Mira Used Car Price Is : PKR 2,400,000 to 2,800,000

Performance
The performance of this car is very good. It has a powerful engine that gives the output better than the expected one. Its engine capacity is 660cc. It has a fuel consumption of 30 kilometer in one liter. It is an eco-friendly car that is not harmful for the environment as its fuel consumption is very low. It is drivable on all kinds of roads in Pakistan.
See Also: Cuore 2016 Price in Pakistan, Pics and Features
Safety
Being a family car, it has all the features that make it a very safe car to use. Its transmission type is CVT automatic gear that makes it an easy car to drive. It is fully power packed with ABS (Anti breaking system) braking system which plays an important role in its safety. Daihatsu Mira 2016 Japani Car also has the airbags at the time of the need. So, overall, this car is safe for the daily use for different purposes.
Interior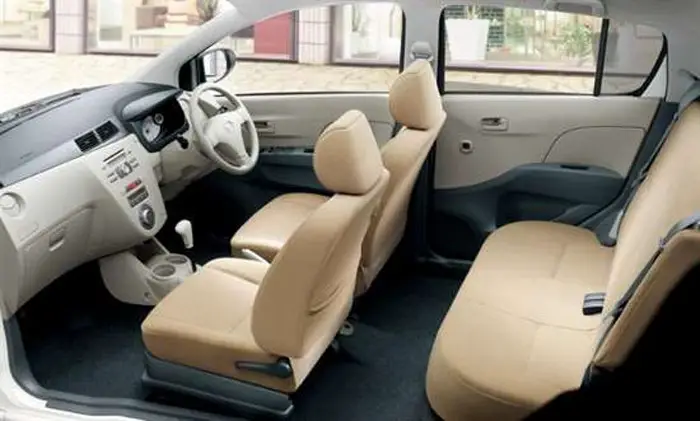 New Model Daihatsu Mira ES has a very basic and simple interior that consists of a good space for legroom. It has a seating capacity of 5 persons including the driver. It has the following basic interior features which are appealing for the people on this vehicle,
Power Steering
Power window
Keyless entry
Cruise control
Engine start button
Ottoman seat
Luggage box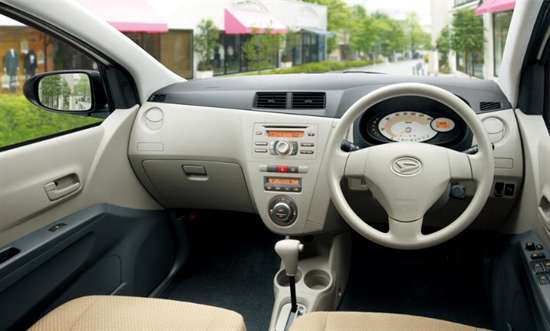 There are many other interior features such as a dashboard. It also contains a very good air-conditioned system, and it also has entertainment features in its interior such a CD player and USB port etc.
Exterior
2016 Daihatsu Mira E:S Latest Model contains a metallic body with the variety of colors available in it. It has a stylish and sporty look.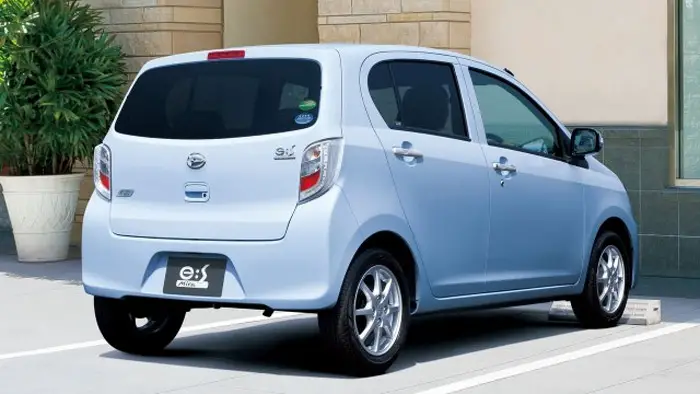 It has power mirrors along with the trapezium style front headlights. It also contains a rectangular grill along with the fog lights. The other exterior features it contains are the following,
Ultra violet glass protection
Rear fog lamps
Front spoiler
Rear spoiler
Xenon Lamps
Winter complication
Roof equipment
Good quality wheels and wipers at the front side
It has a very good exterior; if you want a decent vehicle with good looks Daihatsu Mira is best for you.
Important Features
Following are some of the important features that are adding to the value of this car,
Glue on Dash
Driving is also available in two wheel drive and also four wheel drives.
Daihatsu Mira has 5 doors Car.
It contains DOHC 3 Cylinders along with 12 valves.
Its dimensions are 3395mm, 1475mm, 1490mm.
It has 730 KG weight.
These are some of its unique features that are proving great for the creation of this tremendous car.
Mira E:S Price in Pakistan
Its price is around about 970,000 Pakistani Rupees. Its considered the cheap luxury car with better fuel efficiency.
Bottom line
So, Daihatsu Mira E:S New Model a very good Japanese Imported Car in Pakistan with very low price range. If you are looking to go on long drives with your own car having good quality and low price along with the fuel efficiency, come and sit in 2016 Mira to get the special feel.

Share This Article with Your Friends