Sazgar eVe Electric Rickshaw Price in Pakistan

Price of Sazgar Electric Rickshaw will be around: 5,00,000 PKR/= to 7,00,000 PKR/=
Sazgar Engineering Works Limited is known for three (3) wheeler vehicles(rickshaws) in Pakistan. In the past, we have seen all fuel base rickshaws in Pakistan which are not very profitable, and the maintenance cost of these rickshaws is too high. However, the Company will introduce the eVe – Sazgar electric Rickshaw, which reduces annual maintenance costs by up to 60k to 66k and saves fuel costs by up to 226,800.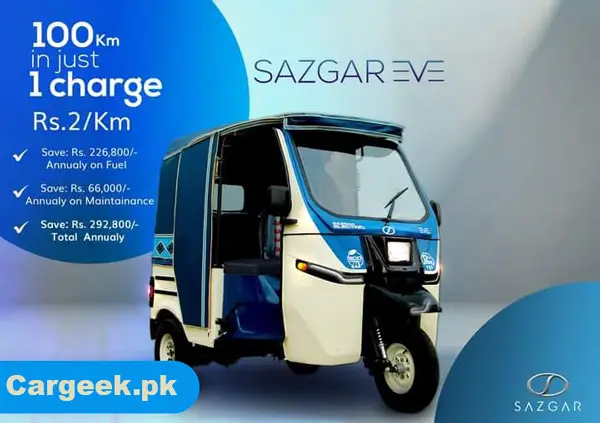 SAZGAR eVe Electric Rickshaw Price & Booking in Pakistan 2022
Most individuals are confused about the price of this rickshaw, but yet the Company has not announced the actual price. According to research, the Sazgar electric rickshaw price in Pakistan(2022) will be around 5 lakhs to 7 lakhs because it has different variants. The Company has opened booking of this fascinating electric three-wheeler vehicle in Lahore, Karachi, and all over the cities of Pakistan.
Sazgar Electric Rickshaw Features
The Sazgar eve electric rickshaw 2022 design is similar to other fuel rickshaws, but it has some extraordinary features where fuel costs Rs 5 to 6 rupees per Km; but there, this rickshaw costs just Rs1.5 per Km. It has Textured Bench Seats, which are more comfortable with a decent lag space.
Most people think electric vehicles do not have enough speed, but the interesting fact is this electric rickshaw has a maximum speed of 90 km/h. It comes with LED lights, a single auto windshield wiper, Dual DRL(s), and indicators. In the interior, you will get a Digital meter, Charging USB port, Battery display, Automatic Gear Knob, and smooth Handle Bar.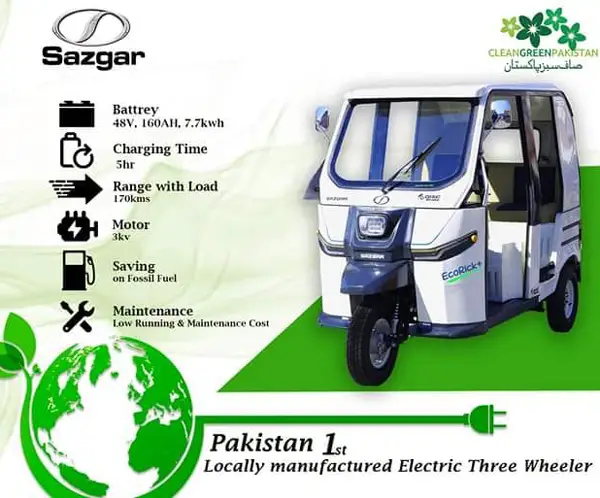 Sazgar Electric Rickshaw Charging Time and Approach Range
This electric rickshaw has three models, and According to the Company, it seems to take four to five hours to be fully charged. On the other hand, these models give 100 km to 210 km on a one-time charge and have a backup battery for long rides. The life of these batteries is around 5 to 7 years, but the important thing is that battery life also depends on how you drive.
eVe – Sazgar Electric Rickshaw Specifications
This electric rickshaw has three different variants, which come with several battery combinations like (72V, 90Ah, 6.5 kw/h) X (72V, 125Ah, 9 kw/h) X (72V, 160Ah, 11.5 kw/h). These have (2kw/h) X (3kw/h) X (3kw/h) motors with a (100 km) X (160 km) X (210 km) approach range.
The front suspension (Hydraulic Shock Absorption) and the rear suspension (Leaf Spring Shock Absorber) provide a smooth ride experience. The Sazgar electric Rickshaw comes with front, and rear disc brakes, and the gross weight of this rickshaw is around 370 Kg.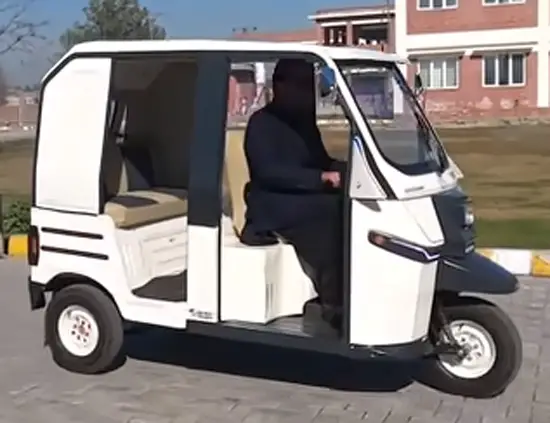 Sazgar Electric Rickshaw Review
FAQS
Sazgar Electric Rickshaw Price in Pakistan 2022?
According to recent company details, Sazgar will launch three different models and the price of these are around 5 Lakhs to 7 Lakhs.
What is the maximum speed of a Sazgar electric rickshaw?
The maximum speed of this rickshaw is up to 90 km/h.
How many Km does Sazgar electric rickshaw do on a single charge?
It comes in 3 variants. However, it takes 4 to 5 hours to charge, and this rickshaw can do 100 km to 210 km on a single charge.
Pros
Reduce maintenance cost Less weight
Durable and long-lasting No proper guidelines to drive
No noise pollution
Smooth riding experience
Cons
NO proper guidelines to drive
Less weight

Final thoughts
As we know, the world is going towards electric bikes and vehicles, reducing maintenance and fuel costs. This electric rickshaw has spacious seats, and a smooth driving experience and the best thing most individuals like is that backup battery for long journeys. The Pakistani market might be more expensive than local rickshaws, but it reduces fuel costs, and there is no maintenance like fuel rickshaws. While driving this, you will profit more because it costs 4 to 5 times less than local rickshaws.

Share This Article with Your Friends