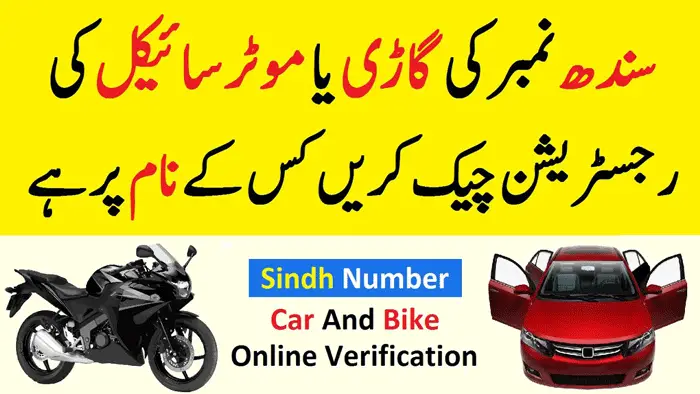 MTMIS Sindh Vehicle Registration & Verification
Sindh Excise and Taxation Department launch an online system for the verification of a two-wheeler bike, three-wheeler rickshaw, and four-wheeler car by entering your vehicle registration number of CNIC or ID card number.
MTMIS stands for "Motor Transport Management Information System" in Sindh, Pakistan. It is an online system that allows citizens to check the status of their vehicle registration, pay taxes and fines, and apply for various vehicle-related services. It is managed by the Excise, Taxation, and Narcotics Control Department of Sindh.
Sindh Karachi Online Car Bike Verification by Registration Number
The Motor Transport Management Information System (MTMIS) website in Sindh, Pakistan allows citizens to check the verification status of their vehicles, including motorcycles.
Step 1:
To check the verification status of a vehicle, please click on the following website of the Sindh excise department online vehicle verification portal.
Click here    

Step 2:
All you need to do is enter your vehicle's registration number or bike number in the correct format, and you will be able to see the following information about your car:
Owner's Name
Registration Number
Color
Engine Number
Vehicle Price
Year of Make
Recent Taxes paid or Taxes Due
You can also check your vehicle/bike registration status, and pay taxes, fines, and other service-related issues on this portal.
Verify Car Bike Registration by CNIC or ID Card
Yes, now you can check the registration status of your bike and car by entering your national ID card or CNIC number. This is done on the Sindh Karachi excise and taxation department website.
Click here to verify your vehicle by CNIC
Step-by-Step Guide: Check Car Registration By MTMIS Sindh
To use the system, users must first log in with their username and password. Once logged in, users can select the "Vehicle Registration" option from the drop-down menu. From there, users can enter the vehicle's registration number and click on the "Search" button. The system will then display the registration status of the vehicle, as well as its other details.
This system is a valuable resource for anyone who wants to check on the status of their car's registration, and it is also useful for potential buyers who want to get more information about a car before making a purchase. I recommend using the Sindh online vehicle registration verification system to get all the information you need about your car.
What documents are required for vehicle verification?
A: You just need your vehicle registration number or national ID card CNIC number.

Share This Article with Your Friends