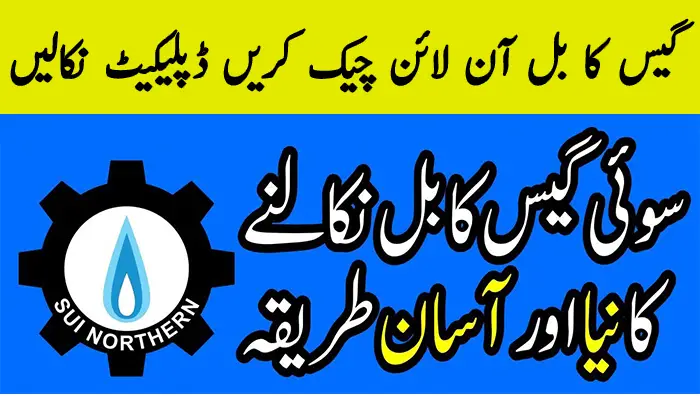 In this digital age, accessing essential services has become more streamlined and user-friendly than ever before. Sui Northern Gas Pipelines Limited (SNGPL) has embraced this trend by introducing a Sui gas online bill check feature, allowing consumers to effortlessly review, get duplicate copy, or download and pay their gas bills from the comfort of their homes. In this comprehensive guide, we'll walk you through the process of using SNGPL's Sui Gas Bill Online Check service, highlighting its benefits and step-by-step instructions.
SNGPL Sui Gas Bill Online Check Duplicate
Easy Step by Step Guide
Follow these simple steps to effortlessly check your SNGPL bill online:
Step 1: Visit the SNGPL Official Website
Open your preferred web browser and navigate to the official SNGPL website (www.sngpl.com.pk).
Step 2: Provide Your Consumer Information
Enter your Consumer Number or Account ID. You can find your Account ID on your Sui Gas bill.
Step 3: Verify Your Details
Please enter the captcha image number in the designated field and then proceed to submit.
Step 4: View Your Gas Bill
Once your details are verified now you can see the detail of your SNGPL Sui Gas bill online. This will include your consumption, charges, due date, and more.
How to Download Sui Gas Bill Duplicate Copy
If you would like to obtain a duplicate copy of your natural gas bill, you can easily print that bill using a printer.
Read Also: Online Passport Renewal 2023
SNGPL Official App on Play Store Adress:
If you want to download the official app of SNGPL then follow this link.
Why Opt for SNGPL Online Bill Check?
Gone are the days of waiting in long queues and dealing with paper bills. SNGPL's online bill check feature offers a plethora of advantages that cater to both practicality and convenience:

1. Instant Accessibility: With just a few clicks, you can access your gas bill details anytime, anywhere, eliminating the need to visit a physical office or customer service center.

2. Time-Saving: The online bill check saves you valuable time and energy, which can be better spent on other important tasks.

3. Eco-Friendly: By opting for an online bill, you contribute to a greener environment by reducing paper waste.

4. Accuracy: Online bills eliminate the risk of human error that may occur while manually recording bill details.

5. Secure Transactions: SNGPL's online platform ensures the security of your payment information, giving you peace of mind.

Final Thoughts

SNGPL's Sui Gas online bill check feature serves as a shining example of how technology can enhance our daily lives. With its user-friendly interface and array of benefits, this service has revolutionized bill management for gas consumers across Pakistan. By following our step-by-step guide, you'll be well on your way to effortlessly checking and managing your SNGPL gas bills online. Embrace the convenience and efficiency of this digital solution and make the most out of your bill-paying experience.

Share This Article with Your Friends