YD 70 Dhoom Price, Specs and Images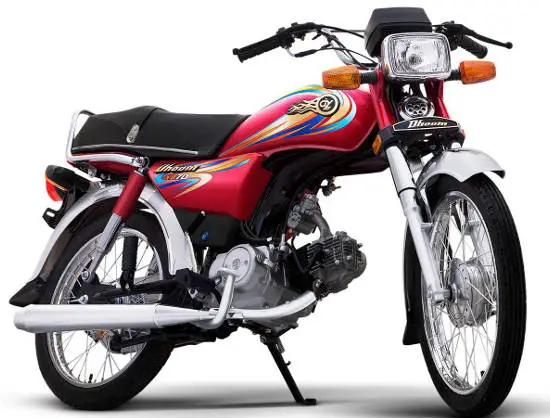 The latest model 2016 Yamaha Dhoom YD 70 is based on latest technology and giving a tough competition to its competitors in the market like Honda CD 70. The manufacturers of YD 70 Dhoom have given their focus to the quality and performance of the bike.
Yamaha is one of the best bike manufacturing companies in Pakistan. It has a good repute because the bikes manufactured by Yamaha are top quality and provide with the best performance. Yamaha is famous for its trendy and stylish motorcycles..
They have engineered the bike with the latest technology to make it perform better than the previous models. Its design has also been upgraded that it has won the hearts of many youngsters. One of the best feature of Yamaha YD 70cc is that it is available at an affordable price. Thus, it is the best bike for middle-class families of Pakistan.
Comparison with other Bikes
All the other bikes available in market don't match the powerful engine of this bike. It gives more speed and its mileage is very good too. Some people say that the fuel consumption is high but with the top notch speed and extra efficient performance of engine it is very normal. So, considering all facts and figures this is a very good bike amongst all the bikes available in the market.
Exterior
Yamaha Dhoom YD 70 has been designed with such art that it has won the hearts of many. It has a stylish and aesthetic design that is very catchy. Apart from that, it has a comfortable seat. The stylish looks and good comfort level makes it an extraordinary bike.
It can be regarded as your best companion on a bumpy road because its tyres have a strong grip. Because of its stylish and classy looks, it has gained popularity in the automotive market. It is available in two elegant colors black and red.
Specifications
The manufacturers of New Model YD 70 have engineered it with the latest technology 4-stroke engine, which has an amazing displacement of 70cc. The high-quality machinery of Yamaha 70cc bike is the trademark of its speed, power and reliability. Because of its high performance, it can be regarded as your lifelong companion.
It is a very fuel-efficient bike with a tank capacity of 9.5 liters. It will provide you with an amazing mileage because it has a fuel reserve capacity of 1.5 liters. This new feature of Dhoom YD 70cc Yamaha will warn the rider when the tank is getting empty.
Features
YD 70 comes with following extraordinary salient features:
SOHC, 4-stroke air-cooled engine
The transmission is 4-speed
The compression ratio is 1:9.1
It has a fuel tank capacity of 9.5 liters and a reserve fuel capacity of 1.5 liters
It has a kick start system
Available in red and black colors
Dry weight is 83 KG
Powerful head and tail light
The speedometer is prominent
Review
Yamaha Dhoom YD 70 has a good repute in the automotive market because of its high quality and extraordinary performance. It has also been the center of attention because of its affordable price. It has won the heart of the youth of Pakistan.
Yamaha Dhoom YD 70 Price in Pakistan
YD 70cc Dhoom Price in Pakistan is PKR 51,000/-
Conclusion
Thus, Yamaha Dhoom YD 70cc new model can be regarded as an efficient and high-performance bike. So order your bike now for the best experience.

Share This Article with Your Friends