Latest Model Suzuki APV Price in Pakistan with Specification and Pictures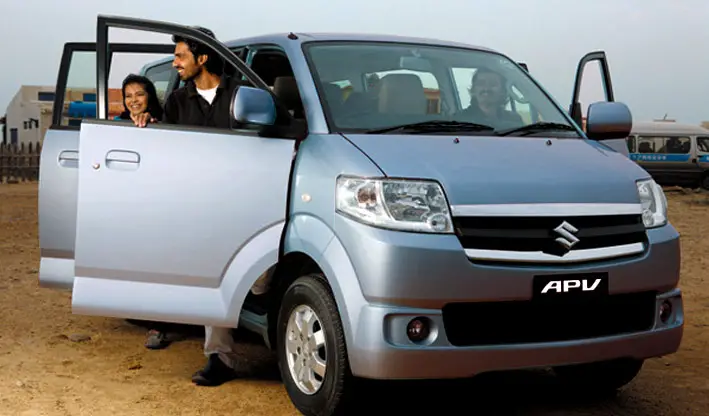 If we look around we will not find any van with luxurious features and an affordable price, but Suzuki APV is certainly fulfilling all these requirements. Suzuki APV has launched its new model Suzuki APV 2016 with modified and improved features. It's a van with excellent and comfortable interior and exterior design. If you have a large family or you are looking to do some business investment this vehicle should be your first choice.
Performance and Commercial Use
Suzuki APV gives a great performance with its powerful engine and good mileage. It is a family car that is smoothly driven on all kind of roads in Pakistan. It has an SOHC, G15A engine with sixteen valves. This engine provides 67 – 68 kW output at 6,000 RMP. It is a vehicle that is used for commercial purpose because it has a seating capacity of 8 persons including the driver.
Suzuki APV New Model 2022 Price in Pakistan
APV 1.5L Rs. 2,418,000
APV 1.5L Rs. 2,538,000
Safety
Latest Model Suzuki APV is a safest vehicle to drive because it has 2625 mm wheelbase that provides a powerful grip on roads. It will stay stable on all kind of speeds you are driving it owing to the Macpherson Strut and coil spring front suspension along with leaf rear spring rear suspension. So, it is a safe vehicle to use.
Suzuki APV Interior
This vehicle has a very good interior that contains seating capacity of 8 persons. It contains comfortable seats that are associated with arm rests. The seats are flexible you can pull them up or recline them according to your comfort zone. There is enough space for the footrest so that long drives are comfortable too. It also contains excellent air conditioned system to keep the interior of the vehicle cool for the passengers.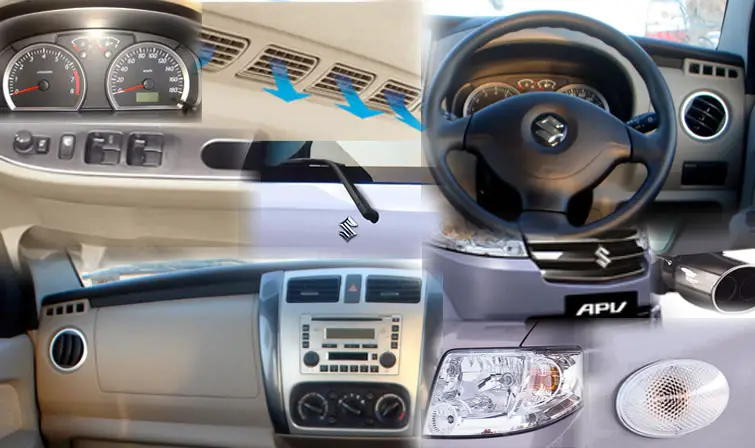 It has a unique sound system and a compatible CD player with Mp3 Player. You can use your cell phones or other gadgets for your entertainment with USB and AUX ports.
APV Exterior
It has a stylish look with a body of very good quality. It has metallic and round shape body. It has a reassuring bonnet and an extended silhouette. It also contains rear side swing doors. New Model Suzuki APV also contains thick bumper and flared fenders.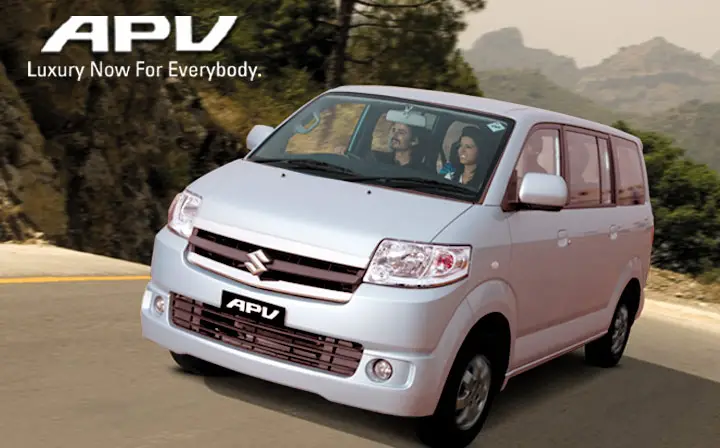 It contains a grille and front headlights. It also contains front and rear fog lights. It also contains side mirrors and front side wipers that can be helpful during the abnormal weather.
There are many body colors available for this vehicle that are solid white, grey, sliver, blue, maroon and black. There is also a new color ocean blue which adds to its range of colors.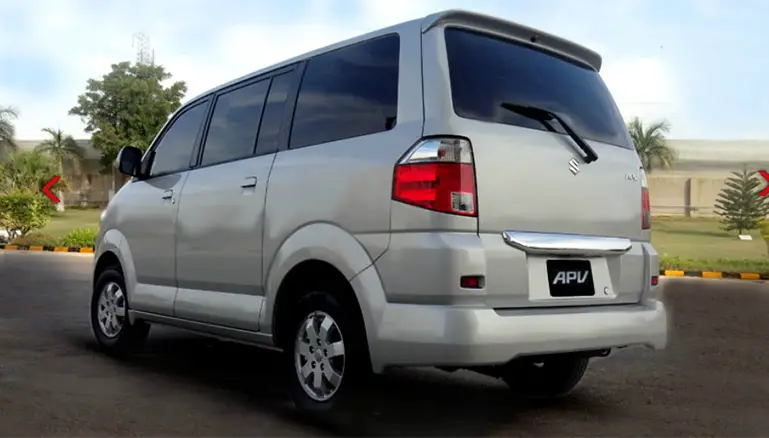 APV Features
There are many features that make this van a choice for all kind of people in Pakistan, that are following.
It has a multipurpose body
It has a G15A engine with 5 speed manual transmission.
It also contains Rack and Pinion steering system
It has a gross weight of 1950 kilogram.
Suzuki APV has a length and width of 4230 mm and 1655 mm respectively.
Its height and wheel base is 1880 mm and 2625 mm respectively.
Its minimum turning radius is 4.9 m.
Its transmission type is 5MT/4AT.
Its front brakes are Ventilated disc.
Its rear brakes are Drum, leading & trailing.
These are some features that are prominent in this vehicle that results in its very good performance.
Bottom Line
Latest Model Suzuki APV 2016 Van with luxurious and appealing interior and exterior. It can be used for both business and family purposes. This is the best vehicle for you if you want to manage your business with your family needs.

Share This Article with Your Friends