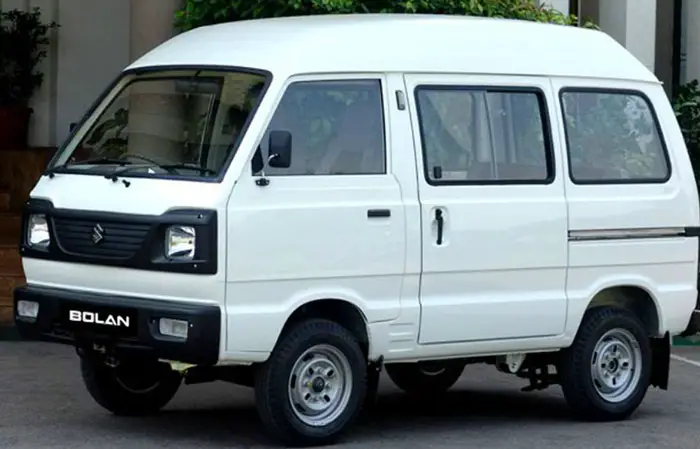 Suzuki Bolan Van Carry Daba Price 2023 in Pakistan: If you are looking to buy a vehicle in Pakistan that can help you to do some kind of business you would be worried about the price and quality of such a vehicle. All of your worries are dissolved by New Model SUZUKI BOLAN 2023 Model. Suzuki has been a long-time provider of vehicles that are best suited for business purposes in Pakistan. The company has launched its latest model, the Suzuki Bolan 2023, with the most innovative modifications.
It has a high roof with a seating capacity of 8 people. It has a nice interior and exterior along with a powerful engine. Following are some aspects that are unique in Suzuki Carry Daba new model.
Suzuki Bolan Van VX Euro II 2023 Price in Pakistan
Ex-Factory

Price: PKR 1,940,000

Performance
Suzuki Bolan Van is performing in a very good manner for a long time and people have named it "Carry DABA". It has a powerful 796cc engine. It is supported by the OHC valve train system. Its performance is also enhanced by a four-stroke cycle and water-cooling mechanism. So, all these unique features mount up to produce a very good performance.
Suzuki Bolan Van Carry Daba 2023 Youtube Review
Safety Features
The new Suzuki Bolan Carry Daba Van is a very safe vehicle to drive on all kinds of roads in Pakistan. It has a powerful 3-cylinder engine that helps it stay in control in all conditions. The van also has a very good braking system with modern safety features.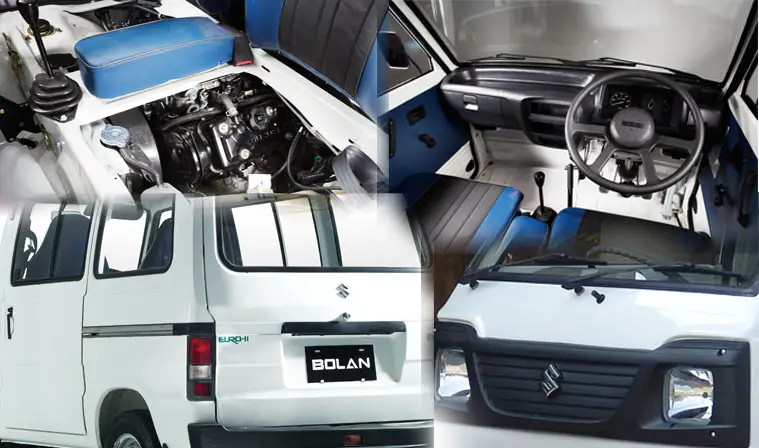 New EFi Engine
The Bolan is equipped with EFi powerful engine. This ensures the quickest pickup, steady drive, and optimum fuel efficiency.
Seating and Fuel Capacity
Bolan Van VX EURO II has a seating capacity of 8 persons with a very comfortable space in between all the seats. If you are planning to go on a trip with a considerably large family, this vehicle is the most appropriate vehicle for you in that particular situation.
You will find that on long drives there is always a shortage of fuel in the vehicle but Suzuki Bolan has a fuel capacity of 36 liters. So, this vehicle possesses good seating and fuel capacity.
Suzuki Bolan Interior
Suzuki Bolan Family Van contains a basic interior as it is a vehicle that is used as a business vehicle; it has a seating capacity of 8 people. It has a very open interior and its seats are comfortable fabric seats.
The new Suzuki Bolan Carry Daba 2023 is a comfortable and well-equipped vehicle. It has a powerful air conditioning system that keeps the interior cool, even on hot days. The van also has power steering and seatbelts for safety, as well as a CD player and USB ports for entertainment.
Bolan's Exterior
Carry Daba has a very good exterior which makes it look like a good simple vehicle from the outside. The Suzuki Bolan Carry Daba Van has a metallic body that is available in a variety of colors, including white, silver, and red. It has a boxy body with squared headlights.
It has rectangular black grills and fog lights. The black bumper adds to its excellence. On the rear side, there are rectangular stacked taillights along with a black bumper. So, it has a van-type exterior of very good quality.
Features
These are some of the important features Suzuki Bolan 2032 contains,
It has a New EFI Water Cooled OHC Engine.
It also has a new design instrument panel with a New 4-spoke steering.
It has an extended bumper and 2.5 Liters engine capacity.
It has dimensions of 3255 x 1395 x 1845 mm.
Its fuel type is petrol.
It has a turning radius of 4.1 m.
It has a maximum horsepower of 27.5 KW.
Its cylinder configuration is in line.
It has a KERB weight of 550 KG.
It has a number 3 doors.
Its wheel size is 12 inches.
Its wheel type is Steel rims
It can be driven up to the top speed of 140 KM/H.
So, these are some extra features this vehicle contains.
Suzuki Bolan Van Carry Daba Price 2023 in Pakistan
Rs. 1,940,000/-
Bottom Line
If you want to buy a vehicle for the business of traveling or any other thing, the Latest Model Suzuki Carry Daba Bolan Van 2023 is your first choice of everyone. So, come let's do a positive experiment of buying a Suzuki Van.

Share This Article with Your Friends